Members of the ChinaCache team in 2018.
While IPv6 has been an important agenda item for the Chinese government for more than a decade, many in the industry saw the effort as a political task and had only passively sought to execute it given there was no immediate need, from a customer point of view, to implement it.
This changed in late 2017 with the release of the 'Action Plan on Promoting the Internet Protocol version 6 (IPv6)-based Network into Large-scale Use' by the Office of the CPC Central Committee and the Office of the State Council of China. Since then, all major manufacturers, content providers and ISPs have been actively updating their networks and end-user devices, which has corresponded in a recent uptick in IPv6 capability.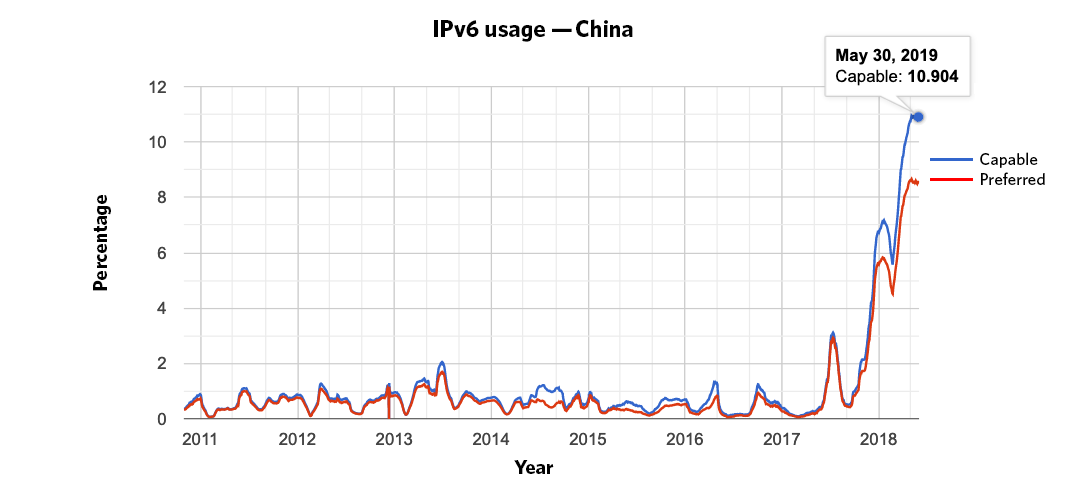 Figure 1 — IPv6 capability has increased from 0.52% to over 10% in the past eight months (IPv6@APNIC)

We at ChinaCache, a major CDN and data centre provider in China, started deploying IPv6 in 2013; currently more than 70% of our network is updated and capable.
The edge nodes of our CDN have IPv4 and IPv6 dual-stack and we support acceleration services for client access through IPv4 and IPv6. The Global Server Load Balancing system also provides DNS resolution service for IPv4 and IPv6, allowing end users to access content from an optimal node — when customers use our CDN service via IPv6, they often want to remain in the IPv4 system to gradually finish CDN service migration.
IPv6 security has also been considered through CDN service scheduling, content distribution, and traffic backhaul.
Our deployment has also been extended to the CHN-IX Internet Exchange Center, which we host.
Read: Building CHN-IX: the first IXP in mainland China

Although we did not see any early adoption advantage, this changed in mid-2018 as more customers sought our services to comply with the Action Plan. Having said this, the percentage of traffic we see over IPv6 is still in the single digits, due largely to upstream service providers' subnets not having deployed IPv6 yet.
The inaction of these ISPs, particularly the 'Big three,' has been a major roadblock for our IPv6 deployment and others. For example, we had to use a VPN to use CERNET's IPv6 network for testing. Again, things have changed in this arena since mid-2018 following the Ministry of Industry and Information Technology (MIIT) establishing expert committee meetings with ISP's IPv6 project teams, facilitated by the Chinese Academy of Information and Communications Technology (CAICT). Now the major challenges are mainly equipment related.
Read: Building CHN-IX: the first IXP in mainland China
Sharing experiences with community
Having been running and refining our IPv6 network for more than five years, we've begun assisting China's IPv6 Promotion and Deployment Commission with developing awareness and capacity within China. This has included running training sessions as well as advising and assisting with large-scale IPv6 deployments.
From our experience, we've found that the majority of engineers and teams we train and assist have sufficient technical knowledge, and instead many discussions now focus on driving the actions. Security is also another topic that we tend to focus on more.
Last year, we were honoured to receive an Outstanding Award for this contribution from the China Hi-Tech Fair.
ChinaCache IPv6 solution received an Outstanding Award at the 20th China High-Tech Fair: https://t.co/TdfTcJz2Jd pic.twitter.com/khFJXGxOu9

— ChinaCache_Official (@ChinaCacheLive) December 6, 2018
With more and more networks, devices and websites becoming IPv6 ready — all of which must be ready by 2025, as per the Action Plan — the focus from the perspective of industries is now shifting. No longer is the discussion (resistance) about the need to deploy IPv6; rather it's more about how to leverage IPv6's ability to manage the billions of IoT devices that are about to connect to the Internet, improve productivity, lower cost, and increase competitiveness.
Thank you note:
I would like to thank Hunter Xu, Hao Wu, Liou Wang of ChinaCache, and Yan Ma of University of Post and Telecom. I would also like to thank Subo Zhao of CERNET. Subo's nickname on WeChat is 'Pioneer of IPv6' and he established the WeChat group 'IPv6 Industry Ecosystem', which has nearly 500 people actively chatting about IPv6.
Yali Liu is Vice-President of ChinaCache, and is responsible for global business development as well as sales and marketing for ChinaCache North America and the Asia Pacific.
---
The views expressed by the authors of this blog are their own and do not necessarily reflect the views of APNIC. Please note a Code of Conduct applies to this blog.