It is well known that China is the largest Internet market in the world – already there are more than 670 million "netizens", a figure that is expected to exceed 830 million by the end of 2016.
However, what isn't all that well known is there were no Internet Exchanges (IXs) in mainland China, until CHN-IX Beijing, the first carrier-neutral Internet Exchange Point (IXP), went online in December 2015.
CHN-IX Beijing is located at the brand new ChinaCache International Data Center in the Tianzhu Free Trade zone near the Beijing Capital International Airport. An event themed "Empowering the Internet Community" is taking place today (22 April 2016) at the data centre to mark the official launch of CHN-IX and the data centre.
Why is it important to have an IX in China?
IXs provide an efficient interconnecting environment and enhance user experience. With an IX, Internet Service Providers (ISPs) or Internet Content Providers (ICPs) just need to pay a nominal fee to connect to the exchange platform. The ISP or ICP can use one link to connect to the exchange platform and enable multi-party BGP connectivity to exchange traffic with others on the same platform. This enables a direct flow of traffic and reduces the number of hops.
As China continues to lead the growth of Internet traffic, and with the government's focus on Internet Plus and Broadband China initiatives, it becomes critical to have more effective ways for Internet traffic to flow.
What is the government position on IXs?
The Chinese government has put a lot of effort in enabling better interconnectivity in China. The official Network Access Points (NAPs) in Beijing, Shanghai and Guangzhou were launched in the early 2000s. However, these NAPs are only for major carriers to interconnect (no content providers) and they have to pay a settlement to top carriers.
In recent years there has been a lot of focus from the top calling for better connectivity. On 16 December 2015, President Xi delivered a keynote speech at the Wuzhen World Internet Conference. The first of his five proposals was to "speed up the building of global Internet infrastructure and promote interconnectivity". According to Xi, "The essence of the Internet is connectivity, and herein lies the value of information."
CHN-IX is an open and innovative IX platform. This also fits right into the Mass Entrepreneurship and Innovation program launched by the central government. We feel very fortunate that the timing appears to be perfect for the launch of CHN-IX.
From an idea to a functional IX in less than two years
The inspiration of building an IX in Beijing started back in mid-2014 when I joined ChinaCache (Nasdaq: CCIH). At the time, the company just started construction of a brand new data centre in the Tianzhu Free Trade zone near the Beijing Capital International Airport. ChinaCache was founded in 1998 with CDN as it's core business but has also ventured into data centre services in the last few years.
Being in the industry for over twenty years and having seen many data centres and Internet Exchanges around the world, I quickly came to realize that this is a unique location to build an Internet exchange. Located in the Free Trade Zone, it's somewhat equivalent to being outside of Chinese Customs. Knowing the two-zone (domestic and international) Equinix IX setup in Dubai, it occurred to me that we could have an opportunity to build an IX that would have a domestic and an international side. Still, building an international IX in Beijing was a long shot, and we proceeded to work on the domestic side of the IX only as the first step.
Many people were surprised that CHN-IX is up and running in just under two years from when the idea was first kicked around. Besides good timing, the key to our success has been really strong leadership. Mr. Wang Song, founder, Chairman, and CEO of ChinaCache, has relentlessly worked from different angles with all the relevant parties. Mr. Wang quickly came on board with the idea of an IX, and he believed that an IX in the data centre would improve efficiency and bring value to customers. He soon initiated communication with various government entities, kicked off the project in the company, and put in the resources, all with his personal attention.
Developing an IX for the future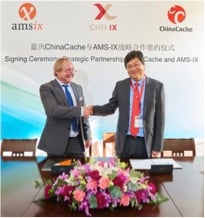 Because CHN-IX is the first carrier-neutral IX in mainland China, we wanted to build it to the highest global standard from the start, and drive the industry forward in the right direction.
A strategic partnership with a globally recognized IXP was our objective. We spoke with a number of IXPs including Equinix, AMS-IX, and DE-CIX. We settled on a partnership with AMS-IX, one of the world's largest IXPs with 20 years of experience building mature and successful IXPs around the globe. On 26 November 2015 we signed a strategic partnership agreement with AMS-IX. I have to say this is a partnership at its best.
Being the first in the market also means it takes time to build momentum. Since the IX concept is relatively new in China, we have spent time with (potential) members and helped people to understand this (new) interconnecting concept. Something that has really helped with this effort is the Euro-IX interconnection video, which we developed an official Chinese mandarin version of too.
Where we are at and where we are going
At CHN-IX, we encourage customers to peer with the Route Server (RS). ChinaCache CDN is connected to RS on CHN-IX, and we have an open peering policy.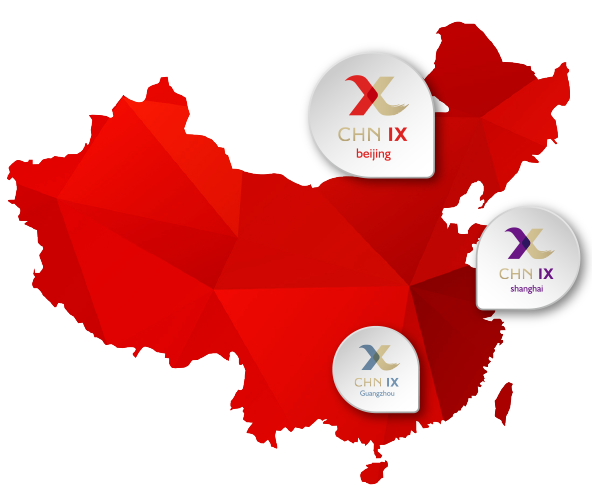 Today, we have three active networks connected and another half a dozen being provisioned. We are getting a lot of interest, however actually getting a good number of members onto the platform is a challenge. We really appreciate the support from the community and we hope to achieve the objective of having 35 connected members by the end of 2016.
Besides Beijing, we just launched CHN-IX Guangzhou today. Shanghai is scheduled to be online by the end of June 2016. Beijing, Guangzhou, and Shanghai are the top three markets in China. These three locations will be connected via fibre networks. A customer who gets an IX port in one location can essentially receive coverage in the other two major markets as well, which can bring additional efficiency and value to our customers.
A few final words. I'd like to thank AMS-IX for the great partnership and thank my colleagues in ChinaCache for working together to make CHN-IX a reality. I'd also like to thank Equinix, Euro-IX, APIX, APNIC, and the whole community for their inspiration and support.
Yali Liu is Vice President of ChinaCache, and responsible for Global Business Development. Yali has been instrumental in driving the CHN-IX Internet exchange initiative,data center services and ChinaCache global CDN partnership / expansions. Prior to joining ChinaCache in mid-2014, Yali spent more than 18 years with Verizon (including MCI) in various executive positions responsible for global network planning, engineering and network product development.
---
The views expressed by the authors of this blog are their own and do not necessarily reflect the views of APNIC. Please note a Code of Conduct applies to this blog.