IPv6 deployment is increasing steadily around the globe, however, it is no secret that IPv4 is still very much in demand among APNIC Members.
If your organization is still looking for more IPv4 addresses, read on.
APNIC IPv4 transfer policy
The 'needs-based' IPv4 transfer policy defines how Members can receive additional IPv4 resources from others who no longer need them. The transfer can occur between APNIC Members or with those from other RIR regions with a compatible policy (currently ARIN and the RIPE NCC).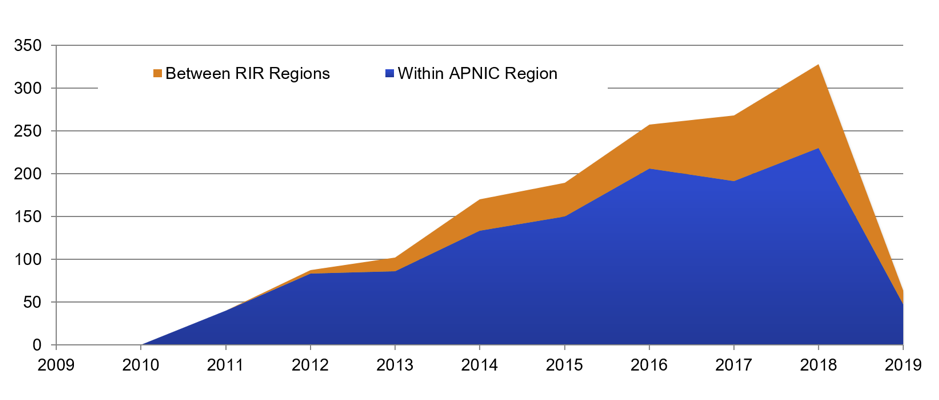 Figure 1 — IPv4 transfer statistics. Source: APNIC.
APNIC services for transfers
Several APNIC services can help you with IPv4 transfers:
What is a pre-approval and how do you take advantage of it?
When requesting IPv4 resources via transfer, the APNIC IPv4 transfer policy asks that you demonstrate why you need them. IPv4 transfer pre-approval is the process of obtaining APNIC approval for the IPv4 addresses required by the recipient (by evaluating their demonstrated need) before the transfer request is submitted.
A pre-approval can shorten the total transfer time because the IPv4 needs evaluation is already completed when APNIC receives the transfer request. Each successful pre-approval will last for two years.
APNIC will notify pre-approval holders one month before the expiry date. Pre-approvals can be extended easily in MyAPNIC, without having to re-demonstrate your need.
Managing your pre-approval and transfer listing
You can publish your pre-approval to the APNIC website's Transfer Listing as soon as it is approved. MyAPNIC will help you to track how many IPv4 addresses have been transferred and the remaining pre-approval size. If you have only partially fulfilled your IPv4 needs, MyAPNIC will show the remaining balance of your pre-approval.
It is important to note that the transfer listing does not reveal private information such as your membership, name, or phone number.  The list only contains the following information:
How much IPv4 address space is approved
The economy your organization is located in
The expiry date of your pre-approval
Anyone who would like to offer you IPv4 addresses can reach you via email, and it is up to you to decide how you will respond.
What is the broker listing?
The broker listing contains a list of IPv4 brokers who are also APNIC Members and have signed an agreement with APNIC to act in the manner described in the Guidelines for IPv4 brokers.
Be aware that these listed brokers are not APNIC's agents. APNIC does not sponsor, endorse or approve the services provided by any broker.
For anyone who wants to discuss matters related to IPv4 transfers in a public forum, a dedicated mailing list is available to all called APNIC Transfers.
How can APNIC help improve the IPv4 transfer experience?
APNIC would like to hear your feedback on ideas for improving the transfer process. Complete this short survey to have your say.
---
The views expressed by the authors of this blog are their own and do not necessarily reflect the views of APNIC. Please note a Code of Conduct applies to this blog.