2018 was another productive year for APNIC. We welcomed more than 800 new Members, including our 7,000 Member.
Below are some highlights from 2018 and what we are working on in 2019.
Resources delegations
There continues to be steady demand for IPv4 addresses in the APNIC region with 44% of the 5,000 resource delegations made in 2018 being IPv4.
IPv4 transfers
IPv4 transfer activity slowed by almost one third in the second half of 2018 compared to 160 transfers completed in the first half of the year. Of all the space transfers, 28,550 /24s are from other Regional Internet Registry (RIR) regions (currently ARIN and RIPE).
Conversely, transfers out of the region increased five-fold, totalling around 3,500 /24s; still well below the number of addresses being transferred into the region.
The economies within the region we've seen the most transfer activity from are Japan, Hong Kong, Australia, China, and India with little variation in their order, except for a spike in transfers in Indonesia in the second half of 2018.
Delegations and IPv6 capabilities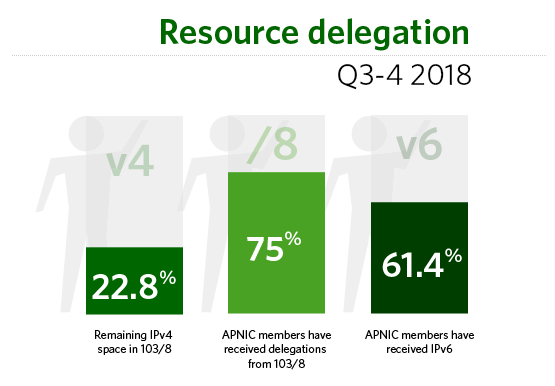 For IPv6 delegations, 6 in 10 Members have received their IPv6 addresses. There was a notable spike in the number of IPv6 delegations in Taiwan and Indonesia in the second half of 2018 (see graph below); the former in which we saw a significant increase in its IPv6 capabilities too.
China, Indonesia, Bangladesh, India and Australia were the top five economies for number of IPv6 delegations in 2018, a year in which India became the leading economy in the world for IPv6 capability and Taiwan, Viet Nam and Thailand all rose to be among the top 20 IPv6 capable economies in the world.
Read case studies from ISPs that have deployed IPv6 in the Asia Pacific region.
New services make managing resources easier
Finally, we rolled out a host of updates to MyAPNIC to make it easier for Members to keep track of their resources and update their whois details. These included:
We invite you to try the new features and share your feedback below or via the APNIC Helpdesk.
What to expect in 2019
In 2019, we will continue to improve online experience for services relating to resource delegation and registration. An example is making contact updates much quicker for Members. The system test is now underway for 'three-step' contact validation via MyAPNIC.
For registry operations and maintenance, we will be working on a number of projects this year. As part of the implementation of prop-125, features will be created in MyAPNIC to help users to maintain accurate IRT information.
We'll also be working on automated support for RQA (Resource Quality Assurance), which aims to help reduce operational problems associated with recycled address space.
RDAP will be part of the core registry development, which is now under product management, with the objective to deploy full-featured RDAP-based clients including multilingual content in the future.
To learn more about our activities in 2019, we invite you to take a look at the 2019 activity plan and let us know your feedback.

---
The views expressed by the authors of this blog are their own and do not necessarily reflect the views of APNIC. Please note a Code of Conduct applies to this blog.