In less than a week, APRICOT 2018 will be held in Kathmandu, Nepal. To give you a brief overview of the local history, challenges, and opportunities that the Internet provides to our host economy, we're telling the stories of some of its local champions.
Read the IDSeries, NZSeries, LKSeries, VNSeries and TWSeries from past conferences.
Nepal has a long history of routing packets. Traders from China and India would travel along several passages through the ancient sloping land sandwiched between them, linking up with the Silk Road to the north and beyond.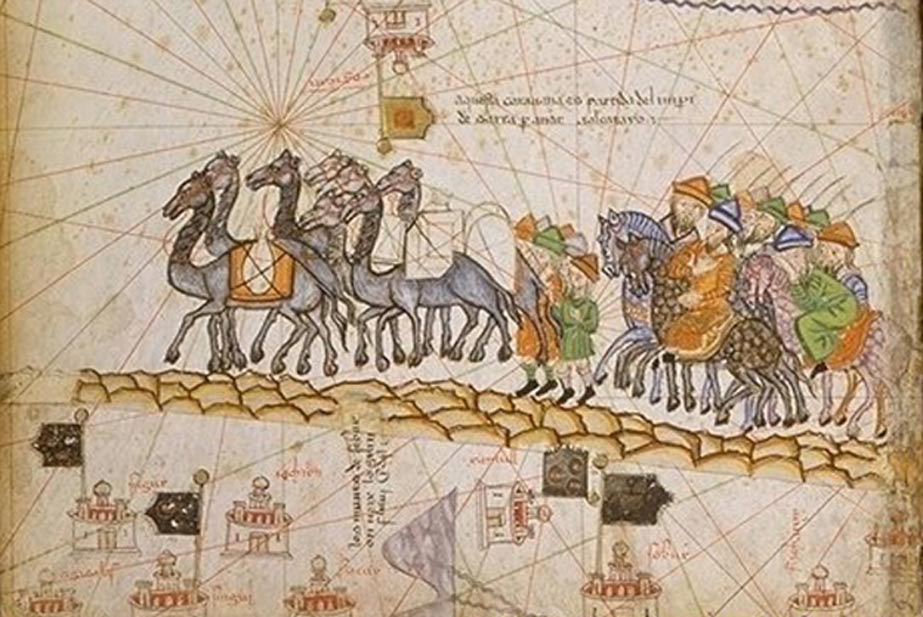 Although it was well known by its neighbours as as fertile agricultural province, rich in culture, biodiversity and history, it remained isolated from the world until the mid 20th century when parliamentary democracy was introduced.
Having entered the modern era without schools, hospitals, roads, telecommunications, electric power, industry, or civil service, it has spent the past 60 plus years establishing these modern societal essentials while also transitioning from a monarchy to a republic. Despite these social, political, and economic challenges, the government is committed to elevating the nation from least developed country status by 2022.
In recent years, a priority to meeting this commitment has been developing the economy's ICT infrastructure and capacity. The Broadband Policy (2015) aims to connect all 75 Nepali districts by an optical fibre network by 2020. It's hoped that such infrastructure will enable the growing services industry and, hopefully, also slow the emigration of nationals leaving Nepal for work.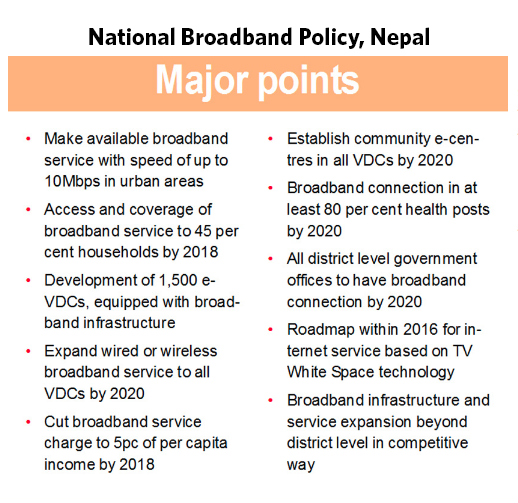 Nepal's National Broadband Policy focuses on broadband infrastructure development and increasing access to high-speed Internet services (Image: The Himalayan Times)
Taking the Internet to the people
Like most economies, Nepal's first Internet connection was introduced by the scientific community. The Royal Nepal Academy of Science and Technology, with the assistance of privately owned Mercantile Office Systems (MOS), established a connection to the  Education and Research Network in 1993 to transfer email messages.
The following year, MOS acquired the technology to offer the first commercial email service and shortly after offered the first commercial Internet connections using VSATs (Very Small Aperture Terminals) — a satellite communications system that serves home and business users. MOS went on to become the ccTLD registry and registrar for .NP domain.
Internet use remained low in the decade to come — Internet penetration increased from 0.2% in 2000 to 2.2% by 2010 — with a majority of early adopters being international organizations and overseas students who had experience in using email, and had the incentive to keep in touch with friends still overseas.
The popularity of smartphones and tablet PCs at the start of the current decade has helped to increase this figure, as mobile broadband has become the most popular, and in some cases, the only way to access the Internet. According to the Nepal Telecommunications Authority, there are over 16 million Internet users in Nepal, a figure that is growing by 6,500 users each day.
Mobile-based Internet in Nepal is provided through platforms such as GPRS, EDGE, and WCDMA. Of the total mobile Internet users, Nepal Telecom (NT) has the largest base of 8.66 million users — over 50% of the market.
Fixed broadband has largely been confined to larger cities with some ISPs beginning to offer fibre-to-the-home. Nepal currently ranks 84th in the Ookla speed test with average 16.02 Mbps download speeds for fixed broadband.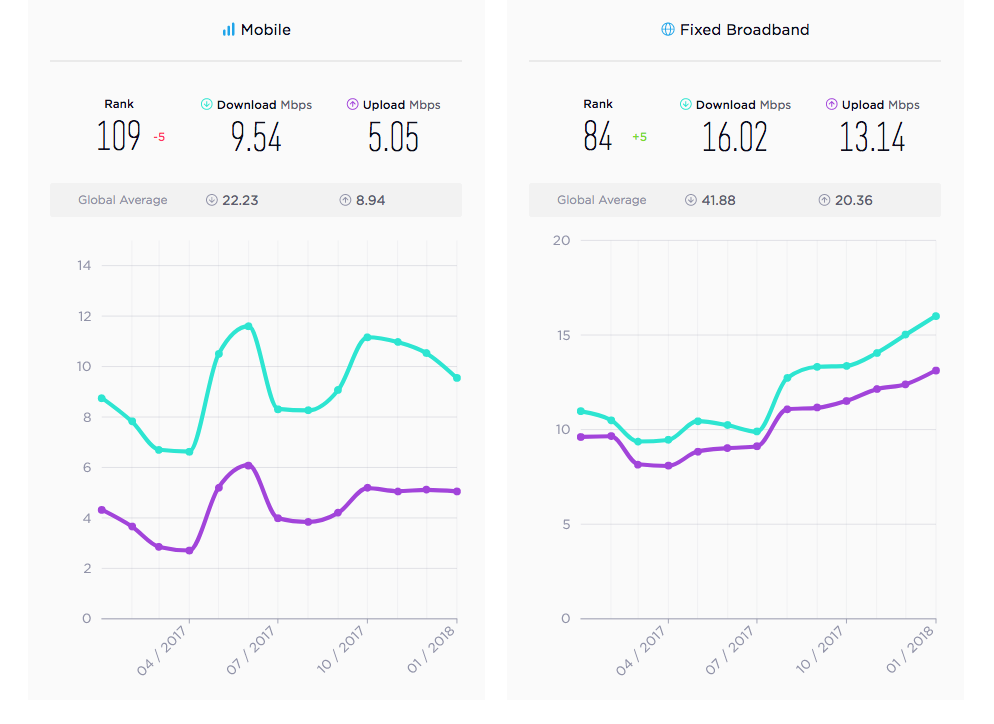 Nepal's fixed broadband speeds (right) improved in 2017 to be ranked in the world's top 100
Towards a Digital Nepal
Nepal's mountainous topography has made it extremely challenging to develop its telecommunications infrastructure beyond its major cities.
There have been a number of not-for-profit projects that are seeking to improve the Internet accessibility in rural areas, including Picosoft Nepal (supported by Microsoft's Affordable Access Initiative), and the Nepal Wireless Networking Project, which was established as a grass-roots project by Internet Hall of Famer, Mahabir Pun (one of our upcoming series profiles).
Nepal to use Chinese internet bandwidth from tomorrow – Economic Times : https://t.co/Xc0QsuFBtO

— Nepal News English🌐 (@NepNews) January 13, 2018
These projects, along with the government's Broadband Policy, the ongoing advancement of mobile broadband technology and infrastructure, the recent cross border connection with China, and the efforts of the Nepali Internet leaders whose stories we will share in the coming week will go a long way towards improving Internet penetration. And, in doing so, will enable the vision set out in the Digital Nepal policy where "ICT will be a key driving force in transforming Nepali society into knowledge and information based society and strengthening Nepal's pursuit of equality and sustainable growth by leveraging Information and communication technology."
Mahabir Pun —  If you build it, they will stay
Gaurab Raj Upadhaya — All in a life's work for Internet all-rounder
Indiver Badal — Community is what makes NPIX successful
Rashmi Joshi and Astha Ghimire — Future looks bright for Nepalese women in ICT field
---
The views expressed by the authors of this blog are their own and do not necessarily reflect the views of APNIC. Please note a Code of Conduct applies to this blog.