"I remember the first time we saw a computer in our hometown; it was housed in an air-conditioned room surrounded by glass, and you had to take off your shoes to go in."
Such a memory may seem absurd in today's world of portable devices but for non-digital natives such as Gaurab Raj Upadhaya, who grew up in Nepal in the 1980s, it was a futuristic and vivid introduction to the budding world of IT and, in this instance, proved to be a catalyst for one of Nepal's Internet pioneers.
Gaurab has been involved in the industry for over 20 years, having tried his hand at almost every type of job involved with setting up and managing a network.
During the years he was enrolled at university, Guarab worked as a: computer operator and programmer, deploying and testing database management systems and then training people in how to use and develop networks; a coordinating editor for one of Nepal's leading IT magazines; and finally, working for a local NGO (United Mission to Nepal, or UMN), setting up email systems based on Unix/Linux, sometimes via 2.4KB satellite modems in remote locations.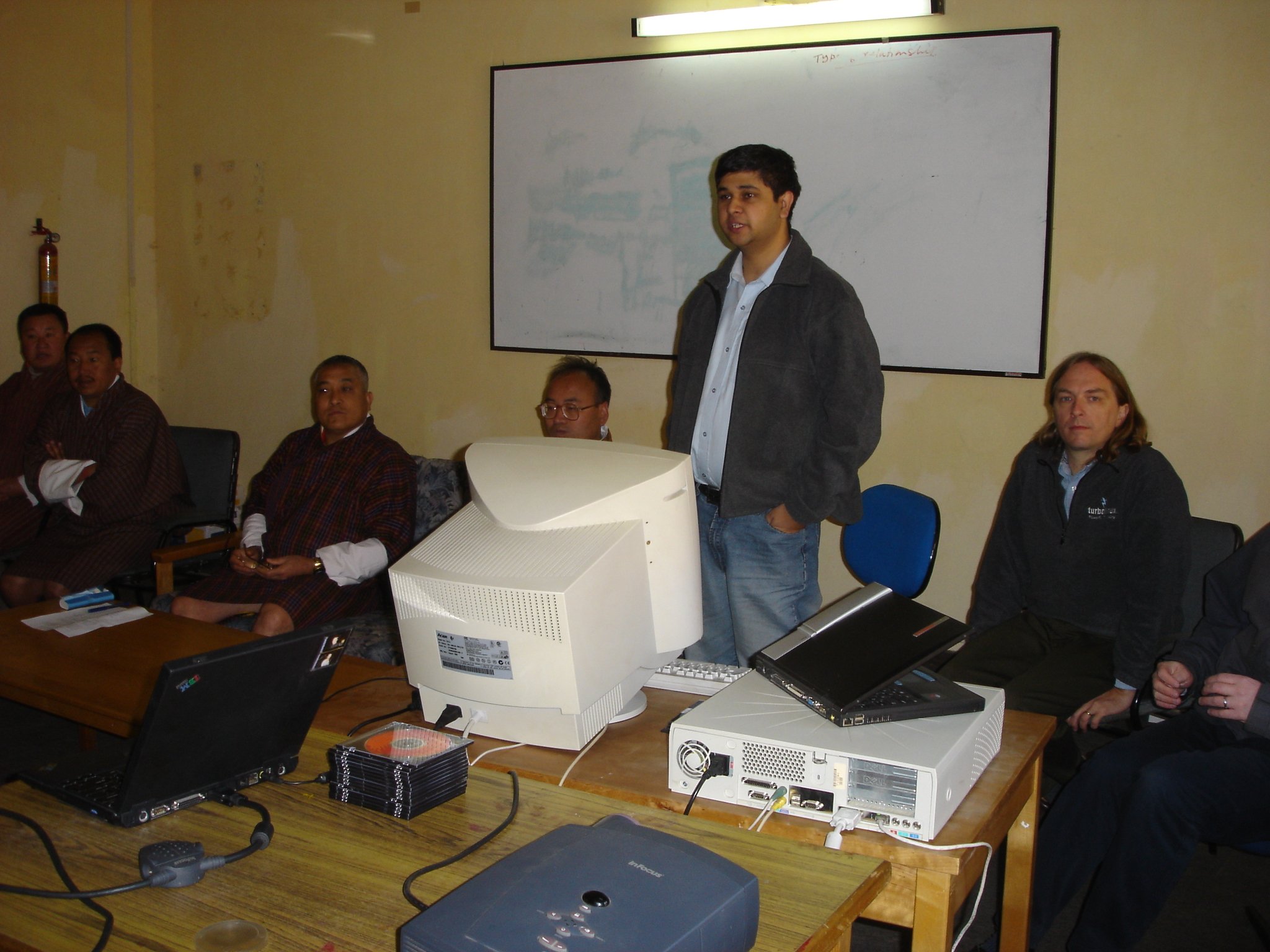 "Even at that time, 2.4KB was super slow, but it was exciting because people could actually use this new system as another means to communicate and it demystified the Internet for a lot of people," says Gaurab, who remembers this project as a highlight, particularly for all the skills he was able to learn.
"It was the first large-scale network I worked on. Not only was I learning how to run the network, I was also learning how to use a drill bit, a hammer wheel and do all sorts of physical hands-on things that you just get a handyman to do these days. Because we were often in remote locations you have to go and do everything by yourself.
"Sometimes, you need to learn to do all those kinds of jobs that other people might do for you in most cases, otherwise, you never know what the physical need is of getting that done."
Expanding horizons
During his time working for UMN, Gaurab was continually monitoring the network's efficiency, as "satellite connectivity was expensive so anyway we could make it faster would make the Internet more attractive to users".
He noticed that most of UMN's email traffic was leaving the country, even if the data only needed to travel to a computer across the street.
He shared this problem with Philip Smith and Bill Woodcock at the APRICOT 2002 conference — which he had received a fellowship to attend — asking them what he could do in Nepal to improve the situation. This conversation led to Gaurab and a group of other budding Nepali network engineers establishing the Nepal Internet Exchange (npIX), as well as a long-standing involvement in APRICOT and a job with Bill at Packet Clearing House (PCH).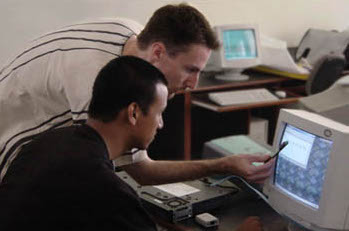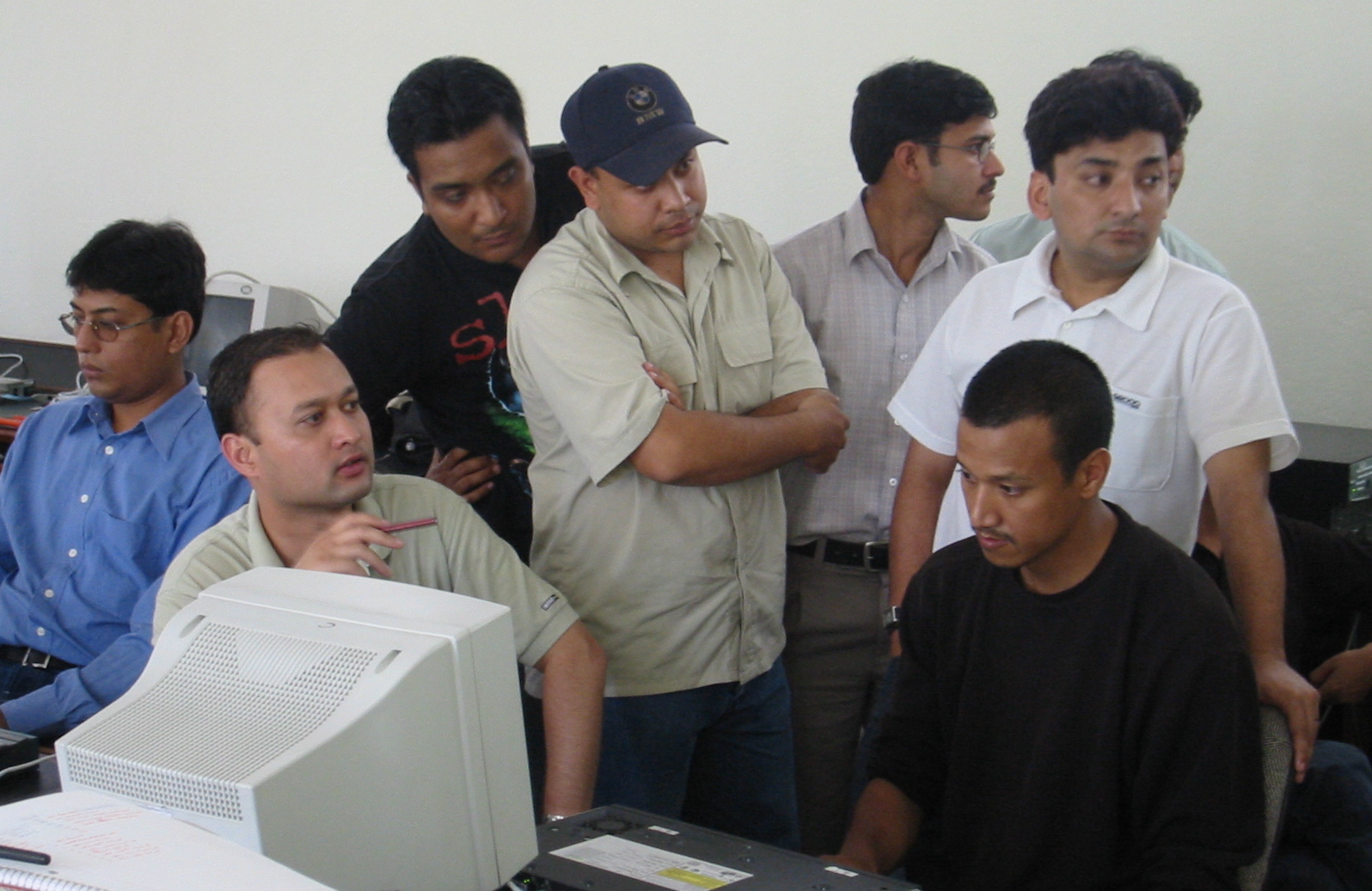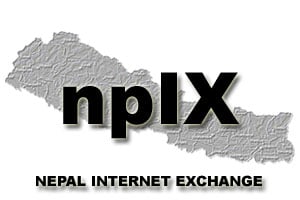 Clockwise: Bill Woodcock (behind) running an IXP workshop in Nepal in 2002, which resulted in the formation of npIX; Participants at the IXP workshop; List of first members connecting to NPIX; The original npIX logo.
"When I started to work for PCH, my horizon expanded quite a bit because I was doing global stuff including establishing Internet Exchanges in Bangladesh and throughout Africa," says Gaurab, adding that he also became more involved in working on the DNS — he ran PCH's global anycast DNS platform, providing resilient domain name service for more than 100 top level domains from more than 60 IXPs around the world.
Leadership in the region and beyond
Another significant (or 'crazy', depending on who you talk to)outcome from Gaurab's APRICOT fellowship was him leaving the conference with the inspiration to establish a similar forum for network operators in the South Asian region to come together to learn and share best practices – what would become known as the South Asian Network Operators Group (SANOG).
"I was at APRICOT" continues Gaurub "and I realized that not enough people from our region participated at it. So, the next year, I decided to convert a conference I was organizing in Nepal into SANOG. The Asia Pacific Internet Association (APIA) and APNIC (co-organizers of the APRICOT conference) helped support us as soon as they heard about it, and have ever since."
"It's inspired other network engineers in the region to establish NOGs in their own economies too," says Gaurab proudly, noting the efforts of Bangladesh (bdNOG), Bhutan (BtNOG), Pakistan (PkNOG), Sri Lanka (LKNOG), and even his homeland Nepal (npNOG).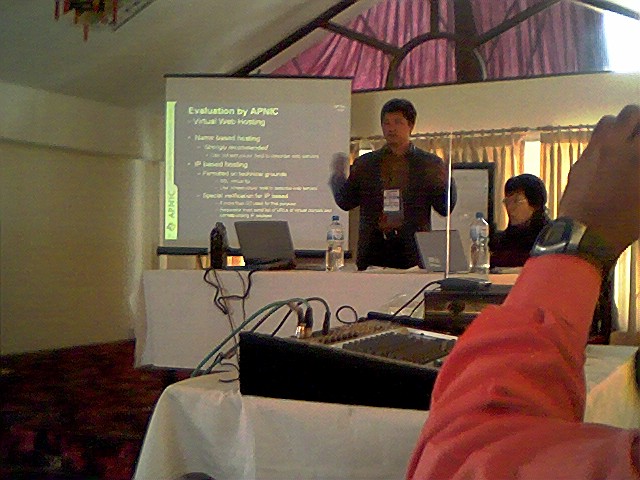 John Tan (left) and Miwa Fuji (right), then APNIC Trainers, presenting at the first SANOG conference.
Love what you do and do what you love
Organizing two SANOG events each year — including the first of 2018 which is colocated with the upcoming APRICOT conference — continues to keeps Gaurab busy, as does his job as Senior Director of Network Strategy and Interconnection at Limelight Networks, where he has been since 2010, as well as his multiple other voluntary and paid roles and commitments (see below). But you won't hear him complain about the work.
"A job is what you're paid to do. Work is what you like to do. Sometimes both of them will end up being the same.
"I've done all these things because none of these are jobs for me. Most of them I was just having fun doing."
The man with many hats 
In his 20+ years working in the ICT industry, Gaurab has taken on a number of jobs and voluntary positions, including:
Founding npIX in 2002, the first IX in the South Asian region, and still serving as its Chairman, pro-bono
Founding SANOG in 2003, the regional network operators' forum that has trained hundreds of network engineers and brought the Internet community together in the South Asian region with 25 successful meetings to date
Setting up his own company, Sastra Network Solutions, a services and consulting company specializing in IP-based solutions for corporates, network operators, and large clients
Helping establish the Nepal National Research and Education Network or NREN in 2007, and continuing to serve as its Technical Director
Assisting Mahabir Pun to evolve the Nepal Wireless Project (a past ISIF Asia award recipient)
Serving on program committees and boards of APIA, APRICOT, APIX, APNIC, Computer Association of Nepal and SANOG, some for more than 10 years
Chair of the APNIC Executive Council
Open-source advocate
Civil society activist
And for those budding fellows about to attend their first APRICOT conference, as Gaurab did 16 years ago, he offers the following insights:
Get involved in the Internet technical and networking communities. Some of them may be weird and wild, but they are all very welcoming and supportive.
Be inquisitive and willing to experiment. Being able to prove that something does not work is as important as being able to prove that something works.
Continue to always learn. "Since I've become more involved in managing, I'm learning more about budgets, managing people, and business expansion, which fits in very well with the management role I have at APNIC".
Whatever job you do, try and link it back to whatever you like doing. That's what makes it interesting and exciting.
---
The views expressed by the authors of this blog are their own and do not necessarily reflect the views of APNIC. Please note a Code of Conduct applies to this blog.