In just over a week, APNIC 44 will be held in Taichung, Taiwan. To give you a brief overview of the local history, challenges, and opportunities that the Internet provides to our host economy, we're telling the stories of some of its local champions.
Read the IDSeries, NZSeries, LKSeries and VNSeries from past conferences.
Taiwan has long been a technological leader. Its manufacturing feats are well known, with 70% of the world's integrated circuits being manufactured in Taiwan. Incredibly, Taiwan's five largest organizations are electronic, computing and semiconductor manufacturers, all of which feature in the Fortune Global 500.
Less known, though, is how Taiwan has been a networking and Internet pioneer: it was one of the first economies in Asia to develop an academic and research network (BITNET, which later became TANet), configure one of the first international network connections with the USA, and develop one of the largest wide-scale free WiFi services in the world.
A combination of a highly educated and productive workforce that's made them one of the 'Asian Tiger' economies, growth of mobile broadband, and the recent expansion and upgrades of its wireless and fixed-line broadband services, has resulted in impressive Internet speed and penetration.
As of 2017, 96% of Taiwan's 23 million population access the Internet every day, at an average Internet connection speed of around 17 Mbps, the 16th fastest in the world and fifth fastest in the Asia Pacific region. Taiwan is also ranked 13th in the world for average peak connection speeds.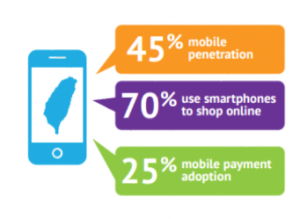 With a USD 37 billion e-commerce market that is expanding rapidly each year, and more access to interactive rich content, many of Taiwan's next generation of workers are looking to become digital innovators like YouTube co-founder Steven Chen and e-commerce pioneer Steven Ho.
Importantly, the TNDC are implementing key initiatives to assist with nurturing this digital-native generation as well as support efforts to modernize its manufacturing sector. These include establishing start-up hubs, science and technology parks inspired by Silicon Valley, and international commercialization services.
To meet the growing demand for Internet services and enabled devices, authorities are also working closely with the Taiwan Network Information Center (TWNIC) to improve awareness of IPv6, and to deploy it to meet the growing demand for Internet addresses. Currently, 98% of public services support IPv6, as will over 6,000 iTaiwan public WiFi hot spots by the end of 2017.
As we'll see during this series of interviews with some of Taiwan's Internet leaders, these efforts combined with Taiwan's technological affinity, are powering the economy into the new age of artificial intelligence, virtual reality, the Internet of Things, and smart cities.
Vincent Chen – Graduating from manufacturers to Internet innovators
Fu-Kuei Chung – Staying ahead of the Internet pack in Taiwan
Hazel Yen – HITCON GIRLS cultivating cybersecurity talent
Kuo-Wei Wu – Policy and regulation as important as technological feats
Shian-Shyong Tseng – TWNIC, more than a registry
---
The views expressed by the authors of this blog are their own and do not necessarily reflect the views of APNIC. Please note a Code of Conduct applies to this blog.