Encouraging new generations to contribute ideas to the national Internet discussion will help Taiwan's transition from manufacturing to innovation.
As in many economies, Taiwan's Internet was born and nurtured within its universities. The Taiwan Academic Network (TANet) was founded in 1991 by the government in collaboration with a cooperative of Taiwanese universities in order to assist with teaching and research activities for educational and research institutions.
Vincent Chen, Deputy Director of the Computer Center at the Ministry of Education at the time, was one of the key advocates of the project.
"The concept of TANet started from a fairly unassuming project to develop computerized administrative processes among universities," remembers Vincent. "Things started to become interesting by the mid to late 80s, when we (the government) collaborated with IBM on a project to establish the first inter-campus network in Taiwan, which we then connected to the global academic information exchange network, BITNET."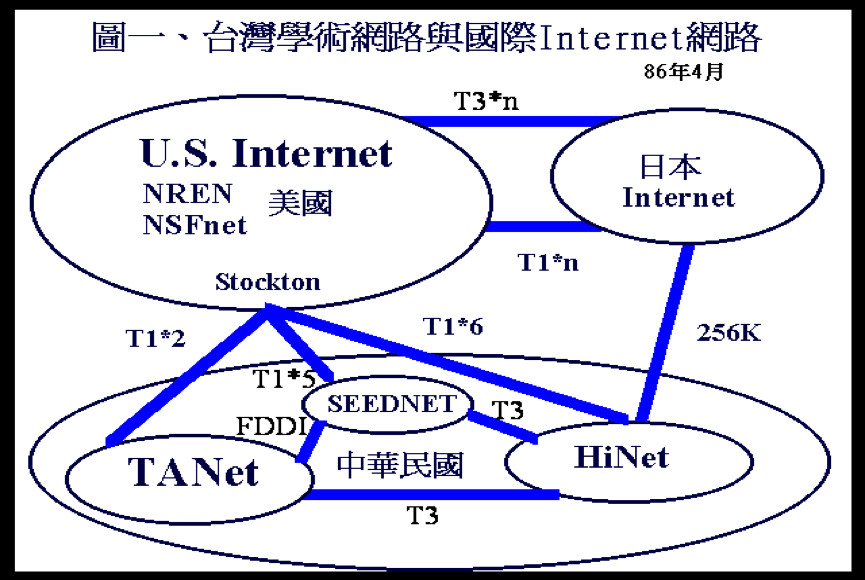 Over the next few years, engineers from BITNET partners from the Science University of Tokyo (Japan) and JvNCnet at Princeton University (USA) travelled to Taiwan several times to help their colleagues configure connections to BITNET and the Internet. During this time, the government also worked on registering the .tw TLD and IP address blocks, and by December 1991, launched TANet — the first Internet connection between Taiwan and the rest of the world.
Vincent recognizes this collaboration with Japanese and US universities as "being really important for developing the initial capacity we needed in Taiwan and essentially set the foundation for the Internet in Taiwan".
Having overseen the successful establishment of TANet, Vincent continued to play an important role in expanding the capacity of the network from 64kbps to 256kbps, as well as in coordinating with the Ministry of Transportation and Communications, and the main telco, Chunghwa Telecom, to connect HiNet — Taiwan's first commercial ISP — to the TANet network. HiNet also connected to TANet by 64kbps link, which was the first peering link in Taiwan.
As of 2014, all colleges and universities in Taiwan are connected to TANet, as are another 4,000 primary and secondary schools or so.
Although he stepped away from his government position in 1995 to pursue his PhD in Information Management, Vincent has always stayed involved in TANet out of fondness for the project, as well as through the multiple roles that have required him to cross paths with the network again and again. "It's something very close to my heart, as it set me on my Internet journey, first with TWNIC (Taiwan Network Information Centre) and later with TWIGF (Taiwan Internet Governance Forum)."
Read: TWIGF provides opportunity to discuss local Internet issues
Establishing TWNIC
Upon completing his PhD, Vincent accepted a position at the National Kaohsiung First University of Science and Technology in 1999 to establish its Department of Information Management. Not long after, he was approached to lead the newly incorporated Taiwan Network Information Centre (TWNIC).
As a neutral and non-profit organization, TWNIC is responsible for domain name registrations and IP address allocations in Taiwan. In addition to providing network services, TWNIC's mission includes encouraging healthy and rapid growth of the Internet industry in Taiwan through the assistance of industry in promoting Internet use and coordinating the exchange and integration of Internet information services.
"It was a great honour to be appointed as the first CEO of TWNIC in 2000," says Vincent. "In the early years, it was an exciting project to be a part of as we grew our Membership and worked on developing our relationship with ICANN, APTLD, APNIC and other Internet registries in our region.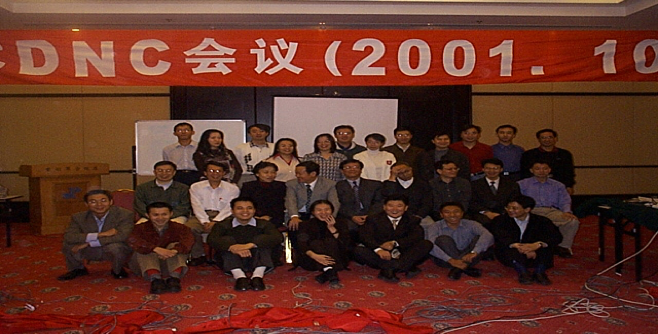 "Hosting the 12th APNIC Open Policy Meeting, APTLD 2003 AGM and APRICOT 2003 conferences were definite highlights, as was the redelegation of the .tw ccTLD under TWNIC management, and all the great work we did as part of the Chinese Domain Name Consortium (CDNC) to come up with a standard way to create a domain name system for Chinese characters!"
Although he served as CEO for only four years, Vincent has always remained in close contact with TWNIC, serving as a Board Member and member of its International Affairs Committee, the latter role leading to him becoming more involved in Internet governance both locally and abroad.
Developing a wider plan for the Internet
Having straddled both the Internet governance and information management communities for over 30 years, Vincent believes the two share many similarities.
"Both are concerned with acquiring, making sense of, and distributing information from a variety of well-informed stakeholders in an effort to produce an effective and well-considered strategy," says Vincent.
When asked about his thoughts on Taiwan's current and future strategy for the Internet and its application, Vincent takes a fairly direct stance: "We can and need to do better."
"Taiwan has a natural affection for technology, which helped it to be one of the largest tech manufacturers in the world," he said. "However, unlike Korea, Japan and more recently China, which also have large technology manufacturing sectors, we have struggled to form a well-considered strategy on how the Internet can support and enhance the manufacturing industry, as well as how it can help with diversifying our economy."
Vincent says initiatives such as the Taiwan Internet Governance Forum, which he has played an important role in establishing, have helped to highlight these issues to government and industry, as well as provided a platform for stakeholders from all walks of society to discuss how to make Taiwan's Internet policy more efficient, accountable, inclusive, and participative.
"It's been great to see a mix of people come together and discuss how the Internet affects them and their industry, and discuss what they believe needs to be accounted for in a holistic policy. Nurturing this sort of discussion and encouraging new generations to contribute their ideas to it will enable Taiwan to graduate from being manufacturers to innovators."
---
The views expressed by the authors of this blog are their own and do not necessarily reflect the views of APNIC. Please note a Code of Conduct applies to this blog.