TWNIC Board in 2002
As a co-host of the recent APNIC 44 conference held in Taichung, Taiwan, the TWSeries would not be complete without an insight into the history and future of TWNIC.
The Internet journey of TWNIC's founding Chairman, Professor Shian-Shyong Tseng, began in the early '90s when he was Director of the Computer Centre at the Ministry of Education. It was here that he oversaw the foundation of the Taiwan Academic Network (TANet), as well as the establishment of cooperation with Taiwan's commercial ISPs.
Prof Tseng says that being a part of these historic efforts rank high among his professional achievements. However, it was the groundwork that he did during this time to establish TWNIC that he remembers as most challenging.
"I first proposed the concept of the foundation of TWNIC in 1996, to act as an independent organization that would be responsible for domain name registrations and IP address allocations," says Prof Tseng, as these two responsibilities were being carried out by different ministries at that time.
TWNIC was established as a two-year experiment under the Ministry of Education before being transferred to the Computer Society.
Over the next three and a half years, Prof Tseng worked with experts from Taiwan's Internet-related organizations for coordinating the operation and maintenance of domain name registrations and IP address allocations, and sought guidance from the Minister without portfolio to decide which ministry TWNIC would be best suited to.
"After much consideration, it was decided that our objectives and efforts best aligned with the Ministry of Transportation and Communications," says Prof Tseng, clarifying that TWNIC was and remains independent but reports to the government as its funder.
On 29 December 1999, TWNIC was officially registered as a neutral and non-profit organization, with Prof Tseng named as its founding Chairman. In addition to providing network services, TWNIC's mission is to promote initiatives to grow a healthy Internet industry, including developing capacity among Taiwan's ICT workforce, as well as championing key components of a safer and sustainable Internet, including IPv6 and network security.
Enabling IPv6 in Taiwan
TWNIC has been proactive about the need for Taiwan to adopt IPv6.
"Taiwan has been one of the leading technology manufacturers in the world for the past three decades and as such can, and needs to, play a prominent role in developing IPv6-ready devices and services," says Prof Tseng.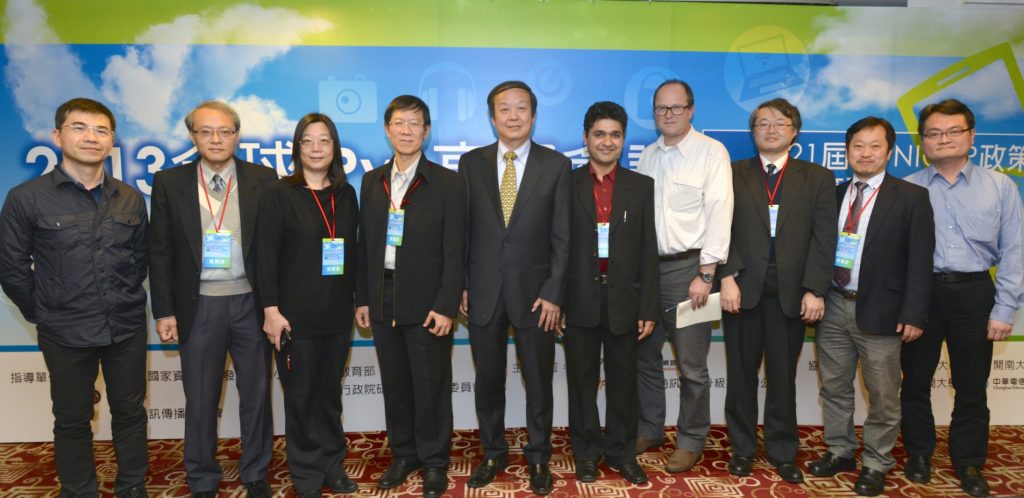 "To assist this development, we've run hundreds of IPv6 training workshops, organized and supported dozens of IPv6 summits and forums (including the first Global IPv6 Summit held in the Asia Pacific, which was held in conjunction with APRICOT 2003), and established an IPv6 virtual lab to allow engineers and organizations to get hands-on experience with configuring IPv6 as well as test and verify their IPv6-ready devices and services."
"As part of our role to implement the government's IPv6 plans, we've also assisted with enabling both TANet and government services to be IPv6 ready," says Prof Tseng. He hopes that TWNIC's success with enabling almost all government networks and services to be IPv6-ready will provide the blueprint and impetus for ISPs to start deploying IPv6.
TWNIC's enthusiasm for IPv6 extends outside of Taiwan. It was the driving force behind the creation of the first IPv6 Readiness Measurement BoF held in 2013 at APNIC 36. The BoF aimed to gather and share information on how to measure IPv6 readiness, and promote collaboration in the Asia Pacific Internet community on encouraging and measuring IPv6 readiness. The success of the BoF has seen it continue as a regular session at APNIC conferences, with the recent meeting in Taichung being the 9th BoF held under TWNIC's coordination.
Securing Taiwan's Internet through capacity development and awareness
Given Taiwan's reputation for being a frequent target of cyberattacks, TWNIC has played a key role in communicating the need for Taiwan's organizations to establish proper cybersecurity protocols, as well as assisting the government's mitigation requirements.
"Having a CERT/CC in every country is very important for coordinating the various ways that governments are working towards responding to and mitigating cyberattacks," says Prof Tseng. "It was particularly important in Taiwan, given that we have so many attacks and so many different ministries and cybersecurity incident centres that are trying to manage these attacks."
Having led the call for a CERT for so many years, TWNIC was assigned to operate TWCERT/CC from 2010 to 2013 – with Prof Tseng appointed as director – and assisted with establishing a suite of network security training courses, promoted and coordinated a security alliance for several Taiwan organization/groups, and developed a number of awareness campaigns and public services, including a DNS setup validation system and anti-phishing notification system.
Aside from providing ongoing capacity development assistance to TWCERT/CC, TWNIC's Network Security Committee also advises on network security policy and plays a key role in increasing awareness of DNS security.
"From the very beginning, the structure of TWNIC has been a multistakeholder model, which has reflected the most crucial concept of the bottom-up process in Internet governance," says Prof Tseng. "As the founder of TWNIC, I hope the model will be fully realized and implemented to ensure the sustainable development of the Internet in Taiwan."
---
The views expressed by the authors of this blog are their own and do not necessarily reflect the views of APNIC. Please note a Code of Conduct applies to this blog.