In the past decade, Nepal, a country of close to 30 million people, has seen a large number of its population migrate in search of job opportunities. Between 2008 and 2014, more than two million labour permits were issued for Nepalis to work abroad [PDF 2.4 MB].
This migration has created a void in the workforce, and an opportunity for women to work in traditionally male-dominated fields, such as technology. Although this change provides the potential for some women to overcome gender-based poverty, entrenched inequality complicates the journey towards equal rights and opportunities.
Education is one area where inequality is well documented. In Nepal, female literacy rates are much lower than their male counterparts. Women's enrolment in science and technology and related fields, including engineering, is also very low [PDF 2.3 MB] compared with education, humanities, and management. And women have much fewer opportunities for graduate education than their male counterparts.
This has a flow-on impact on the number of women working in technology and associated sectors. Women represent only between 5% and 10% of people in IT in Nepal. (This trend is not confined to Nepal; women represent only 26% of people working in STEM (Science, Technology, Engineering and Mathematics) worldwide.)
However, change is on the horizon. The Nepali government has heeded calls that it should play a key role in promoting women's ICT leadership as well as their access to financial resources.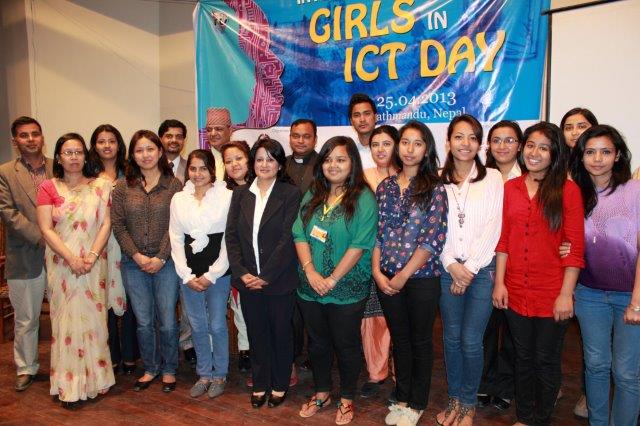 On 15 April 2013, International Girls in ICT Day was celebrated for the first time in Nepal, a joint effort by the Ministry of Information and Communication, the Nepal Telecom Authority (NTA) and Equal Access International Nepal, with support from the International Telecommunication Union (ITU). And organizations such as the Society for Information Communication Technology (SICT) Nepal are working with the government to build ICT skills in women.
Last year, the Minister for Information and Communications, Sherdhan Rai, stressed the need for women's empowerment in the information and technology field. Minister Rai said "women needed to be empowered so that their talents and skills could be used properly. The government is organizing various trainings to empower the women in the information and technology sector."
However, some of the most promising progress is being made by women who are leading from the front in community-based volunteer organizations and as engineers in the industry.
Binita Shrestha, founder and president of Women in STEM, Nepal, is studying for a Bachelor's degree in Engineering, Information Technology and Software, in Kathmandu, Nepal's capital, with a particular interest in Android development.
After noticing a very low representation of women in technology and science she, along with friend Pratiksha Pandey, founded the community to encourage and promote young girls in STEM.
"When I started studying Computer Science, I was the only 'girl' among 150 students," said Binita.
"Women have great potential and STEM fields can provide them with the essential skills and knowledge to build anything that they can imagine."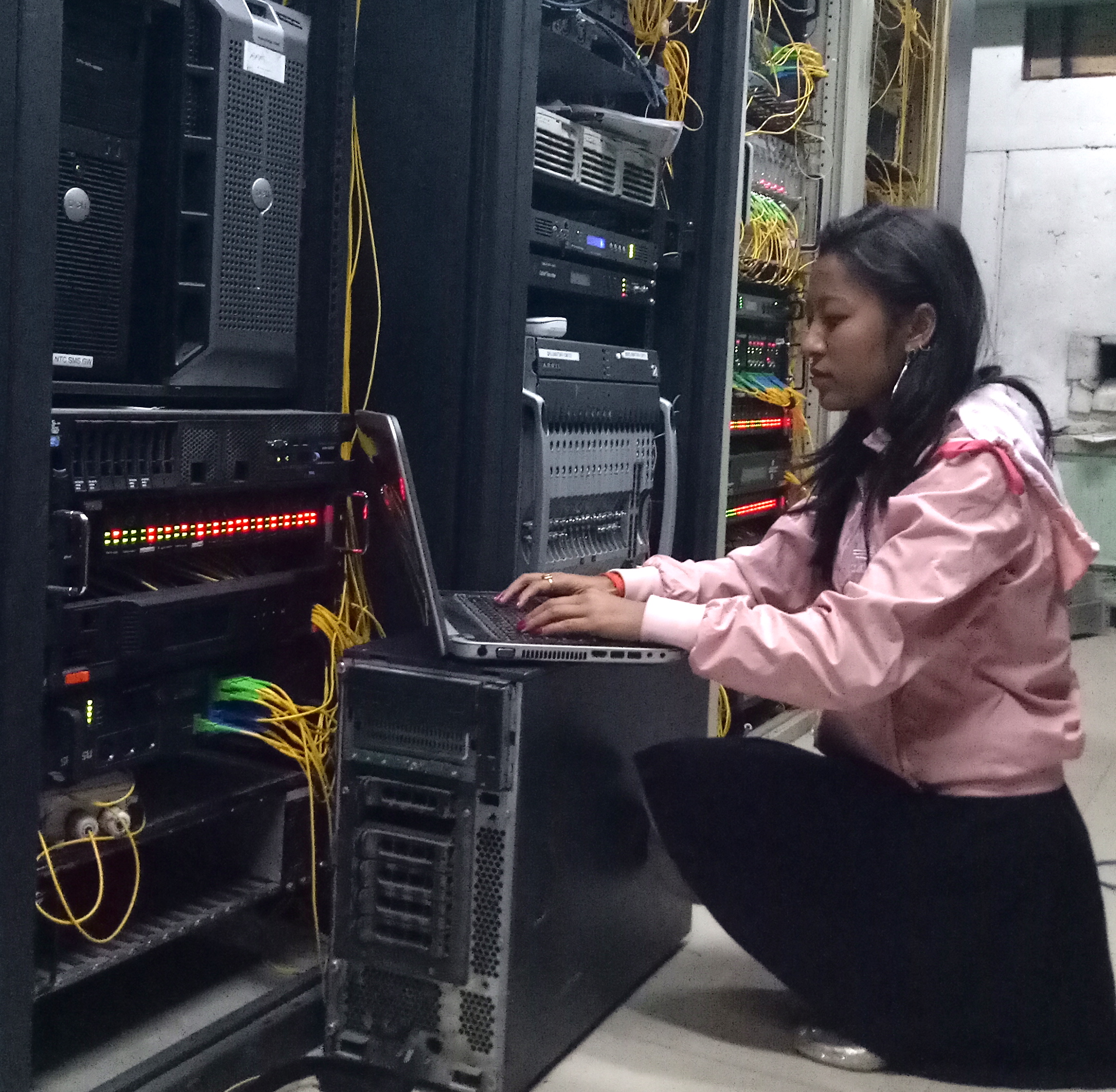 Rashmi Joshi has a Bachelor's degree in Electronic and Communication Engineering and has been working for six years at Subisu CableNet Pvt Ltd, one of Nepal's largest cable TV and ISP companies, as a wireless engineer and network engineer.
"I am the first person from my family involved in this field," she said. "I chose this as my career and now I am happy and enjoying my decision.
"It is still commonly agreed in our country that men are the breadwinners and women should stay at home. Men are dominant while women are supposed to be obedient and submissive to them. This might have been truer when work was comprised of the traditional jobs, but the modern definition of work includes much more than labour," said Rashmi.
"There is a bright future for women in ICT in Nepal. Nowadays, women are given more opportunities to be involved and show our talent in the ICT sector. My company provides opportunities for women to be involved in various training. Even my family support me a lot."
But Rashmi admits that the opportunities are not available equally to all Nepali women.
"In comparison to the countryside areas, we girls from the city area are very lucky. Rural women hardly get educated, so being involved in the ICT sector is beyond their reach.
"Women also do a lot of household work besides official work. It's quite challenging for women to give full efforts to their full-time job and this can ultimately decrease performance. Actually, this is the situation for women in almost every country, not just Nepal."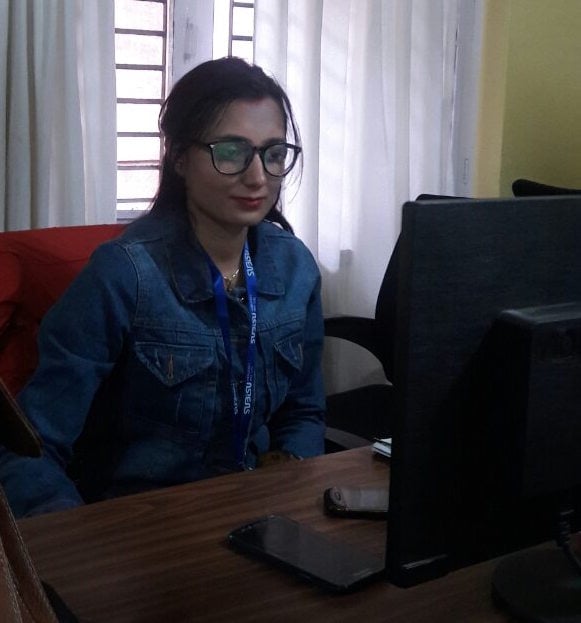 Astha Ghimire studied Electronics and Communication Engineering, and has been a wireless engineer — also at Subisu Cablenet Pvt Ltd — for almost six years.
"From my schooldays I was amazed when I saw two machines communicating with each other and two people broadcasting messages from one device to all the connected machines in the room. After my encounter with broadcasting, my career began in the field of telecommunication and engineering," said Astha.
"As wireless engineers, my team and I are continuously working to expand our services throughout the country. But women cannot work in the field because of security factors; there is a real danger for women travelling the country doing their job. For this reason, we fall behind in skills and knowledge.
"Nepal is still in the development phase of the Internet. Being a woman in a developing country, you have to face lots of challenges in order to broaden our knowledge in this field.
"But I love what I do."
This story was originally published 27 April 2017 as "Women in ICT: Future looks bright for Nepalese women in ICT field"
---
The views expressed by the authors of this blog are their own and do not necessarily reflect the views of APNIC. Please note a Code of Conduct applies to this blog.