Japan was recently overtaken by India as the leading economy for IPv6 capability in the Asia Pacific region, having held the honour for the past three years.
India's sharp increase was due to the work of one mobile carrier, Reliance Jio, which in the past 12 months has connected over 45 million subscribers to IPv6 – accounting for almost 70% of the country's IPv6 traffic.
Although Japan's IPv6 capabilities have hovered around the 16% mark for the past two years, with most ISP users still using IPv4 rather than IPv6, there is hope that this figure is set to significantly increase in 2017, following the announcements made by Japan's three major mobile carriers NTT, KDDI, and Softbank at JANOG 39 last month.
At the session called "Finally fixed! IPv6 will be offered to smartphones", representatives from each of the three major carriers said they will start offering IPv6 capabilities to their smartphone users in 2017.
NTT announced they will start offering IPv6 around the summer of 2017. However, this timeline may be brought forward if we're to believe the recent tweet posted by NTT Docomo's official twitter account, which announced that they will start offering IPv6 from April 2017.
2017年4月頃より、 #ドコモ 端末よりインターネットにアクセスする際に #IPv6 アドレスが付与される場合があります。自サーバへの接続でIPアドレス制限されている場合は、今のうちに設定変更を実施しましょう。詳細は→ https://t.co/cblmNM9lZ0 担当pix

— NTTドコモ開発者情報 (@docomo_dev_info) February 7, 2017
KDDI said they will prepare for IPv6 offering in the first half of the fiscal year 2017. From the second half of the 2017 fiscal year, smartphone users will be able to use IPv6 without a special subscription.
Softbank has already started providing IPv6 to some smartphone users since June 2016, which seems to have had an impact on their IPv6 capabilities.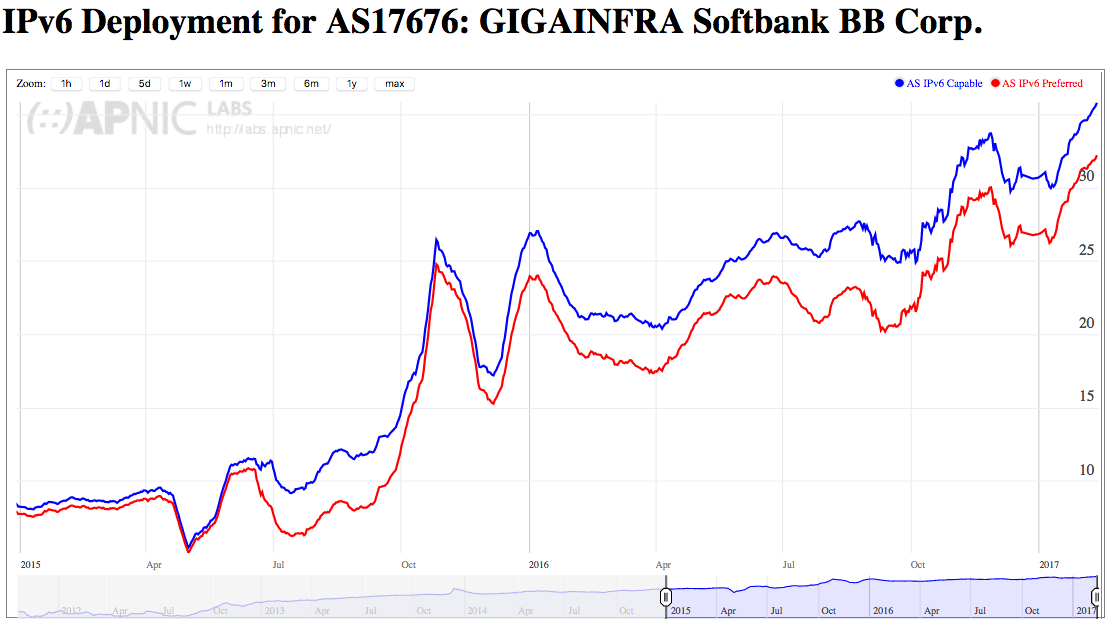 Manifest at Ministry of Public Management
Although these recent announcements may be news to many, these discussions have been playing out in the industry for over a year now.
In 2016, the three major carriers made a manifest about IPv6 at a workshop held in the Ministry of Public Management. In Japan, a workshop held in ministries and agencies is likely to have occurred at the request of the government. This means making a manifest in that workshop is almost like corresponding to a government request.
The coordinated report plan from the workshop included the following words (see 31-7):
"users of smartphones sold from fiscal year 2017, will be using IPv6 as default without being conscious"
Although it may not have been news, the recent announcements at JANOG were at least pleasing for the fact that the outcomes from these ongoing discussions are being acted upon and we'll shortly see a sharp increase in Japan's IPv6 capabilities in 2017.
Handbook to increase IPv6 awareness
Although IPv6 has been around for many years, it is still not a hot topic in Japan for non-network engineers. For example, many web engineers say there is no information they could refer to about IPv6.
Therefore, I am now starting to write a Japanese IPv6 handbook for engineers to help build awareness and allow our content folks to start preparing for the IPv6 world. Stay tuned.
Akimichi Ogawa is a Japanese blogger/writer. He writes about TCP/IP, Internet governance, Internet protocols, Internet infrastructure and Japan's blogosphere.
---
The views expressed by the authors of this blog are their own and do not necessarily reflect the views of APNIC. Please note a Code of Conduct applies to this blog.