JPOPF-ST leading policy discussion at JANOG 43.
To celebrate APNIC 56 in Kyoto, we're sharing the successes, challenges, and history of Internet operations in Japan.
Many readers of this blog will already be subscribed to the SIG-policy mailing list on Orbit or have participated in the APNIC Open Policy Meeting (APNIC OPM). However, how many are aware that an organization with similar activities exists in Japan? This article will explain the origins, structure, activities, achievements, and challenges of this organization known as the Japan Open Policy Forum (JPOPF).
Origin and structure of JPOPF
Discussions regarding address resource policies in the Japan Network Information Center (JPNIC) region were initially organized by JPNIC and commenced in 1996 through mailing lists and on-site meetings. At the time, mailing lists primarily served as a means for JPNIC to disseminate information to its members and current activities have evolved since then.
At the turn of the century, the JPNIC community recognized the need for an open and bottom-up discussion platform, as well as a community to support such discussions within both the JPNIC and APNIC regions.
After careful deliberation among volunteers, JPOPF was established in 2004, and the Policy Development Process (PDP) at JPNIC was documented.
JPOPF is managed by volunteers who are separate from JPNIC staff, which represents one of its main distinguishing features. Currently, JPOPF is operated by a four-member JPOPF-Steering Team (JPOPF-ST), which includes me.
JPOPF activities
JPOPF is primarily engaged in the following activities:
Policy development
The interface between APNIC and the Japanese community
Short-term Working Groups
Sharing Internet Protocol and Autonomous System news with the Japanese community
Sharing information with other communities
Publishing documents
For JPOPF, the most significant activity is policy development. Policy proposals and discussions in Japan take place on the mailing list operated by JPOPF and at the JPNIC Open Policy Meeting (JPOPM), an on-site gathering also organized by JPOPF. JPOPM is held twice a year, with the most recent meeting taking place in June 2023, marking its 44th occurrence.
Policy proposals that attain primary consensus at JPOPM undergo a minimum two-week last-call period and are validated by the JPOPF-ST before being officially certified as consensus.
Following that, the JPOPF-ST requests the implementation of policy proposals that have achieved formal consensus from JPNIC.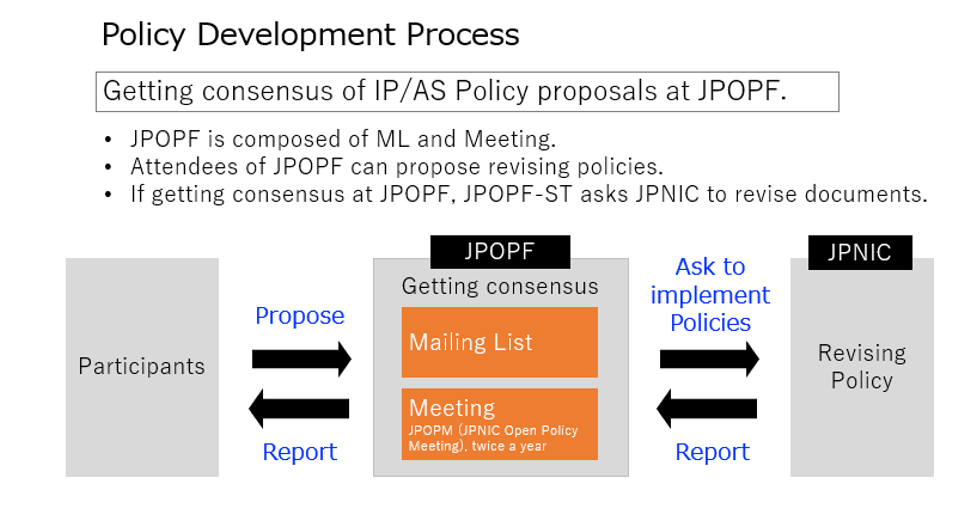 Likewise, the interface between APNIC and the Japanese community is a crucial activity.
Some policy proposals submitted to the APNIC OPM also apply to National Internet Registries (NIRs) automatically once consensus has been reached. However, due to language barriers, the English-language policy proposals within APNIC are not always comprehensible to members of the Japanese community.
Once a policy proposal is released, the JPOPF-ST holds a meeting to discuss it with the Japanese community after translating the proposal summary into Japanese and providing a brief context. The outcomes of this meeting are then translated back into English and conveyed to the SIG-policy mailing list.
As you may be aware, APNIC OPM policy proposals are released one month prior to the event itself. Although the timeline is tight for implementing the above process, we believe that this activity benefits both APNIC and the Japanese community.
Successes and challenges
So far, we have discussed PDPs in Japan, among other topics. You may have noticed the existence of two distinct policies, one for APNIC and another for JPNIC.
In reality, JPNIC is an NIR with its own address policy. However, most of the content aligns with APNIC's address policy, particularly the IP address distribution size policy, which maintains complete consistency to ensure fairness with other regions.
On the other hand, JPNIC has its own unique elements, such as its accounts system and whois, which differ from APNIC's. These elements operate in accordance with JPNIC's specific policies and guidelines.
For instance, "036-01: Validation of improved WHOIS accuracy in JPNIC" which achieved consensus at JPOPM in 2019, is based on APNIC's "prop-125: Validation of "abuse-mailbox" and other IRT emails".
However, the information registered and displayed in the whois databases of APNIC and JPNIC differ. Consequently, a Working Group was established to examine the scope of additional information to be registered and the validation methods, and recommendations for implementation were made to JPNIC following extensive discussions among the invited members of the public.
As mentioned earlier, JPOPM has been held 44 times thus far, but the number of participants has gradually declined since its peak in 2007 when discussions on IPv4 address exhaustion were prominent.
While this decline can be viewed positively, as it indicates the stable operation of address policies with no major issues, it is crucial to maintain a platform for discussing future challenges.
We recognize that it is our responsibility to sustain the vitality of JPOPF.
To address this challenge, we have been promoting JPOPM at JANOG Meetings and regional Network Operator Groups (NOGs) in Japan. During the recent JANOG 52, we showcased materials explaining the PDP at JPNIC at our booth.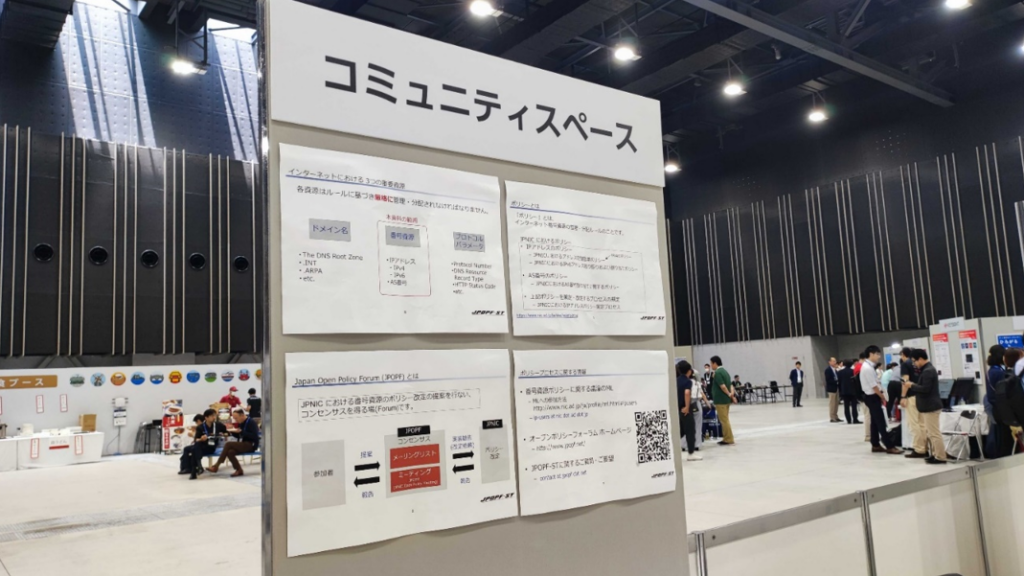 In addition to APNIC 56, the IGF 2023 will be held in Kyoto this year. As you are aware, the IGF serves as a forum for multistakeholder discussions on various Internet-related issues, and I hope that the state of the Internet itself, including address policies, will be widely discussed and disseminated.
I have only scratched the surface of JPOPF's activities in this blog post, but I look forward to continuing this discussion in Kyoto.
See you at APNIC 56 in Kyoto!
Satoru Tsurumaki is Co-Chair of Japan Open Policy Forum Steering Team (JPOPF-ST).
---
The views expressed by the authors of this blog are their own and do not necessarily reflect the views of APNIC. Please note a Code of Conduct applies to this blog.