To celebrate APNIC 56 in Kyoto, we're sharing the successes, challenges, and history of Internet operations in Japan.
Fortunately, as almost all COVID-19 restrictions have now been lifted, Japan is welcoming visitors from all over the world again. From 7 to 14 September 2023, Kyoto will welcome the Internet operations community to Kyoto, so let's take a look at the Japanese Internet.
Japan has an area of 378,000 square kilometres and a population of 125 million spread across four major islands and approximately 14,000 small and medium islands (Figure 1).
Japan is widely regarded as one of the most advanced economies for Internet penetration. Japan's Internet usage rate (individuals) is 82.9% and the development rate of optical fibre is 99.3%. The number of broadband subscribers is 43.8M, which includes 36.6M FTTH subscribers and 6.5M CATV Internet subscribers, while the number of mobile broadband subscribers (4G and 5G) is 184M.
Connectivity
The Japanese Internet began in academia in 1984 and was later connected to the US via the Internet Protocol (IP) in 1988. The commercial Internet began in 1993 with the Internet Initiative Japan (IIJ). In 2023, of the 776 Autonomous System Numbers (ASNs) assigned by JPNIC, 540 are listed by the Japan Internet Service Provider Association. Tables 1 – 3 show the top eight FTTH ISPs, the top four Mobile Network Operators (MNO), and the top four commercial Internet Exchange Providers.
| | | |
| --- | --- | --- |
| | Company | Service name |
| 1 | Softbank | Softbank Hikari |
| 2 | NTT Resonant | OCN |
| 3 | NTT Docomo | Docomo Hikari |
| 4 | Sony Network Communications | So-net |
| 5 | Biglobe | Biglobe |
| 6 | Optage | eo Hikari |
| 7 | KDDI | au Hikari |
| 8 | Nifty | @Nifty |
Table 1 — Top eight FTTH ISPs. Source.
| | | |
| --- | --- | --- |
| | Company | Service name |
| 1 | NTT Docomo | Docomo |
| 2 | KDDI | au |
| 3 | Softbank | Softbank Mobile |
| 4 | Rakuten Mobile | Rakuten Mobile |
Table 2 — Top four Mobile Network Operators (MNO). Source.
| | | |
| --- | --- | --- |
| | Company | Year to start |
| 1 | JPIX | 1997 |
| 2 | JPNAP | 2001 |
| 3 | BBIX | 2002 |
| 4 | Equinix | 2007 |
Table 3 — Top four commercial IXPs.
In Japan, the current average download traffic by broadband subscribers is estimated to be 30.5Tbps (314.3 PetaBytes) per day, which increased by 17.4% from May 2022 to May 2023, as shown in Figure 2. The Ministry of Internal Affairs and Communications (MIC) has reported this statistic twice a year since 2004. Traffic data is provided by ISPs and IXPs in Japan.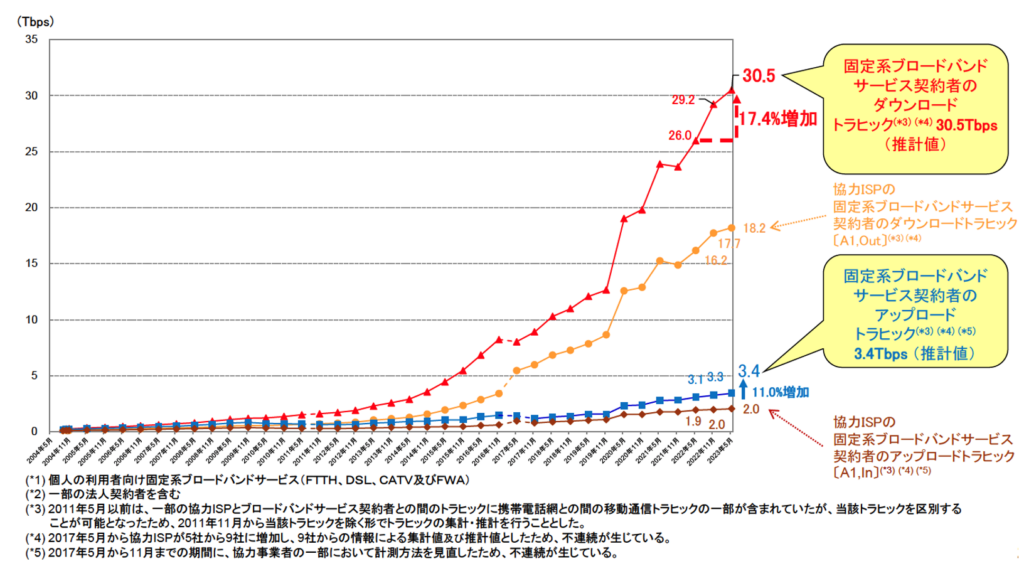 Internet Exchange Points (IXPs) in Japan are led by four commercial companies in Tokyo and Osaka, which are both major hubs. Each of these has 200 to 300 ASNs connected in Tokyo and around 100 in Osaka. The total peak traffic exchanged at these IXPs is 13.5Tbps, as shown in Figure 3.
The peering policies of networks in Japan are largely the same as other economies; huge network operators that provide IP transit in Japan and have many subscribers use selective or restrictive policies. Most other networks and content providers in Japan use open policies, although some use selective policies to manage where they would like to receive the traffic.
Data centres are located all over Japan, but many of them are found in and around Tokyo and Osaka where there is high population density and domestic networks are interconnected. Increasingly, data centres are located in suburban areas due to cheaper electricity, ecological power sources, or cheaper land prices. In recent years, Inzai, a city located in the Chiba Prefecture 50km from Tokyo, and Ibaraki in the Osaka Prefecture 20km from Osaka, have become hot spots with many new large data centres being built.
Japan can be seen as the network hub of Asia and as a gateway from Asia to the US, with many submarine cable systems being built from Japan. Landing stations are mainly in two areas on the Pacific Ocean side; the Ibaraki and Chiba prefectures close to Tokyo, and Mie and Aichi prefectures close to Osaka. In the northern area, there will be 20 submarine cable systems landing in 2024 or 2025, while in southern areas, about 10 systems will land (Figure 4).
IPv6
IPv6 deployment is a big topic all over the world and Japanese ISPs are continuously working hard to deploy IPv6 in their networks. Most ISP access networks rely on 'Next Generation Network (NGN)' supplied by local Nippon Telegraph and Telephone entities (NTT East and NTT West), so subscribers of these ISPs are using NGN as an access line. Two years ago, the IPv6 penetration ratio on the NGN reached 80%, which means that 18.1M out of 22.5M subscribers can use IPv6 as well as IPv4.
The increase in the IPv6 deployment ratio leads to an increase in IPv6 traffic. At the Japan Network Access Point (JPNAP), we could see that 24.2% of the traffic was IPv6 (Figure 5). IPv6 deployment on the server side is still low, but big techs like Google, Amazon, Meta and so on support IPv6. Subscribers of ISPs using NTT's NGN are using IPv6 by default. Also, the major portion of the IPv6 traffic is video, so IPv6 traffic volume is more than expected from these numbers.
Important topics in current Japanese Internet operations
The rise of the live streaming traffic
Internet traffic in Japan is still increasing every year. One current concern of Internet operators is the rise of live-streaming traffic.
Most live events are still broadcast on TV in Japan. Recently, however, some events began to stream via the Internet. The big turning point for live streaming was the World Cup games in 2022. An Internet Video in Demand (VoD) company in Japan, AbemaTV, secured the broadcasting rights and provided the live streaming of all the games on the Internet through Content Distribution Networks (CDNs). With many Japanese people watching, huge traffic was generated (Figure 6).

Conversely, World Cup matches were broadcast live only on TV before 2022, which saw Internet traffic decrease during the games as people concentrated on TV rather than smartphone and PC use. During Japan vs Poland in 2018, traffic decreased by 0.5Tbps. During Japan vs Spain in 2022, traffic increased by 1.7Tbps, as shown in Figure 7.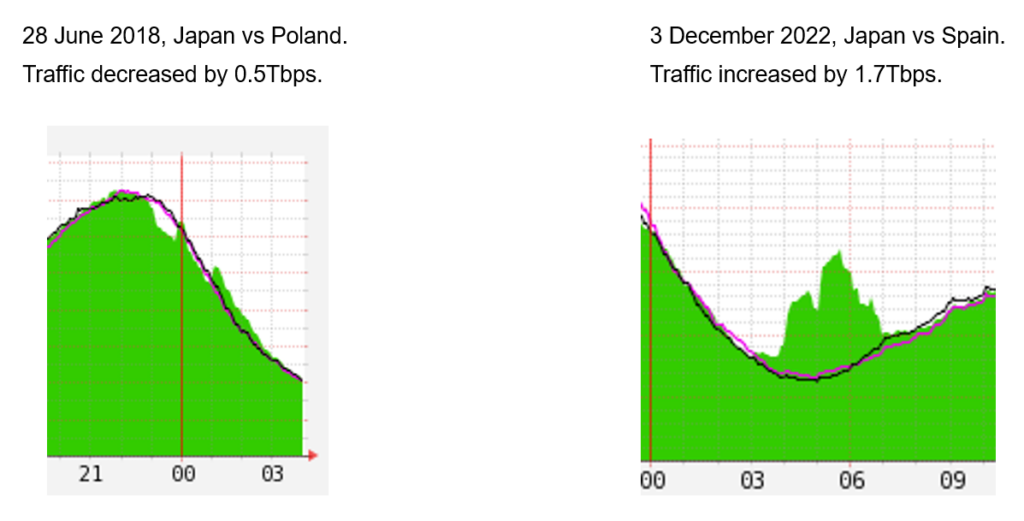 Consequently, ISPs in Japan must carefully manage their network capacity during popular events. Accordingly, ISPs and Content providers/CDNs in Japan established a council called 'CONECT' with the support of MIC. CONECT meets regularly to share information from live events and share information to prevent congestion.
From my view, these experiences and activities have taught us that network capacity only needs careful consideration for a few big events that are very popular, free, and don't require registration, as Japanese ISPs invest in their infrastructure appropriate to their needs.
The third hub of Japan is growing
Historically, Japan's first hub was Tokyo. It's the capital city with a huge population and remains the telecommunications gateway to other economies. The second hub is Osaka, 500km from Tokyo, and is another international telecommunications gateway.
During the 1990s and early 2000s, ISPs only interconnected and exchanged traffic in Tokyo. Only large national ISPs in Japan were interconnected in Tokyo and Osaka for redundancy and reliability. In the late 2000s, big tech companies like Google, Amazon, Apple, Microsoft, Facebook and so on built their Points of Presence (POPs) in Tokyo, accelerating concentration to Tokyo.
In 2011, the Great East Japan Earthquake occurred and providers recognized the risks of relying on only Tokyo, putting Osaka into the spotlight. However, the growth in Osaka didn't begin until the late 2010s. The big tech companies built their second or third POP in and around Osaka, so smaller ISPs in the middle and west of Japan began to interconnect in Osaka.
In 2021, BBIX, JPNAP, and JPIX built IXPs in Fukuoka (Figure 8), collaborating with QTnet to make Fukuoka a local hub of interconnection on Kyushu Island. It was a difficult task to make a third city a hub of networks other than Tokyo and Osaka, but it helped that there were a substantial number of eyeball networks in Kyushu to support it and connect.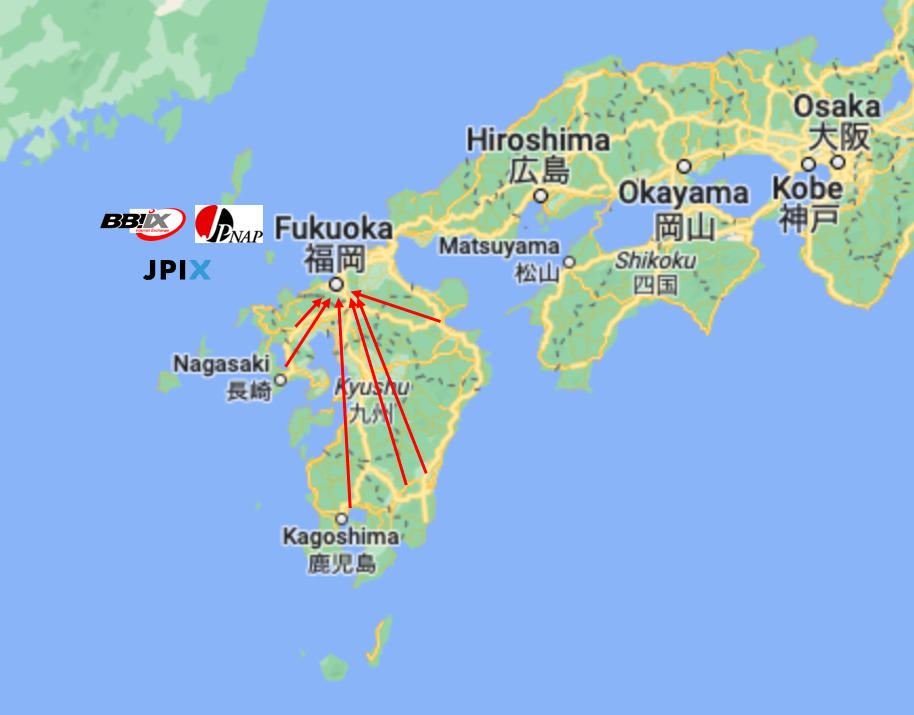 The key factor to successfully creating this third hub was to invite content providers/CDNs and cache servers to the IXP. Since 2021, the growth of Fukuoka has been much more rapid than Osaka (Figures 9 and 10) and there's potential to grow more due to its proximity to Korea.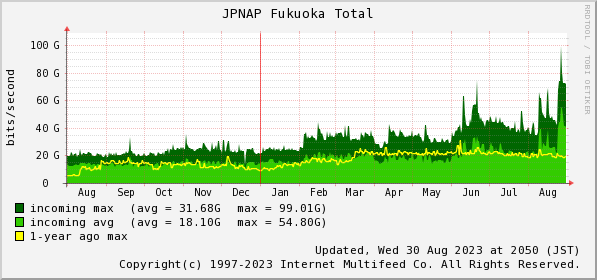 The business of the Internet in Japan
The Internet market is relatively open and there is fair competition between ISPs, mobile carriers, data centres, IXPs, and so on. Due to competition, the price of services is continuously and gradually decreasing, so users are happy, but ISPs are always trying hard to reduce the various costs.
The government regulates companies with a higher share in the market like NTT East and NTT West, which own a large share of the access lines, and big mobile operators (such as NTT Docomo, KDDI, and Softbank).
Recently, some significant network outages of major carriers have had a profound impact on our daily lives. In Japan, the Internet is now essential infrastructure within our digitalized society, and the realization that Internet disruptions can impede our daily life has prompted a shift in perspective. This series of events appears to have prompted a re-evaluation of the Japanese government's stance, leading to a more stringent approach to monitoring Internet operations.
In closing
I believe that Japanese people involved in Internet operations and business collaborate and self-regulate well. These characteristics, along with high aspirations, are working well to make the Internet better for all users.
My hope is that these values will remain within our community and be extended to economies across the Asia Pacific region, and ultimately, the world. This way, the Internet can become the best foundation for meaningful human communication.
Katsuyasu Toyama will present the Internet landscape of Japan during the APIX Workshop at APNIC 56 in Kyoto, Japan. Find more great technical content on Internet operations during the conference.
Katsuyasu Toyama is a chair of APIX association and COO of JPNAP, the biggest internet exchange in Japan, by INTERNET MULTIFEED CO.
---
The views expressed by the authors of this blog are their own and do not necessarily reflect the views of APNIC. Please note a Code of Conduct applies to this blog.