Tongan students attend APNIC's new Network Monitoring and Management course.
In the last 10 years, we have seen a lot of changes to how we deploy our infrastructure, especially with the adoption of SDN and cloud. Simple networks don't meet the requirements of modern infrastructure anymore; we've all developed techniques to keep up.
To ensure our network delivers the expected performance, including good bandwidth speed, uninterrupted communication, and high availability, we need better visibility and an end-to-end network monitoring and management strategy.
As a result, APNIC has developed a new course on Network Management and Monitoring (NMM), an increasingly important skill in our community. The first NMM course offering was held in Tonga this month and was launched as part of the APNIC Foundation PACTRAINING project.
APNIC trainers delivered the course remotely, due to COVID travel restrictions. However, students were still able to get together in one room. The course was designed in a new hybrid format, with some of the 27 participants able to interact and work together in person, while others participated remotely. This was made possible thanks to support from Tonga's Ministry of Meteorology, Energy, Information, Disaster Management, Environment, Climate Change and Communication (MEIDECC), Tonga CERT, Digicel and House of Tonga.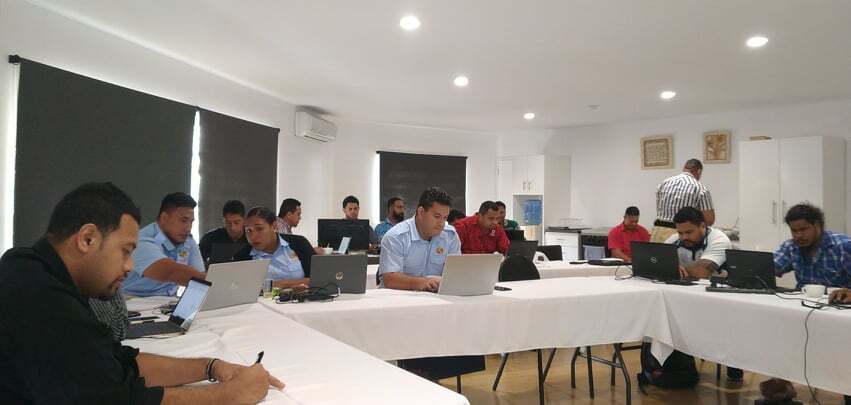 Feedback from students included praise for how it delivers real-world, practical knowledge. "You become more aware of some areas that you are weak in, or your team does not pay serious attention to. You stay updated from real experts in the field, you get to do labs and see what areas you need brushing up on," one comment read.
Laying the groundwork for a new course
When APNIC's Training team gathered feedback on what kind of courses were relevant for real-world operations, including from community consultation events across the Pacific, NMM stood well above the other options. After all, one of the everyday activities of the average network operator is monitoring their network and keeping an eye out for problems. The next most in-demand course request was network automation.
This did not come as a surprise for the APNIC Training team, since NMM applies to networks of any shape or size — from the biggest ISPs to the humble home network.
For the APNIC Training team, the dilemma was how to approach course development — should it be based on the different NMM frameworks (for example, ITIL or FCAPs), or what functions are needed?
This wasn't a simple conundrum to resolve.
It would be easy to assume that someone working in a small office would have very different network monitoring needs to someone working at a large organization like Vodafone or Cloudflare.
But is this really the case?
Upon examination of feedback and the needs of network operators working at a range of small and large ISPs, campuses, and data centres, we found that (with the exception of some specialized skills) the majority of what they needed to know was fairly similar — it was all about the basics.
This was validated when APNIC consulted subject matter experts (SMEs) in the community: folk who were doing this daily.
We all agreed that a functionality-based approach made the most practical sense instead of adopting a framework. The approach focused on answering key questions:
What do you want to monitor?
Why do you (think you) want to monitor that?
How do you plan to monitor that?
They're very simple questions, but it was in answering those questions that all the necessary elements of a course began to emerge.
"While designing the course we focused on the 'what', 'why' and 'how' approach. Though there are a few frameworks that are related to NMM, it really boils down to those three things," APNIC Community Trainer Fakrul Alam says.
Fakrul designed key aspects of the course with this in mind.
"Deciding to monitor the network presumes that we know what we should be looking for, how to find it, and how to get it without impacting the system we are monitoring. The course modules are designed to cover every aspect of monitoring, which includes availability, reliability, capacity and performance and the tools and techniques required to cover these."
The core elements of NMM
The course is divided into the following topics/modules, which build the necessary knowledge, step-by-step. It's assumed that participants have some knowledge of network operations and Internet technologies, as well as basic command line interface skills.
Fundamentals of networking
Fundamentals of Linux
Introduction to NMM
Network documentation
Simple Network Management Protocol (SNMP) fundamentals
Round-Robin Database (RRD) tool
Time series database
Log management
Flow monitoring
Configuration management
Ticketing systems
Model driven programmability (focused on abstraction tools and techniques)
"Throughout the course participants learn about legacy monitoring protocol like SNMP, as well as modern monitoring and management techniques such as model-driven programmability and model-driven telemetry," Fakrul said. "This helps participants to understand the limitations of existing protocols, and how the NETCONF/RESTCONF & YANG data model can help them build a comprehensive and effective monitoring and management solution."
Automation course coming this year
In line with the feedback received, APNIC is currently working on a Network Automation course, in consultation with SMEs from the industry.
This will build on the knowledge gained in the NMM course.
This new course will be available around the time of APNIC 52 in September 2021.
The development of the APNIC Network Monitoring and Management course received support through the APNIC Foundation PACTRAINING project funded by the Department of Foreign Affairs and Trade's Cyber and Critical Tech Cooperation Program.
---
The views expressed by the authors of this blog are their own and do not necessarily reflect the views of APNIC. Please note a Code of Conduct applies to this blog.