Saudi Arabia has been a hotspot for IPv6 deployment for several months but the focus on deployment began over 14 years ago when the local regulatory authority, Communications and Information Technology Commission (CITC) and the Saudi Ministry of Communications and Information Technology (MCIT) formed an IPv6 Taskforce.
This body, which included all local service providers and other key institutions, began to develop its IPv6 adoption strategy. Initially, they focused on building awareness of the importance of IPv6, the capability of the core network and supporting services, and the necessary technical capacity.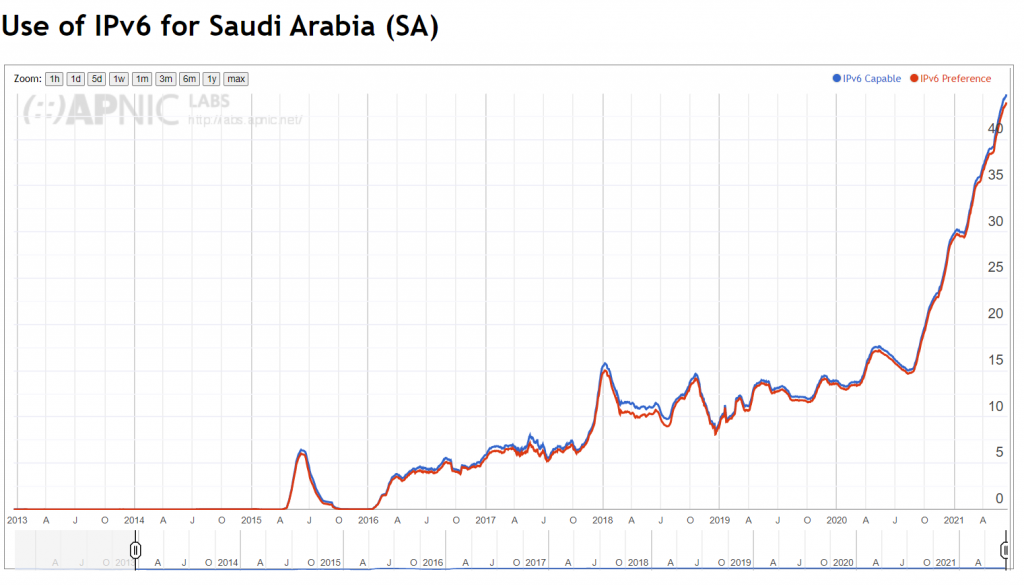 Building capacity
In coordination with the RIPE NCC (the Regional Internet Registry for Europe, the Middle East, and parts of Central Asia), regular IPv6 training sessions were conducted in both the private and public sectors. To date, over 500 engineers have been trained in IPv6 deployment and operations.
By 2010, all the core networks for service providers were fully supporting IPv6, including the .sa ccTLD. The next challenge to overcome was enabling IPv6 services for Saudi end users. CITC worked directly with some organizations to help them enable IPv6 for their public-facing services, which helped stimulate demand. This also helped CITC to publish guidance to support both private and government bodies in deploying IPv6.
From 2015, some service providers started to enable IPv6 on their fixed networks, initiated by the Saudi Telecom Company (STC) followed by ITC and other service providers at the beginning of 2020.
By 2018 it was becoming clear that despite these efforts, Saudi Arabia was falling behind in comparison to the global average of IPv6 adoption which, at that time, was around 20%. The Saudi IPv6 Taskforce refocused and redoubled their efforts to bring in service providers as core participants with more regular meetings and IPv6 adoption progress reporting.
Persuading service provider management to make further investments that would enable more widespread IPv6 adoption was a challenge, as the business case was not clear to them. In addition, most Saudi Internet users are mobile subscribers and enabling IPv6 on mobile networks was more complicated, particularly because some key players (such as handset manufacturers) were more autonomous in their actions.
Raising awareness
Demonstrations of the importance of IPv6 adoption for the emergence of 5G cellular networks and the Internet of Things (IoT) helped raise awareness among service provider decision makers. Reports about the centrality of IPv6 to both 5G and IoT were influential in helping support approved business cases for investment.
Read: IPv6 in 2020
Since 2019, regular Key Performance Indicator (KPI) reporting has been adopted to track and maintain IPv6 deployment efforts. These KPIs are regularly reviewed to ensure continued alignment with worldwide IPv6 adoption rates and best practices. This reporting has helped to further stimulate new IPv6 deployment projects and initiatives.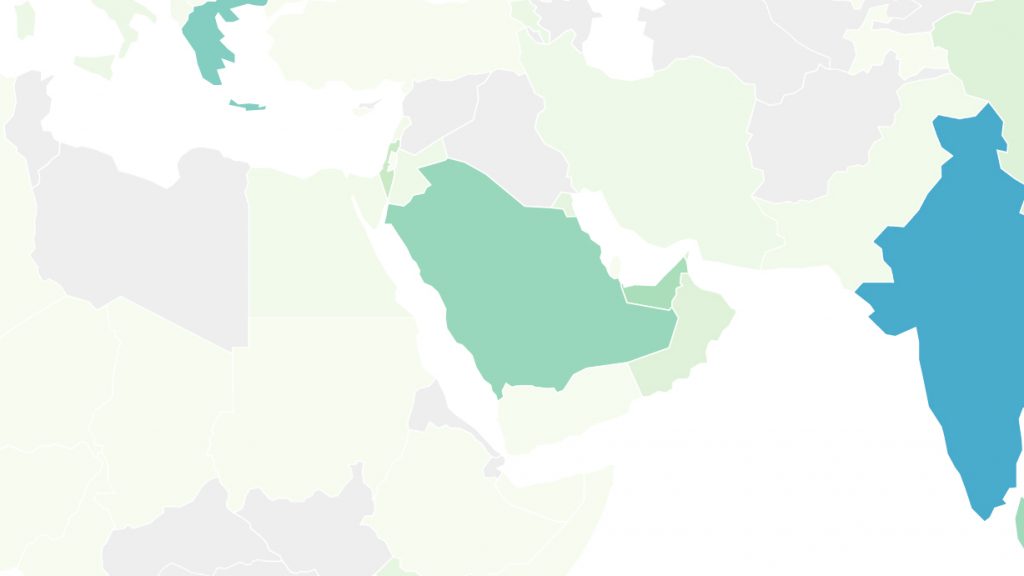 CITC and the RIPE NCC partnered in these efforts, helping to connect Saudi operators with case studies of mobile deployments from around the world and conducting workshops to discuss the challenges being experienced by Saudi operators.
Since early 2020, Saudi mobile operators have identified solutions to their challenges, such as upgrading billing systems to support IPv6. All mobile operators are now progressively enabling IPv6 to their mobile customer base. These combined efforts have resulted in Saudi Arabia being the leader in IPv6 adoption in the Middle East.


Remaining challenges
Some challenges with mobile handset compatibility remain, but cooperation between handset vendors and operators on priorities and roadmaps has improved recently. Provisioning IPv6-only services is where testing is focused now. The fixed network landscape is less complex as customer equipment is built to service provider specifications.
The next and growing challenge for service providers is to support connectivity to IPv4-only services. There is a strong feeling that many content providers need to do more to support IPv6 deployment, especially popular gaming platforms and social networks.
Mat Ford is the Technology Program Manager at Internet Society.
This post is adapted from the orginal published at Pulse Blog.
---
The views expressed by the authors of this blog are their own and do not necessarily reflect the views of APNIC. Please note a Code of Conduct applies to this blog.