The Network Operators toolboX (NetOX) is an APNIC tool powered by RIPE NCC's RIPEstat. In this post, we will look at how it can help you analyse your network, and how it can even be used to look behind the scenes of other networks that may be causing you problems.
Read: Inter-RIR collaboration produces new product prototype
APNIC built NetOX to help network operators solve routing problems; it has a variety of tools to help do this.
Profiling an Autonomous System
Imagine a network operator wants to hire a new upstream provider, but they want a bit more information. They can go to NetOX and get background information about a particular Autonomous System (AS).
As an example to illustrate functionality, we'll use AS4608, which is APNIC.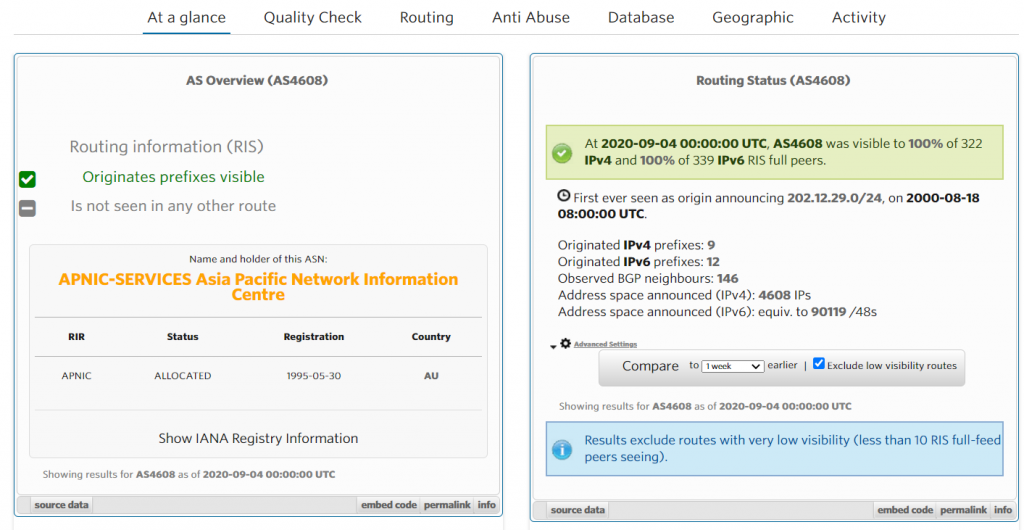 Included here is some additional information on the organization as well as their routing status.
Scrolling a little further down, we see the widget with the CAIDA AS relationships.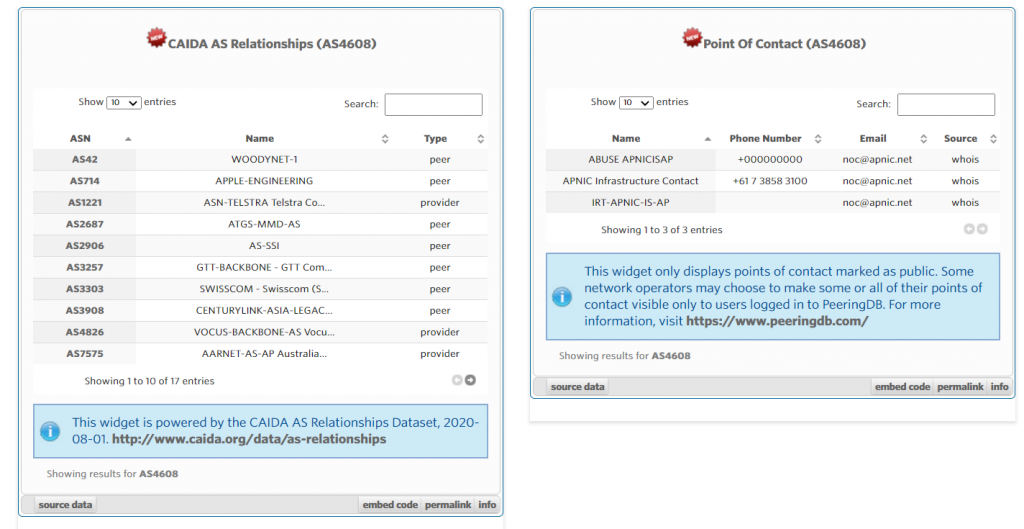 There are three providers there, so it's probably pretty robust. But they may also want to check the routing category and see the AS Path Length widget, which will show the distance in BGP hops from the AS to different locations. In this case, Spain and South Africa are a bit slower than other locations.
Getting routing issues solved
But, what if there's a problem with prefixes being filtered and they want to get in touch? Let's try another AS as an example: AS1299. This one belongs to Telianet, administered by the RIPE NCC.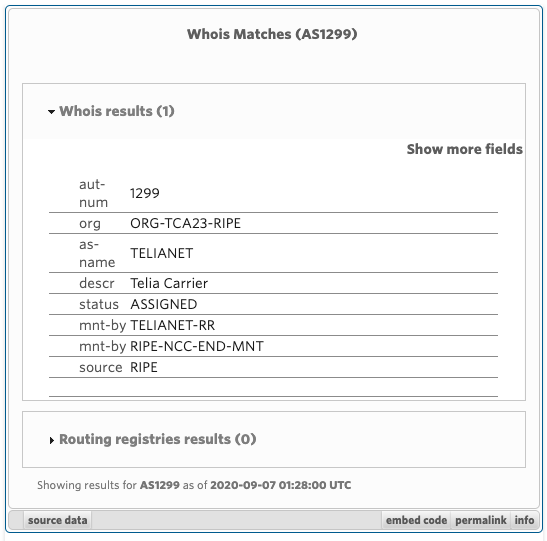 In this case, there is no direct contact information listed on the Whois Database. Fortunately, NetOX also lists other points of contact.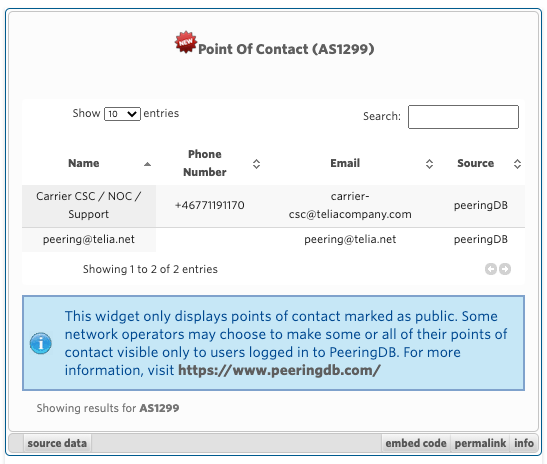 Assessing the quality of a prefix
What happens when someone is considering whether to receive a transfer, and they want to examine the prefix more closely before making a decision?
Under the Quality Check category, NetOX has some tools that can help.
We'll use the prefix 27.100.7.0/24
Some key figures on routing status and routing history are available. But when we look more closely, there is something suspicious with this IP address; it's already in use and has been routed for quite a while!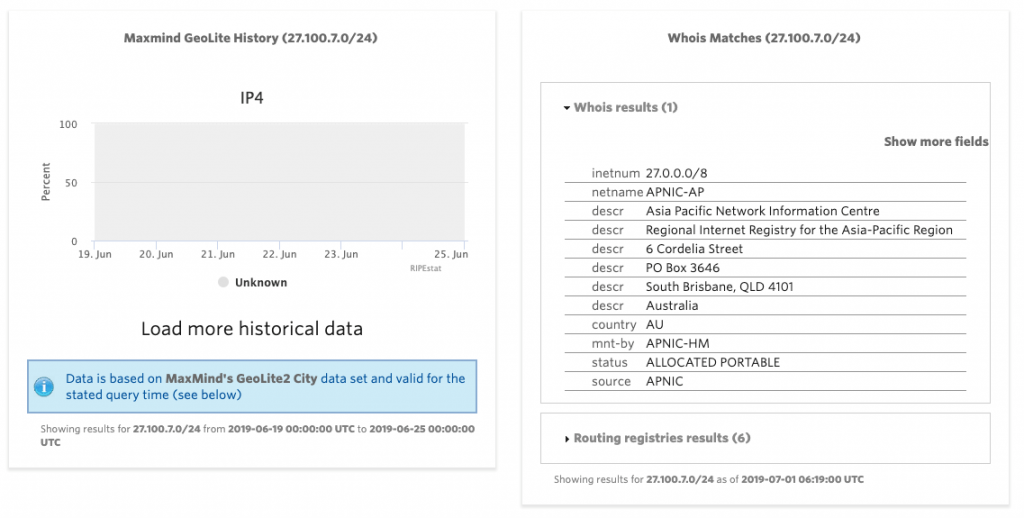 It is not currently assigned by APNIC. It looks like we have uncovered a bogon (APNIC has contacted the relevant network about this). Furthermore, it was blacklisted at one point in 2014.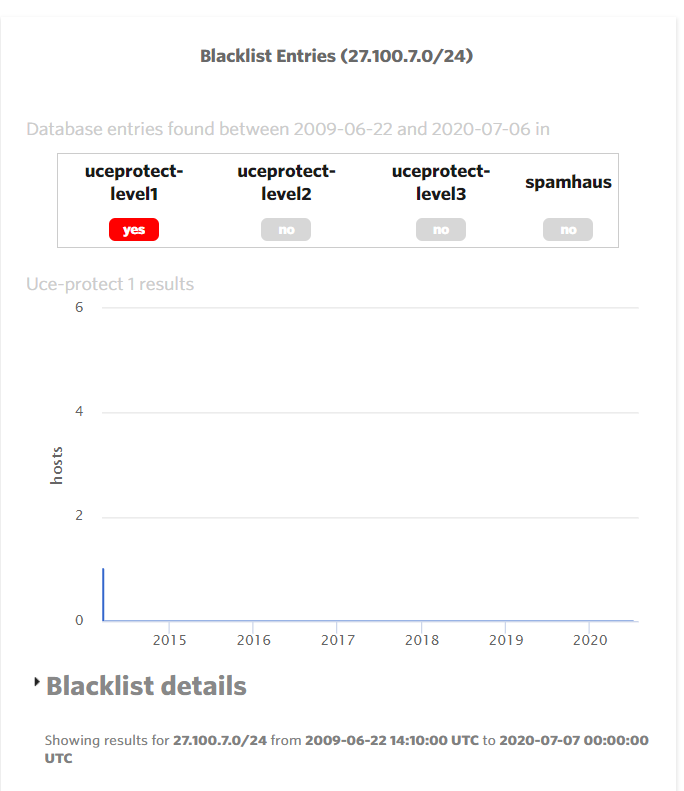 Localization pilot for Mandarin
The latest version of NetOX comes with a Mandarin language setting. This language was chosen for a localization pilot based on user metrics. Depending on the results of this pilot and user feedback, other languages may be added in the future.
Help APNIC improve NetOX
The NetOX tool can be used for a variety of issues, including BGP visibility. But APNIC is always looking to add more features, depending on what users really need. The examples above are largely just demonstrations of NetOX functions, but APNIC would really like to get more hands-on case studies and examples from users out there. So if you would like to share your experience as a potential case study, then send us an email or comment below.
Read: Looking at your network from the outside in
APNIC has opened a survey to find out more about what kind of widgets would be useful for network operators. Take the survey now!
For more information about NetOX, visit the APNIC NetOX page.
---
The views expressed by the authors of this blog are their own and do not necessarily reflect the views of APNIC. Please note a Code of Conduct applies to this blog.