The tech industry in Hong Kong and across the world remains male-dominated. Why aren't there more women in IT? Does the industry need more women? What can be done to get women in tech?
To mark International Girls in ICT Day, which aims to encourage girls and young women to work in information and communications technology, the Internet Society Hong Kong Chapter organized an event to tackle these questions. Ladies X Tech X Gents: How Are the Three Compatible? brought together four successful developers to lead the dialogue:
Ivy Luk, Sales Engineer at Clare.AI (an artificial intelligence digital assistant solutions provider)
Emma Wong, Organiser of Google Developer Group and Women Techmakers Hong Kong
May Yeung, Director of Internet Society Hong Kong Chapter
Rick Mak, Co-Founder of Oursky (a web and mobile application development company)
Why are there so few women in the IT industry?
One of the common observations the speakers had was the high dropout rate of women developers in the IT industry, amid the already low women to men ratio. The speakers suggested that the women to men ratio drops from roughly 3:7 at school to 1:10 at work.
One of the main reasons why women leave the tech industry is the gender stereotype that IT is a masculine profession. From an early age, this stereotype is ingrained by parents in Hong Kong who discourage their daughters from studying computer science and engineering courses. Even when women enrol in IT-related courses, many will not consider pursuing a career in IT.
Why #women are a rare breed in Hong Kong's burgeoning tech start-up field. http://t.co/dFEcOGhToh #startups #HKwomen pic.twitter.com/rIawdMEowL

— SCMP News (@SCMPNews) July 27, 2015

Why do we want women in the IT industry? Are there 'women challenges' in the industry?
Studies have shown that diversity in companies is important. The multiple perspectives of a diverse team are key to innovation – for example, a women's perspective is needed since products are not sold only to men. Also, women teammates may bring in a different culture and work atmosphere that can boost team morale.
The challenge for women, however, is dealing with the industry's macho and misogynist culture. Speakers noted that women and men have distinctive communication styles, which means the workplace must be committed to mutual learning and listening to each other.
Another challenge commonly faced by women in IT is the work-family balance due to the high pressure and heavy workload of some technical positions. But Rick Mak pointed out that this is a challenge for both women and men. As a dedicated father who believes that men should take on their share of parenting duties, he too struggles to balance work and family.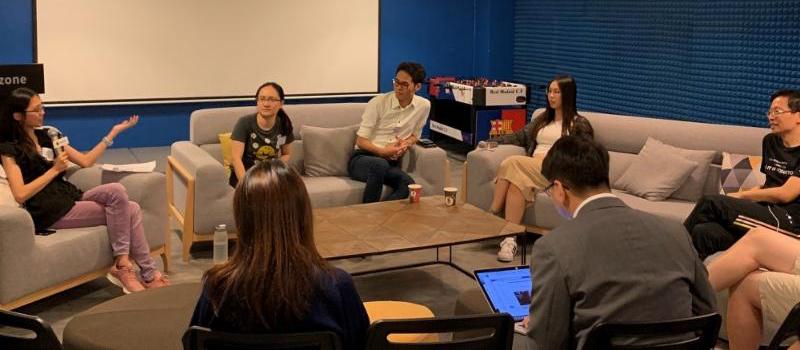 What can we do to encourage women to enter the IT industry?
As the IT industry begins to recognize the benefits of diversity, some companies have set a lower recruitment requirement for female developers. The female speakers all disapproved of this approach. They considered this discrimination against women and a reinforcement of the stereotype that women are less competent in the IT field.
Instead of being offered special benefits like the period leave, female employees would generally prefer to have greater C-level support. One of the participants pointed out that all-men management teams may sometimes be insensitive to women's needs, which could be as simple as providing separate female and male toilets at the office.
Speakers suggested that having women in senior leadership roles would positively encourage other females to join a company, particularly if it is supportive of advancing women's careers. Women in management positions are also important role models for their juniors.
Another important aspect of getting more women into tech roles today is building a stronger female developer community, where women can help and support each other in navigating the industry, and provide guidance to non-technical women who are interested in joining the industry.
In the end, it is all about mutual respect and understanding. The hostile macho environment in Hong Kong's IT industry has its root in gender stereotypes imposed on both women and men. Sometimes, we think too much about a person's gender role rather than his or her individual qualities — in other words, people get labelled as either a man or a woman and that is it. At work, let us be impressed by a person's work ability rather than his or her gender.
Share your story and experiences via the APAC-ICT-Women mailing list — a discussion forum dedicated to women working in the Asia Pacific region's ICT industry.
Adapted from original post which appeared on the Internet Society Blog.
Sherry Shek is the project coordinator for the Internet Society Hong Kong Chapter.
---
The views expressed by the authors of this blog are their own and do not necessarily reflect the views of APNIC. Please note a Code of Conduct applies to this blog.