Lin Kuo-Feng, SEVP & CTO at Chunghwa Telecom Co. Ltd.
Priding itself on being a leader of Taiwan's telecommunication sector, Chunghwa Telecom (CHT) announced last month that it had become the first commercial telco to launch IPv6 in Taiwan on its mobile, broadband and WiFi networks; in the process lifting the economy's IPv6 capabilities to 12%.
Read: IPv6 capability takes off in Taiwan
It's another example of an incumbent telco taking the lead in an Asia Pacific's IPv6 deployment, something which Lin Kuo-Feng, SEVP & CTO at Chunghwa Telecom Co. Ltd, believes will benefit CHT's business expansion as well as reduce the investment risk associated with maintaining older technologies.
"Most of our customers are not aware of what IPv4 or IPv6 is; as long as they're able to access the Internet they are happy," explains Lin. "That said, what IPv6 allows us to do is make sure that our current and future customers aren't inconvenienced in any way by the impact of IPv4 depletion or any complications with NAT [Network Address Translation]."
"The second point is an important consideration from a business perspective as well. In our planning, we weighed up the cost vs benefit of using NATs to sustain our original network with the IPv4 addresses we already have, or investing in upgrading our network equipment to be able to accommodate IPv6. For us, the benefit of the initial investment, time, and cost to upgrade our network to be IPv6 compatible was greater and more economical in the long run than the risks and costs associated with continual updates that come with using NATs."
Deploying IPv6 is a cross-organization effort
As the largest telecommunications company in Taiwan, comprising the most popular mobile (Chunghwa Telecom) and fixed-line (HiNet) services, it was no small task to upgrade the CHT network to be IPv6 capable.
Read: TWSeries: Staying ahead of the Internet pack in Taiwan
Preliminary discussions started in 2008, culminating in version one of CHT's 'White Paper on IPv6 Development', in which the company announced the IPv6 deployment of Internet services as a long-term evolution project, as well as the establishment of an 'IPv6 Development Task Force'.
"The company's IPv6 deployment was highly valued by the CEO," explains Lin. "He established the Task Force and championed the idea of including the deployment plans for IPv6 in corporate policy due to the cross-organization efforts that would be required."
Lin was appointed to supervise, coordinate, and review the IPv6 deployment progress.
"The Task Force collaborated with CHT's 4G mobile service, HiNet FTTx service and CHT Wi-Fi service business units. Each team developed their own goals and key work items, scheduled regular meetings and reported to me," says Lin.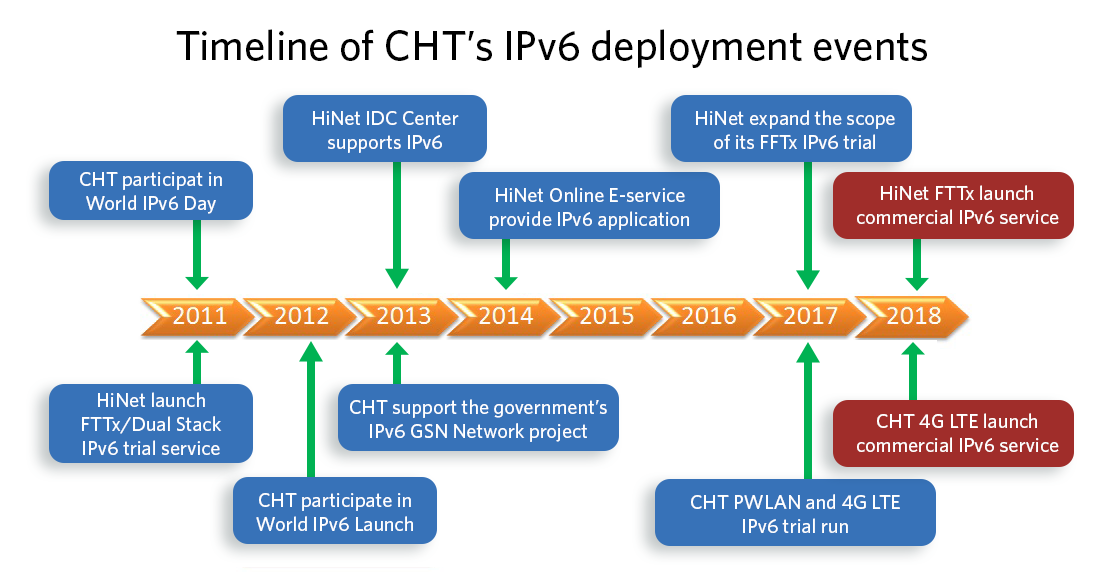 All of this fed into updated versions of the White Paper, now in its sixth edition, which provided overall guidelines on the new equipment, new services and new systems required for the IPv4/IPv6 dual-stack network — one of the most popular transition technologies that ISPs are using worldwide.
Tests, tests, and more tests
A key part of the overall project for Lin was the testing phase.
"IPv6 is incompatible with IPv4 — running two protocols simultaneously would increase the complexity of operation and troubleshooting. Therefore, it's important to test the capability of the IPv4/IPv6 dual-stack before deploying IPv6, particularly when you want to make sure your customers won't be inconvenienced."
Lin says that testing uncovered a number of challenges, including the need to replace old customer premises equipment (CPE), making sure vendors had IPv6 support, working with content providers to improve quality of experience by adjusting routes, and making sure existing security systems were IPv6 compatible.
IPv6 deployment tests conducted by CHT included:
Infrastructure IPv6 readiness checks
CPE IPv6 readiness checks
Checking basic application service supports IPv6
Checking OSS/BSS supports IPv6
Top 100 website quality of experience verification
Helpdesk and customer information system checks
IPv6 infrastructure security protection mechanism checks
Increasing the ratio of IPv6 peering and optimizing IPv6 routing
Staff IPv6 training
He admits that testing is frustrating, but offers this advice: "Deploying IPv6 and just turning it on is highly risky. Gradual introduction in phases can reduce operational risk, and prudent assessment and function certification can make IPv6 adoption smoother."
Future-proof network now allows for innovative thinking
Since late 2017, after almost a decade since initial discussions, CHT has launched IPv6 on its WiFi (December 2017), 4G LTE mobile (February 2018) and HiNet FTTx (May 2018) services, with plans to launch it on its cloud service (HiCloud) in the near future.
As of writing, the total number of IPv6 customers on CHT's 4G and HiNet services is more than three million; around 25% of its total customer base. Testing and troubleshooting are ongoing, as is planning on how to transition to an IPv6-only network, something that needs to be an end goal for any transition.
All this aside, what excites Lin and others most now are the new business opportunities that the near-unlimited number of IPv6 addresses offers their new network.
"How do we develop IPv6 value-added applications, strengthen the demand for IPv6 in the Internet of Things industry and create new markets with high-value partners? These are the sort of questions that we can start to answer now that we have a network that will support such technologies, and ultimately allow us to stay ahead of our competitors."
---
The views expressed by the authors of this blog are their own and do not necessarily reflect the views of APNIC. Please note a Code of Conduct applies to this blog.