On 22 November 2017, the Internet in Viet Nam celebrated its 20th anniversary. Another milestone is the jump the economy has had in its IPv6 deployment, with the Vietnam Posts and Telecommunications Group (VNPT) leading the way.
The current rate of IPv6 deployment in Viet Nam is about 14% or around 6 million users. According to APNIC Labs, Viet Nam now stands third in the ASEAN region for IPv6 deployment and fifth in the Asia Pacific.
Taking it step-by-step
VNPT first started planning for IPv6 deployment in June 2013, but it was only in late 2016 that significant progress was made.
VNPT recognized that the shortage of IPv4 address space would soon have major implications for ISPs in Viet Nam and that CGNAT was not an optimal solution to the IPv4 shortage.
"IPv6 is inevitable," says Nhan Vu, who is responsible for VNPT's IPv6 deployment plan.
"The sooner we prepared for deployment the better, especially as we are entering the IoT era. Deploying IPv6 will make us more competitive," he notes.
VNPT started with ensuring they followed best practices and had an IPv6 addressing plan in place, using a /56 for each residential user and a /48 for each business customer.
"We identified that we needed to get some training to assist in the rollout, so we attended workshops that VNNIC were running," says Nhan Vu.

Figure 1 — VNPT's IPv6 deployment team (left to right) Huong Pham, Dzung Pham, Thao Tran and Nhan Vu.
They also collaborated with vendors, who recommended different transition techniques, although some did prove to be unsuccessful, which they luckily identified while testing. "It was a good decision for us to test some of these techniques – we're glad we did, otherwise it would have been an added cost to remedy.
"The lab environment is very different to the real environment. The testing phase did not cover all of the problems we encountered when we deployed IPv6."
They finally settled on a 6PE/6VPE and dual-stacked network.
During the preparatory phase, VNPT identified that their CPE firmware needed to be upgraded to support IPv6. However, this did present some challenges.
"We discovered that the CPE's IPv6 supported firmware was unstable," says Nhan Vu. "We had to adapt our addressing scheme so that it could work well with all types of CPEs".
They also had to upgrade the router OS and BRAS/BNG OS and ensure all their peering and CDN connections were dual-stack configured.
At the end of 2016 VNPT began IPv6 testing for a small number of 4G LTE customers, and by the end of 2017, deployed IPv6 services to about 700,000 fixed customers around the economy. As of April 2018, 1.37M fixed customers have IPv6 services.
VNPT is also ready to provide IPv6 service infrastructure to leased-line and IP transit service customers nationwide. These rollouts have pushed VNPT's international IPv6 penetration from 0.03% in Jan 2017 to 18% in May 2018.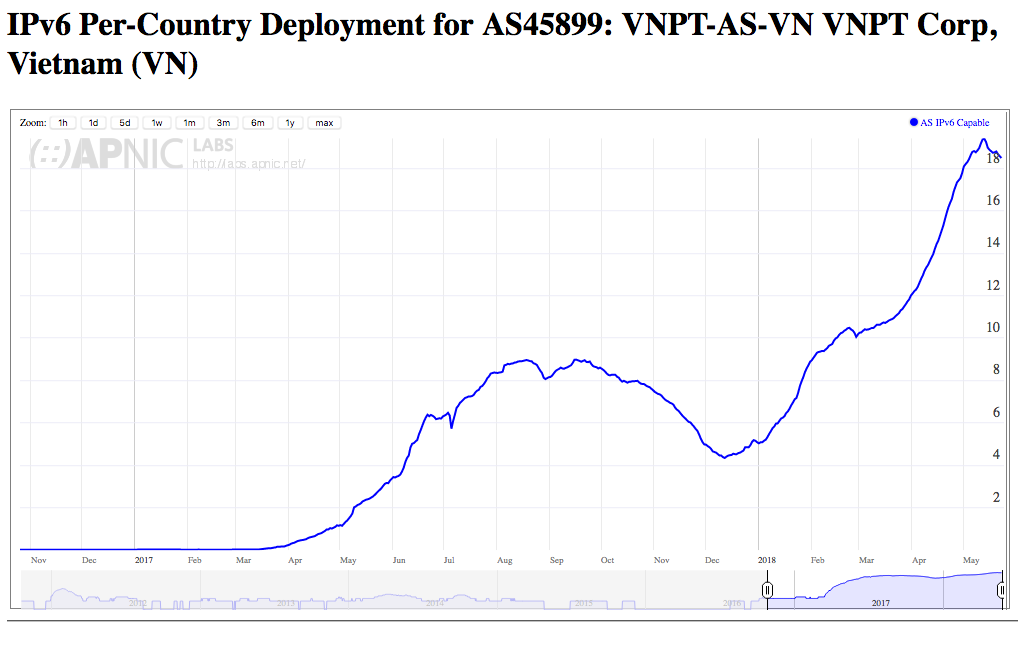 Figure 2 — VNPT has increased its IPv6 capabilities from 0 to 18% in less than 15 months (APNIC Labs).
Looking to the future
Since 2016, VNPT has also deployed IPv6 peering with VNIX, FPT and Viettel—IPv6 traffic between VNPT and FPT/Viettel/VNIX is around 21G. "Most of our IPv6 traffic is from Google and Facebook (645G)," says Nhan Vu.
From 2019, VNPT hopes to move to 6PE/6VPE and 464XLAT, helping them avoid the issue of IPv4 depletion as IPv6 will be fully deployed within their infrastructure.
"Moving to 464XLAT is vital for our future deployment success," comments Nhan Vu. "With IPv4 soon running out for good, we'll need to move from our dual-stacked network to a full IPv6 network."
Of most importance to VNPT, however, is ensuring their customers enjoy uninterrupted service. "It's important that the transition to IPv6 is transparent to our customers, and that they enjoy the same quality and service they are accustomed to," says Nhan Vu.
---
The views expressed by the authors of this blog are their own and do not necessarily reflect the views of APNIC. Please note a Code of Conduct applies to this blog.