The APNIC Foundation has announced its inaugural round of ISIF Asia IPv6 Deployment grant recipients to be supported as part of the Infrastructure program. These four organizations are strong ambassadors for IPv6 deployment in the Asia Pacific.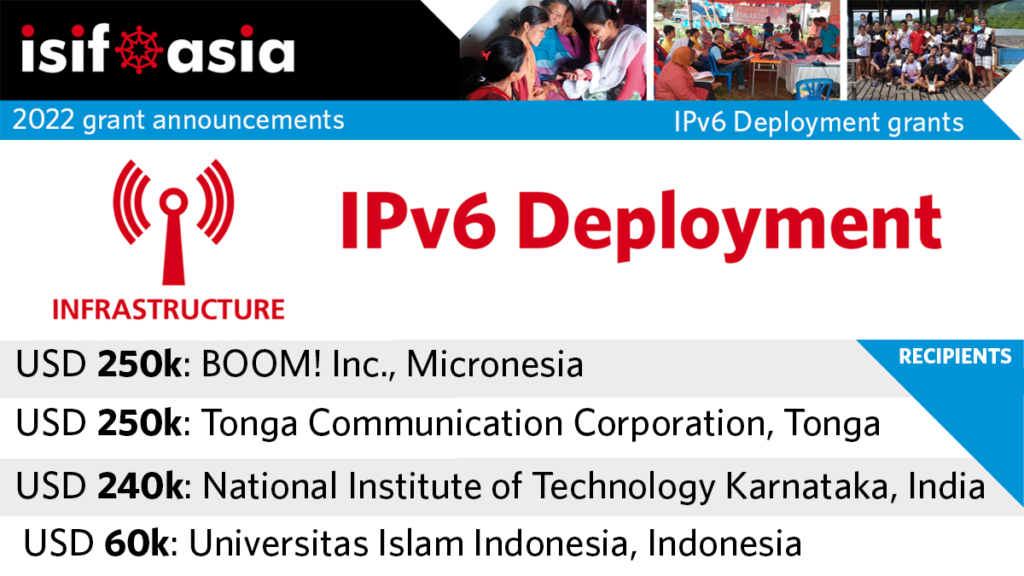 The projects by BOOM! Inc. and Tonga Communication Corporation both have a strong focus on building local expertise and using their deployment experience to empower others in the Pacific to be more self-sufficient in developing and maintaining their network infrastructure.
The projects led by the National Institute of Technology Karnataka in partnership with the India Internet Engineering Society (IIESoc) and Universitas Islam Indonesia in partnership with the Indonesia Network Information Centre (IDNIC), will focus on deployment in the academic sector, including training for students and early-career engineers as part of their projects.
Plans are underway for offering continuing support for IPv6 deployment in 2023. Please check the ISIF Asia website early next year for application details.
---
The views expressed by the authors of this blog are their own and do not necessarily reflect the views of APNIC. Please note a Code of Conduct applies to this blog.