According to the IPv6 adoption ratio published by Google, Japan is categorized as an "IPv6 is more widely deployed region" — the adoption rate is 24.01% as of March 2018, which is the second highest in the region after India (27.3%).
At APRICOT 2018, I presented on the history and current IPv6 deployment landscape in Japan among fibre-to-the-home (FTTH), cable television (CATV) and mobile operators. For those who were not able to attend my presentation, I've summarized some of the key points and shared with you my slides below.
I hope that this material will be useful for everyone to discover something toward IPv6 deployment.
Fibre to the home services
In 2009, Japan's largest FTTH network operator, NTT (Nippon Telegraph and Telephone East Corporation and Nippon Telegraph West Corporation), established a nationwide Next Generation Network (NGN) separate from its existing telephone and communication network. It was the first IPv6 network that Internet subscribers were able to connect to via independent ISPs.
In its early years (2009-2012), the IPv6 adoption rate on the network did not exceed 1%. This was largely due to the complex process end users had to go through to use it — if subscribers wanted an IPv6 connection they had to apply for an IPoE (native connection) or PPPoE (tunnelling connection) as an 'optional service' rather than it being a standard.
In 2013, NTT decided to migrate its existing FTTH network to NGN, and in 2015 it eventually started providing IPv6 as a standard service that required no additional effort of end users. These changes had a significant impact on NTT's IPv6 adoption rate, which as of 2018, sits above 48%.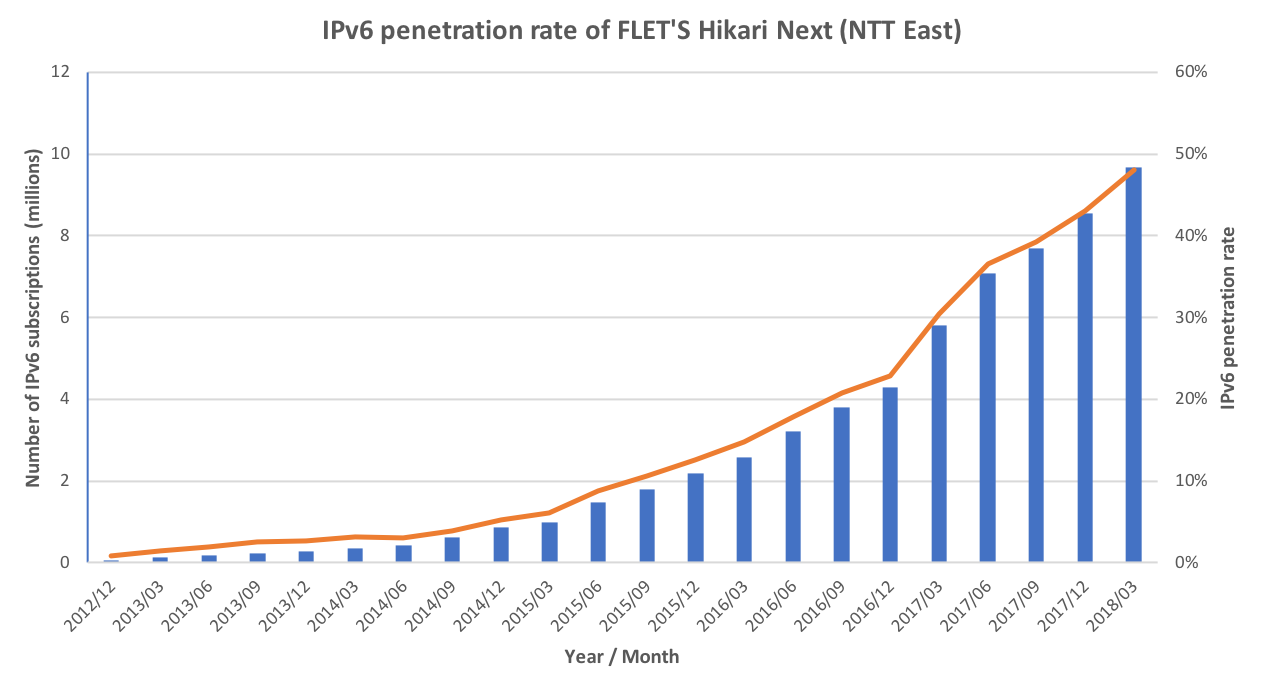 Figure 1 — The IPv6 penetration rate of FLET'S Hikari Next, NTT East's FTTH Internet Service, is over 48% as of March 2018. (Source: IPv6 Promotion Council Japan)
KDDI Corporation, the second largest FTTH network operator, has supported IPv6 on all of its services since September 2014; subscribers are assigned IPv6 without application.
Chubu Telecommunications Co., Inc., one of the access network operators providing services in  central Japan, announced at APNIC 36, its plans to fully support IPv6, which it is close to achieving (Figure 2).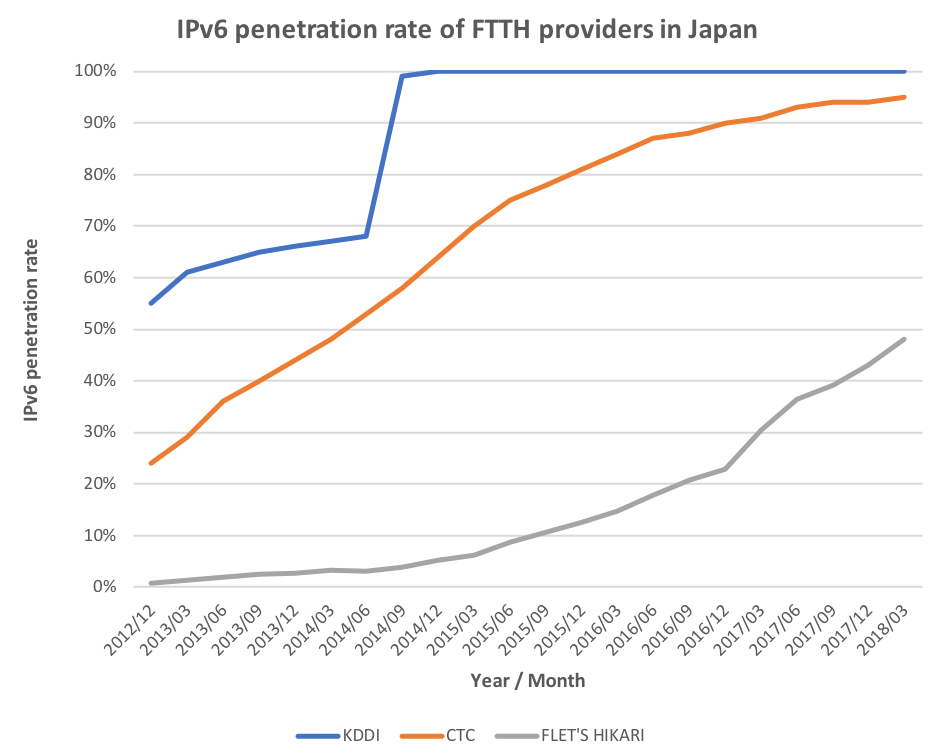 Figure 2 — IPv6 penetration rate of FTTH providers KDDI, Chubu Telecommunications Co. (CTC) and FLET'S Hikari. (Source: IPv6 Promotion Council Japan)
Cable television services
In contrast, many operators that provide CATV Internet connection services have yet to fully deploy IPv6; they are often small, which makes it costlier and longer to deploy new equipment and train their staff.
In the meantime, many of these smaller operators are currently using Carrier Grade Network Address Translation (CGN) technologies as a way to provide IPv6 services to their users.
Mobile networks
There are three major mobile network operators in Japan, each of which have provided IPv6 support since 2016.
Read: Japan's IPv6 capability set for sharp increase in 2017
Many Japanese smartphone users replace their devices every two years to take advantage of new technology and discounted plans. All smartphones that the three largest providers currently sell as part of their mobile plans have been set up to use IPv6 in advance. As such, IPv6 deployment on the user side has progressed quite quickly — although we are still waiting for official statistics.
Advocacy groups help make a difference
There are a number of independent groups that have played an important role in advocating for and assisting operators with deploying IPv6 in Japan over the years, in particular, the IPv6 Study Group.
Established by the Ministry of Internal Affairs and Communications in 2009 as a 10-year project, the IPv6 Study Group recently published their final report, which you can read about on the JPNIC Blog. Although the group has come to an end, we are hopeful that Japan will continue to increase its IPv6 deployment efforts in the years to come.
Hiroki Kawabata is responsible for JPNIC's IP address and ASN management, member service and routing registry service.
---
The views expressed by the authors of this blog are their own and do not necessarily reflect the views of APNIC. Please note a Code of Conduct applies to this blog.