Tap-and-go phone payment services offered by Apple, Google and Microsoft use NFC technology. Photo credit:
Wikimedia
Near Field Communication (NFC) is a set of standards that allows smartphones and portable devices to establish radio communication with each other by touching them together, or bringing them within a few centimetres of each other.
One of the most popular uses of the technology so far has been contactless credit card payments, and more recently, tap-and-go phone payment services offered by Apple, Google, and Microsoft.
In more recent years, the technology has also been applied to gaming, advertising and information kiosks (similar to QR codes) to allow users to unlock devices, download discount coupons and view maps. These uses are only the start of the potential low-powered Internet of Things (IoT) applications that the technology can assist – if you know of other smart applications, share them below.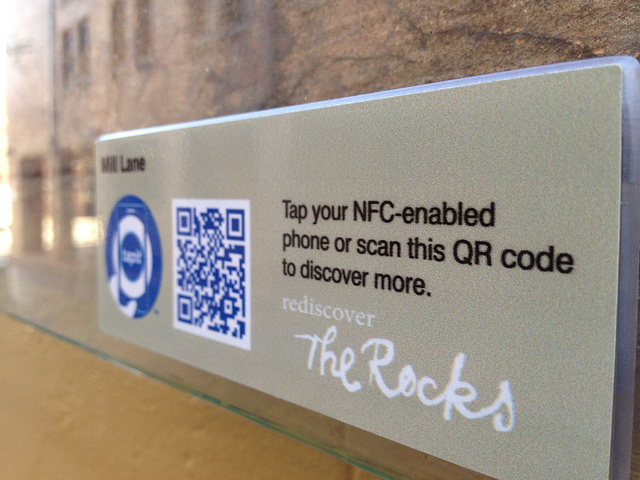 Unlike its more popular wireless sister technologies, for example, 6lowpan, BLE, G.9959 and LoBAC, there has been no RFC standard for NFC.
Based on this, and the infinite potential of this relatively obscure technology – more specifically how it will evolve with IPv6 – our team set out three years ago to develop a RFC to specify the details of IPv6 transmission over NFC links, which we submitted to the 6Lo Working Group at IETF 97 in Seoul.
Challenges with the technology
NFC technology is based on existing radio-frequency identification (RFID) technology – they use the same radio frequency (13.56MHz) – and the applications/services with NFC are similar to RFID.
However, RFID supports directional communications whereas NFC supports bidirectional communications. This point of difference got us thinking – could we use NFC network interfaces for IPv6 networking?
At that time, NFC was only used for I/O interfaces in all the operation systems, but not network interfaces. This made developing network drivers using an NFC interface quite challenging.
Among the challenges was the fact that we were preparing for IPv6 networking based on new, open IoT platforms that we had not much experience with, for example, Intel Edison®, Intel Galileo, and Arduino.
Another challenge was developing an "adaptation layer" for IPv6-over-NFC. This new layer is for technologies other than NFC to use, for example, BLE, LoBAC, and 6lowpan. This allowed us to exploit the existing NFC layer, which uses connection-oriented as well as connection-less approaches – we use connection-less in our project. The bit rate for transmission of the NFC layer is 106 kbit/s to 6780 kbit/s in the specification.
As the first people to try to test the concept, our team, comprising researchers from Korea's industry, universities and the government-funded Electronics and Telecommunications Research Institute, spent almost nine months developing the network drivers.
The feedback we've received from the IETF working group so far has been encouraging and our draft has slowly evolved to version five. We also had an 80% success rate (10/12 test items) when we trialled the technology at the 6TiSCH/6lo Plugtests in Berlin last July.
If you're interested in learning more about our work, please read our most recent draft and feel free to get in touch with any comments and questions.
Younghwan Choi is a researcher at the Electronics and Telecommunications Research Institute (ETRI), Korea.
---
The views expressed by the authors of this blog are their own and do not necessarily reflect the views of APNIC. Please note a Code of Conduct applies to this blog.