Over the past several years, APNIC has been continuously updating its training curriculum to better address the needs of the community. The APNIC Survey (conducted every two years), the training needs assessment (conducted last year), and regular feedback from the training participants are ways we listen to the community.
One of the big gaps in technology training in our region (on which the APNIC training team focuses) is Internet operational technology.  It includes technologies used to operate the Internet globally and standardized by IETF.  For example, the hardware and software of servers, router, switches, transmission devices, virtualization techniques, and all sorts of protocol and operating systems built by different vendors. Operators like ISPs, telcos, data centers and enterprises use these technologies to operate the Internet globally.
'Internet Operations Engineers' are a group of people running the massive, distributed but interconnected network infrastructure of the Internet. They are the front-line people operating the Internet globally. These people need to have 'up to the minute' skills and technology knowledge, and be able to visualize the packet flow in a split second.  Most of them probably completed their university degrees a while ago, achieved vendor certifications (i.e Cisco, Juniper, Huawei), and like to constantly sharpen their expertise and skills. They want to learn hands-on skills: the best way to structure a network, current industry best practice on how to optimize large routing table convergence, how to handle massive DDoS attacks, and so on.
To serve these unique training requirements, APNIC facilitates regular training where engineers can share their knowledge and experiences, and learn. We also invite industry experts from different parts of the region – 'Community Trainers' – to contribute as subject matter experts. It helps address the local operational training need and increase the amount of training available across the region.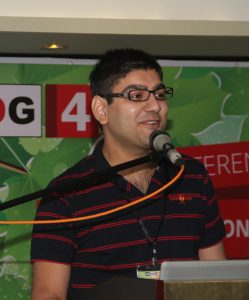 APNIC Community Trainers are Internet engineers who have demonstrated significant Internet operational skills and played a mentoring role among their fellow Internet engineers within the local economy or region. These up-and-coming industry experts from different parts of the region act as voluntary instructors to facilitate knowledge sharing at our regular training events. They are often regular speakers or trainers at various NOGs and technical conferences in the region, for example APRICOT, JANOG, SANOG, MyNOG, IDNOG, bdNOG, APNIC Conferences, and so on.
Community trainers work closely with the APNIC in-house training team as either the lead or co-trainer for training events organized by APNIC. They are also given all the necessary training, materials and resources.
If you are keen to share your knowledge and serve the community as a Community Trainer, please feel free to contact the APNIC training team.
---
The views expressed by the authors of this blog are their own and do not necessarily reflect the views of APNIC. Please note a Code of Conduct applies to this blog.