Thursday 14 April, NITPAA proudly hosted the first ever training event by APNIC in Afghanistan. The tutorial was on the fundamental technical networking aspects of the Internet and was taught by Sheryl Hermoso live from Brisbane, Australia. The event was held at IO Global, a local ISP, which generously offered fantastic facilities on site.
The remote live feed went smoothly and participants were able to see the slides and the instructor, and asked questions through online chat.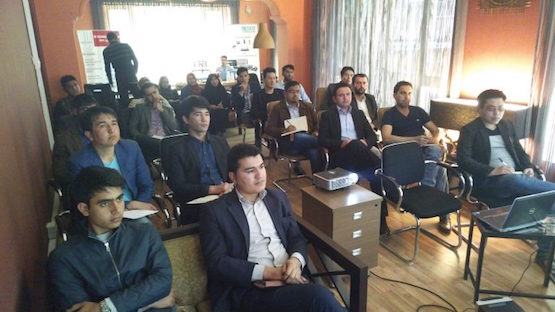 The session started with APNIC's Director General, Paul Wilson's, remarks. Paul mentioned that out of 5,200 network operators throughout the Asia Pacific region, only 38 members are from Afghanistan, and only 14 out of them have IPv6 allocations. He emphasized further engagement and working together for a better Internet for all. Paul also mentioned conferences and the fellowship program which Afghan participants can take advantage of. He also highlighted that this remote engagement could possibly lead to face-to-face meetings in Afghanistan.
Participants thoroughly enjoyed the training and made suggestions for more similar trainings.
The participants included representatives from the telecom industry, Internet service providers, university students, government ministry employees and other private sector organizations. There were four female participants as well. Participants received digital certificates after course completion and many went on social media to share screenshots of their certificates.
NITPAA will be holding more similar trainings with APNIC and will allow any community member to participate.
This post first appeared on NITPAA.
Said Zazai is an IT and Business Development expert based in Kabul, Afghanistan. He works as an IT Advisor to the Minister of Finance of Afghanistan and is also a board member of eTVB (a board chaired by the President of Afghanistan on National Identity card (Tazkira).
---
The views expressed by the authors of this blog are their own and do not necessarily reflect the views of APNIC. Please note a Code of Conduct applies to this blog.