Security is an important issue for many Members, which is why we have organized a number of thought provoking security talks today at APNIC40 in Jakarta.
If you are not in Jakarta today, like myself,  you can still follow the session live on YouTube – find videos in link pages below.
IRR Tutorial and RPKI Demo – Nurul Islam (APNIC)
DNSSEC Tutorial – Champika Wijayatunga (ICANN)
Security Session (1600-1730)
APNIC 40 Security Workshop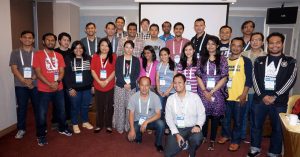 I must also tell you that my APNIC colleague Shane, Champ (ICANN) and I had a lot of fun teaching the 5-day Network Security Workshop which finished yesterday.
Be sure to follow APCERT conference
Also this time around our colleagues from APCERT are not able to join us because they will be busy with their conference and AGM in Kuala Lumpur, Malaysia. I will be joining them later this week and take part in an APNIC-APCERT MoU exchange ceremony. More on this in my next post of course!
Till then, help spread the word to your friends and enjoy APNIC40.
---
The views expressed by the authors of this blog are their own and do not necessarily reflect the views of APNIC. Please note a Code of Conduct applies to this blog.