The RIPE NCC Atlas project had a sweet moment last week, during a recent power outage caused by work on an electricity generation system.
A significant portion of the national grid around Amsterdam was affected, and since the RIPE Atlas probe is a small USB powered device, it very directly shows loss of network (or power) because it drops off the map. Normally these outages are isolated events (somebody unplugs a probe, or loses their network in one place) but this time, it was a large scale power outage without notice.
Robert Kisteleki (Manager of the Research and Development department) tweeted a map showing the outage as seen by the regional probes around Amsterdam.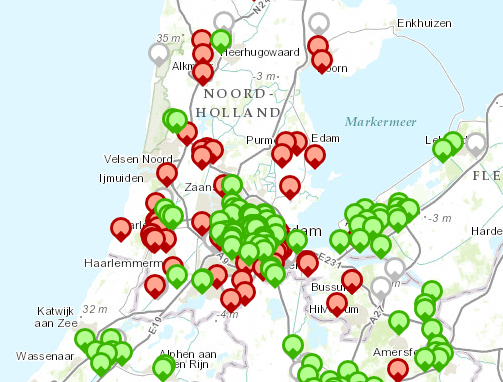 Although you might think this is an apparently humorous take on the probe network, it's actually a truth about this deployment of devices at world-scale. When the Atlas network was first proposed, Daniel Karrenberg (Chief Scientist at the RIPE NCC) made the observation that a suitably dense network of probes would look very like the map from space, and he saw that as a goal to aim for.  Atlas hasn't quite got there, but in North Europe its density is getting close, and it can show us real-world effects quite clearly. The power loss shown by the probes maps quite well to the parts of the electricity supply network affected by the outage, or the related network infrastructure which lost connectivity during the power outage.
A more detailed article on the outage and visualizations of the event (some of them produced during a recent "Hackathon", which allowed people to compete at visualizing data in the RIPE systems, based on Atlas measurements and RIPE stats) can be found at the RIPE NCC Labs blog.
The staff at the RIPE NCC are in the process of preparing for their next major deployment, with a new generation of probes being prepared for distribution.
With RIPE Atlas, RIPE NCC is building the largest Internet measurement network ever made. RIPE Atlas employs a global network of probes that measure Internet connectivity and reachability, providing an unprecedented understanding of the state of the Internet in real time.  During APRICOT 2015 Meredith Whittaker and Christian Kaufmann discussed Internet measurements and why  measurements are useful for network operators and the wider Internet operations community.
---
The views expressed by the authors of this blog are their own and do not necessarily reflect the views of APNIC. Please note a Code of Conduct applies to this blog.