Earlier in March 2023 I visited the Andaman and Nicobar Islands. The trip was purely personal as my wife happened to have been born there. These are Indian islands in the Bay of Bengal located in the South East of West Bengal and geographically quite near Myanmar and Thailand. The nearest large Indian cities on the mainland are Kolkata and Chennai.
In the initial part of the trip, we stayed in Swaraj Dweep (formerly, Havelock Islands) and later in Port Blair. The place is isolated and has amazing natural beauty. It has one of the most beautiful beaches in the world (Radhanagar Beach). Tourism has grown steadily in Andaman and Nicobar Islands in recent years for many reasons, and one of them is a new submarine cable — the Chennai-Andaman and Nicobar Islands Submarine Cable (CANI SMC).
I am not referring to Internet infrastructure enthusiasts suddenly visiting the islands but the fact that connectivity is getting pretty good over there. All this dramatically improved by the end of 2020.
CANI SMC
Until December 2020, the Andaman and Nicobar Islands had no optical fibre backhaul connectivity with mainland India. They relied heavily on super-slow geostationary satellites for the islands' backhaul. There was no 4G, 3G and barely working 2G coverage for most of the islands, and of course, not much on the fixed line broadband either. All these technologies (2G, 3G, 4G, fixed FTTH, and so on) are fine but they need backhaul connectivity to the content sources, large data centres, Internet Exchange Points (IXPs) and similar. Capacity was barely 1Gbps for the islands and 20Mbps for Swaraj Dweep according to this old news report from 2016.
Somewhere around 2016, the Indian government decided to invest USD 175M to connect the Andaman and Nicobar Islands with Chennai with a submarine fibre optic cable. Geographically, West Bengal is slightly closer, but it made sense technically to connect Port Blair (the state capital) to Chennai instead of somewhere in West Bengal.
There were many submarine cables already landing in Chennai, so there was infrastructure present for the landing station and it was easier to provision large capacity from Chennai. The government assigned public sector operator Bharat Sanchar Nigam Limited (BSNL) for CANI SMC and BSNL contracted NEC India for the cable. Ultimately, one of the islands (other than Port Blair) has to be connected to some other key location in mainland India (possibly West Bengal) to complete the ring and have basic redundancy against fibre cuts.
Design and capacity
This cable system is designed, for the most part, with keeping a linear flow. The main long-distance cable connects Chennai to Port Blair with a 400Gbps capacity (2 x 200Gbps), then 200Gbps (2 x 100Gbps) from Port Blair onwards to seven islands. One branch connects Port Blair to Swaraj Dweep, Long Island, and Rangat in the North and the other branch connects Port Blair to Little Andaman, Car Nicobar, Kamorta and Great Nicobar Islands.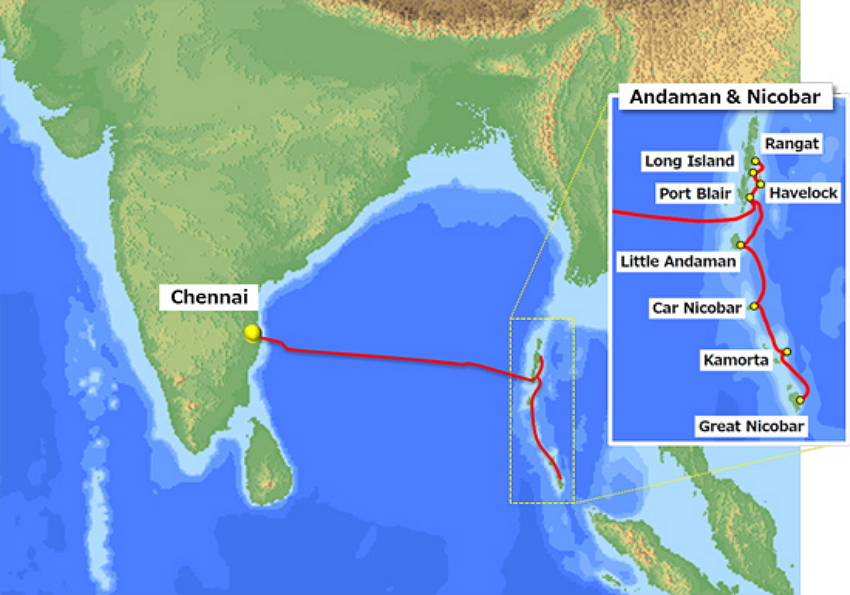 Everyone knows
I have been to a few submarine landing stations around the world. One unique factor about CANI-SMC is that everyone seems to know about it. On my first day in Swaraj Dweep, I asked my driver which mobile network he uses. He mentioned BSNL and immediately followed that connectivity has dramatically improved since the landing of the submarine cable.
I was pleasantly surprised to hear the term 'submarine cable' from the driver. He offered to show me the landing station from outside. I couldn't have said no and here's how it looks!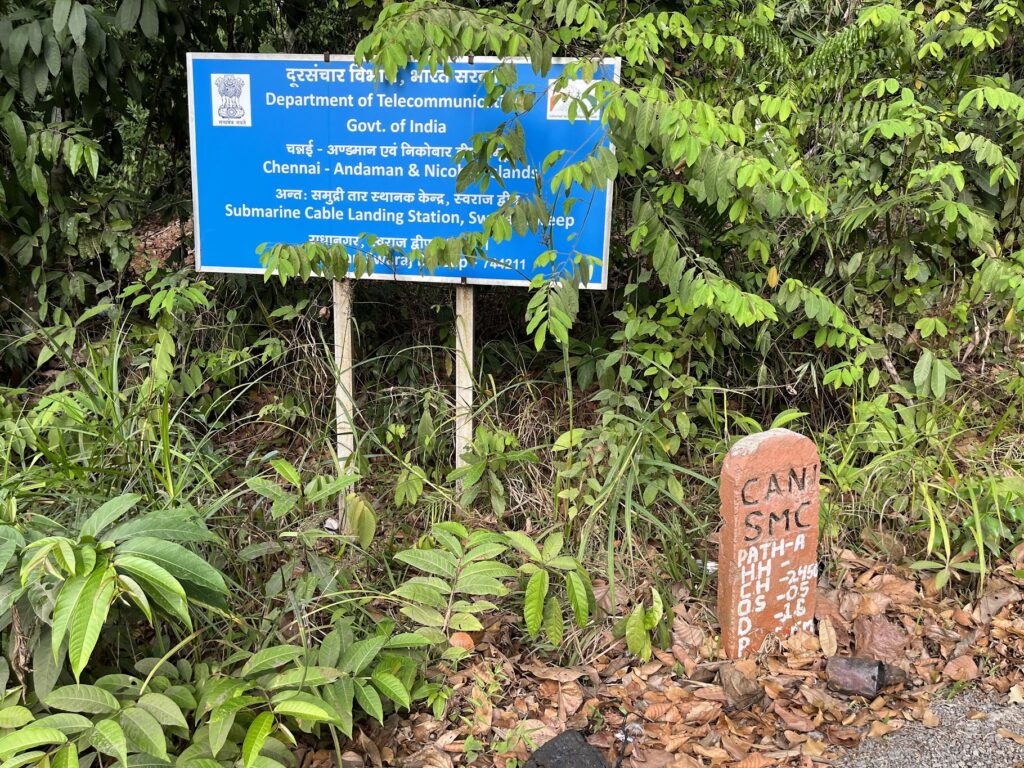 Typically, submarine cables land on remote areas of a beach before being spliced into land-based cables in a 'landing pit'. This is because a submarine cable is physically hard to work with outside of the sea. It has massive steel wire armour to protect it. Next, the land-based cable connects to a nearby station that houses Dense Wavelength-Division Multiplexing (DWDM) as well as power equipment. These cables carry electric power to power repeaters every 80 to 100km or so. Typically, it's a very high voltage DC with one landing station giving a few thousand -ve potentials and the other end giving a few thousand +ve potentials.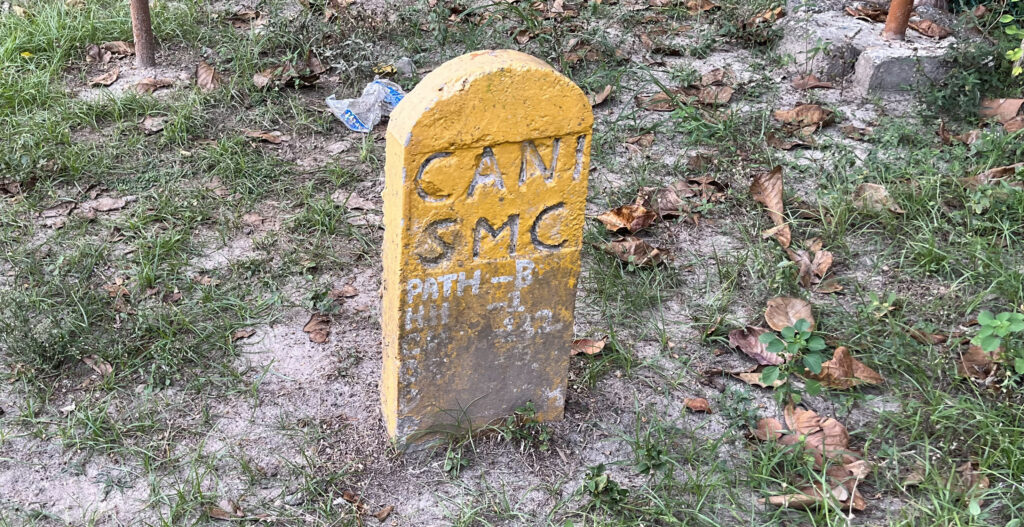 From the landing pit, it seems to be following multiple paths that were marked around the pillars — Path A (in red) and Path B (in yellow), as shown in Figures 2 and 3. I saw the landing pit near the beach but couldn't take a picture as my son wanted us to just jump in the water 😄.
Back in Port Blair, I asked the taxi driver about connectivity and as expected — he immediately pointed to the submarine cable and even told me the exact landing location. Port Blair seems to have more beaches and it wouldn't be easy to find the landing pits unless you were well-informed or followed the marks on the road. I did see CANI SMC roadside pillars next to my hotel as well as on major roads around Port Blair.
Network operators who use this cable
Everyone!
This cable is a perfect example of what neutral infrastructure is. BSNL maintains it and leases out capacity to providers such as Airtel, Jio, VI, and so on. All services from wireless to fixed wireline backhaul are over this cable.
Internal connectivity within Swaraj Dweep is currently being further developed. I saw some ongoing work by Jio who were installing land cables, while Airtel and BSNL already have a presence there. There are also considerable FTTH deployment efforts ongoing.
In the state capital, Port Blair connectivity felt as good as in any other place in India. From mobile coverage to speeds, latency, and so on, it felt very much like what you can get in Haryana, Delhi, Mumbai, and other big centres. The hotel where we stayed in Swaraj Island had the BSNL FTTH provisioned over BBNL fibre.
Figure 5 shows latency to the Airtel Ookla speed test server in Port Blair from Haryana:
Since the other end of the cable connects to Chennai, latency to Chennai matters. Beyond that, large parts of local caches exist within Chennai for providers. The latency between Port Blair and Chennai is 17.3ms.
PING 182.78.196.222 (182.78.196.222) 56(84) bytes of data.
64 bytes from 182.78.196.222: icmp_seq=1 ttl=58 time=17.3 ms
64 bytes from 182.78.196.222: icmp_seq=2 ttl=58 time=17.3 ms
64 bytes from 182.78.196.222: icmp_seq=3 ttl=58 time=17.3 ms
64 bytes from 182.78.196.222: icmp_seq=4 ttl=58 time=17.3 ms

--- 182.78.196.222 ping statistics ---
4 packets transmitted, 4 received, 0% packet loss, time 3004ms
rtt min/avg/max/mdev = 17.354/17.365/17.373/0.131 ms
Next time you are in Andaman and sending pictures to friends, remember the effort it would have taken to put in a 2300km long submarine cable to make it work.
Anurag Bhatia is a Network Researcher for Hurricane Electric (AS6939) working closely with BGP routing, IXPs, DNS, IPv6, anycast, and other related aspects of the Internet core. He's also involved with Internet measurement startup, Lynkstate, as an advisor.
Adapted from the original post on Anurag's blog.
---
The views expressed by the authors of this blog are their own and do not necessarily reflect the views of APNIC. Please note a Code of Conduct applies to this blog.