Switch! participants, National Coordinators, and APNIC Foundation staff at APRICOT 2023 / APNIC 55.
APRICOT 2023 / APNIC 55 was held in Manila, Philippines from 20 February to 2 March. As part of its goal of supporting gender diversity in the technical sector, the APNIC Foundation supported 27 participants from its Supporting Women in Technical and Research (Switch!) project to attend the conference.
The project's goal is to support women and LGBTIQ+ people working in the Internet technical sector. Participants are positioned to be in control of their own careers, empowered to learn and make decisions, and encouraged to share what they learn with other participants.
Switch! covers six economies: Cambodia, Lao PDR, the Philippines, Thailand, Timor Leste and Viet Nam. Each of these economies has a National Coordinator who manages the activities of participants in that economy. The project currently has 161 participants.
Of the 27 participants supported to attend the conference, 22 were from the Philippines and one attended from each of the other five economies. The six National Coordinators were also all in attendance. Some of the participants also attended the Diversity & Inclusivity in Tech panel discussion held at the conference.
The presentation from the session is available on the conference site (PDF), including some takeaway activities to help promote inclusion at your company, which you can also discuss in the Foundation's Orbit group.
Below, six of the participants share their backgrounds and some insight about their participation at APRICOT 2023 / APNIC 55.
Morokot Cheat, Cambodia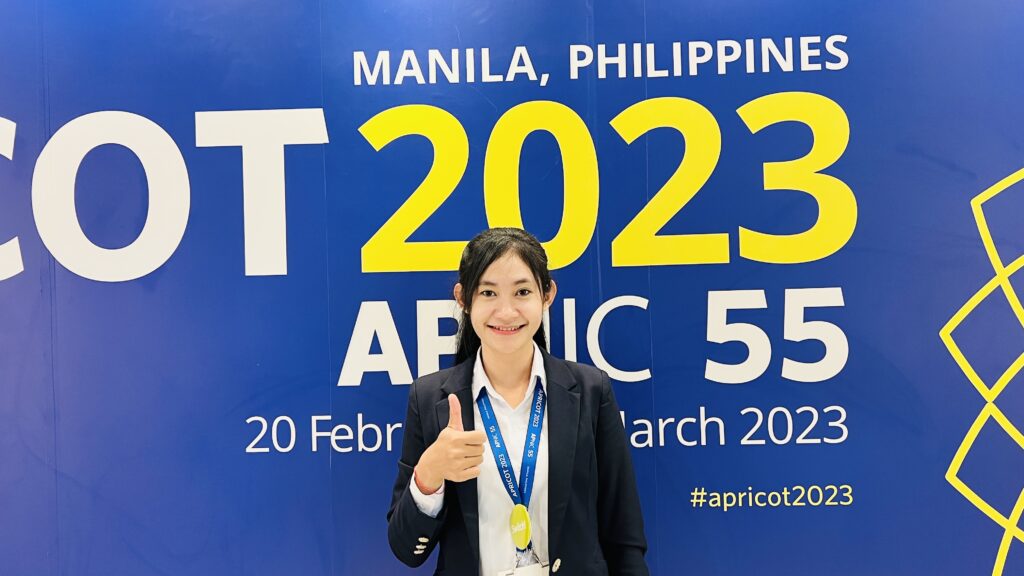 My work is related to satellite and telecommunications, but I am also interested in human-computer interaction, electronics and robotics, and image analysis. I always knew I wanted to study technology and science, and from a very young age, I wanted to be a scientist. I completed a Bachelor's degree in Electronic Automation and Telecommunication at the Institute of Technology of Cambodia, and then pursued a Master's degree in Advanced Control and Optimization at Chulalongkorn University in Thailand.

Currently, I work at the Ministry of Post and Telecommunications in the Satellite Policy Department. This mainly involves coordination with other satellite administrators. It's a new department, and we're researching technology and knowledge as well as the legal framework for communication satellites or remote-sensing satellites.

At APRICOT 2023, I was most interested in two sessions on satellites — the APNIC Panel on Satellite broadband in the Asia Pacific: technology and policy and Geoff Huston's presentation during the Network Operations 1 session. Geoff's content (PDF) was about Low Earth Orbit (LEO) and Geostationary Earth Orbit (GEO) satellites. I was fascinated by the testing of the TCP congestion control algorithms between the LEO satellites, GEO satellites, and fibre.
I was also excited about the panel discussion on Diversity and Inclusivity in Tech, which I participated in as a speaker. It wasn't my first time as a speaker, but it was my first time at an international conference like this one.
Vasira Mysavath, Lao PDR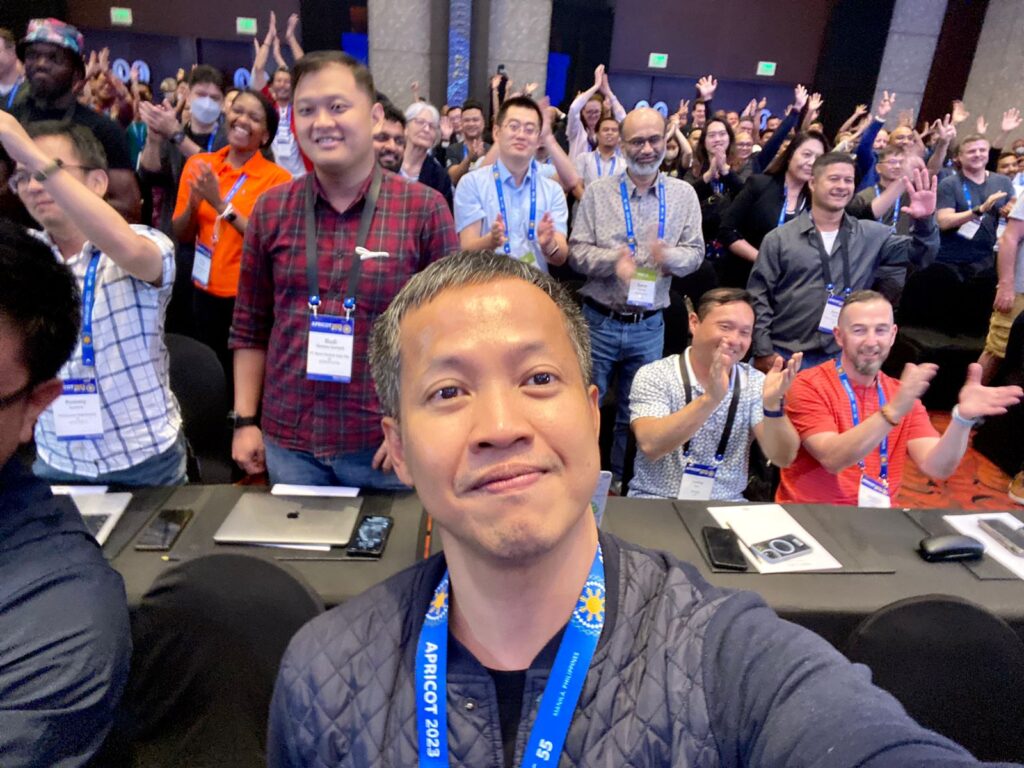 I work in government as the head of the Network and Integration System division — my main responsibility is taking care of the Internet and Intranet for government agencies. We work on policies that support appropriate Internet speeds for government agencies to work within the limited bandwidth we have. We also help with connections to local data centres through a government network and the National Internet Exchange (NIX).
We have a new Security Operations Center (SOC) to better monitor and detect security issues like malware. I'd like to learn network security and update my knowledge of Border Gateway Policy (BGP). To study technical areas such as these, we generally need to do it via remote learning or go abroad, as some certifications are hard to get in Lao PDR.
At APRICOT 2023 / APNIC 55, I attended the APOPS 2 session and was particularly interested in the IPv6 growth section of Geoff Huston's Routing 2022 presentation (PDF).
I used to work with IPv4, but we haven't transitioned to IPv6 — so it's interesting for me to see the future of routing. Perhaps I will apply this knowledge at my organization in future. Currently, we still use IPv4.
Glycirynne Dianne Apolonio, Philippines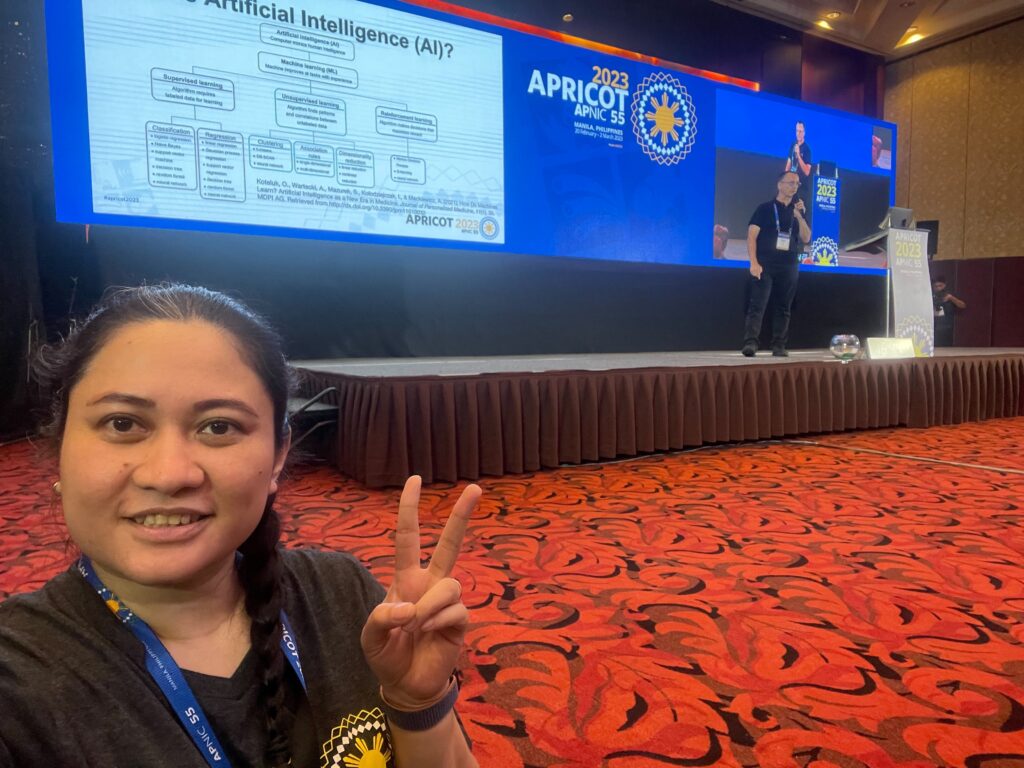 Before I was in the Switch! project, I was focused on how to design a circuit from the enterprise side. At my company, I was the only woman in network operations at the time.
Three people from my company have joined Switch! so my focus was to manage the team, but while attending APNIC 54 in Singapore I also became interested in policy and how I can contribute to the community as an engineer. That was my first time attending an APNIC/APRICOT conference in person, having attended three virtually before then.
I became interested in how can I serve remote areas in the thousands of islands in the Philippines. My province is Palawan, and to get there you have to go by plane or ship. The burden of not having good connectivity is a real problem — it was especially difficult during the COVID-19 pandemic.
My company has also been looking at various ways to connect communities by satellite and I made a lot of great connections at APRICOT 2023 / APNIC 55 to help us explore that.
I attended the Network Management, Monitoring and Security workshop, which was about connecting through Network Operations Centres (NOCs) which was beneficial to my new role as Head of Service Operations.
Glycirynne is also an APRICOT Fellow.
Sasirat Chansirikiat, Thailand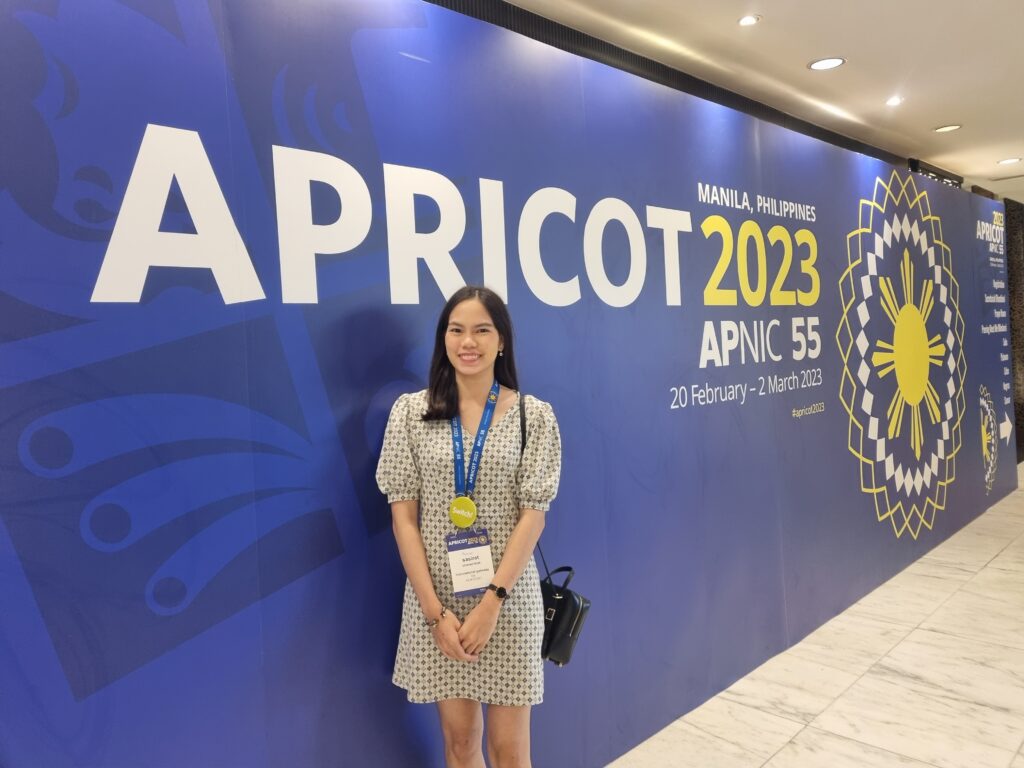 I have been working as an IP Solutions Engineer for a few years now, and in my current company, for about a year. I maintain and design networks and a lot of my work involves configuring routers and switches. I also do some work with BGP and peering.
I graduated in telecommunications engineering. I have always loved maths, science, and logic and always wanted to be an engineer. While there are many tracks in engineering, I found an interest in configuring networks so I moved in this direction.
When I was studying telecommunications in Thailand, I found roughly half the class were women so it wasn't unusual to see other women, but it was fewer when I started working. I'd like to see that change and the Switch! project is helping.
I enjoyed the Peering Forums on 28 February 2023 (session 1, session 2, session 3). During them, I learned how people establish peering networks and relationships. Making those connections is really important for my work so it was great to meet and network with other technical staff.
Lourdes Lay Araujo, Timor Leste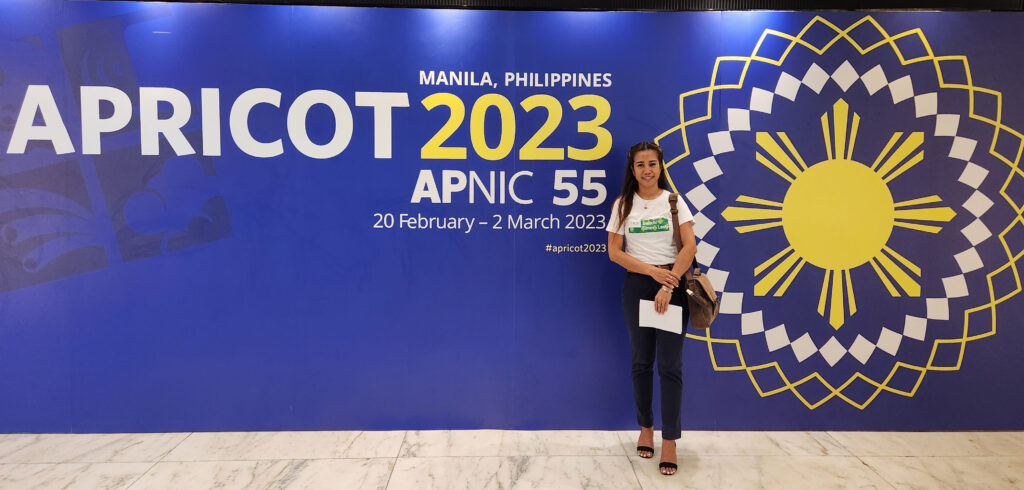 I am currently working at the Timor Leste Ministry of Public works as an ICT operational advisor. I have been working in this area for 11 years. My brother also worked in IT, and when I was a teenager I could see him fixing equipment. I was curious about it, and that led me to become an IT engineer and study for a Bachelor of Computer Science.
I started working at the National University of Timor Leste after finishing my degree. While I was there we were working on a registration system and I handled the database administration. After that I moved to an international agency and worked on a rural development project — that was when I learned about network operations. I wanted new experiences and challenges, and I remembered some of the passion I had for network operations when I was in university. I can never get bored of this — some people think that a woman might enjoy working in a bank or something like that, but I've always been into technical things.
At APRICOT 2023 / APNIC 55, I attended the SD-WAN session, where I learned about connecting multiple networks into one larger network. This session taught me an easy way to achieve this. When I was with the international agency I used SD-WAN from Cisco — this session reminded me of many of those functions.
I am the only female engineer at my workplace, and it can be a challenge working in an environment only with males. I participated in the Diversity & Inclusivity in Tech panel discussion at APRICOT 2023 / APNIC 55 as I hope to inspire more women to join the sector and help foster opportunities for them. Sometimes women think they are limited in these careers, but I want to show them that's just not true.
Linh Le, Viet Nam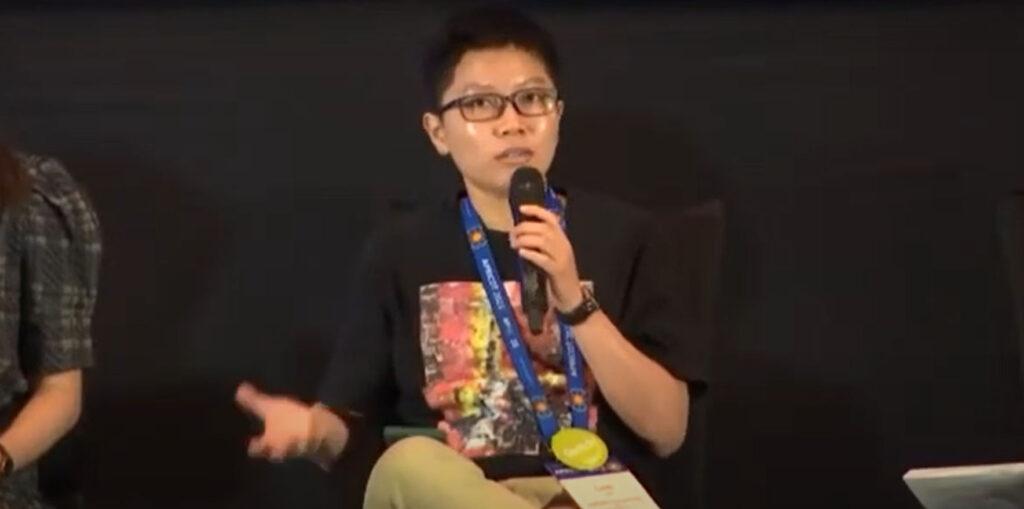 I moved from hospitality management (which I found boring) to become a network engineer about a year and a half ago and I love it.
I studied networking at college for a few years and now maintain the Service Legal Agreement (SLA) with customers — I work to keep them happy. Most of my clients are in the hospitality industry. My previous experience helps as I'm familiar with the industry and know the pressures they face and how to resolve them.
With the Switch! program, my focus is training. I take technical courses like routing and switching for Juniper vendors. This helps my career advancement and has helped with platform access for vendor certification.
With the Switch! program, I want to build strong fundamentals so my focus is technical courses, and I've already some certifications. I appreciate the chance Switch! project gave me the to attend APRICOT 2023 / APNIC 55 and the networking opportunities there. I was impressed with Edmon Chung's thoughts on an eco-friendly Internet, and the applications of satellite networks that could help bring connections to remote areas.
But for me, the highlight of APRICOT 2023 / APNIC 55 was meeting diverse nationalities and seeing how the Internet works in various economies.
The Switch! project was initially funded by Australia's Department of Foreign Affairs and Trade as the SWITCH SEA project from 2020 to 2022. In 2022, it was funded by the Asia Pacific Internet Development Trust, expanded to six economies, and became Switch!
---
The views expressed by the authors of this blog are their own and do not necessarily reflect the views of APNIC. Please note a Code of Conduct applies to this blog.