ISIF Asia is accepting applications for the 2023 funding cycle until 30 April 2023.
The Information Society Innovation Fund (ISIF Asia) empowers organizations across the Asia Pacific region to research, design, and implement Internet-based solutions to solve Internet development challenges that support community development and growth. Since 2008, ISIF Asia has supported 121 grants and 31 awards, allocating over USD 7.44 million to 152 initiatives across 31 economies out of the 56 in the Asia Pacific region.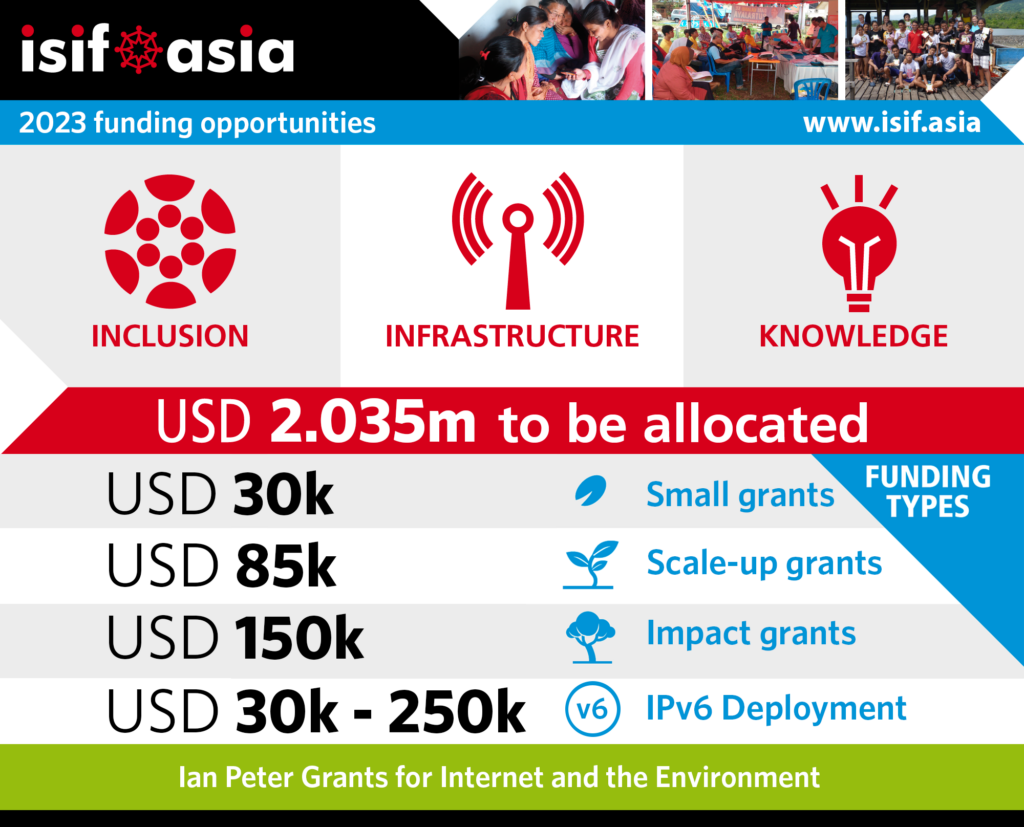 Applications are open to public and private sector organizations, academia, non-profits, and social enterprise organizations.
There are three thematic areas:
Inclusion: Initiatives that help ensure everyone has meaningful access to the Internet, online applications and services
Infrastructure: Initiatives to increase Internet speed, reduce maintenance and operational costs, and improve reliability and/or security
Knowledge: Initiatives that develop technical capacity and/or research around Internet network operations for technical and non-technical audiences
Within these three program areas, there are additional types of grants.
Ian Peter Grants for Internet and the Environment
The Ian Peter Grants for Internet and the Environment can be across any of the three program areas and are to support innovative solutions to the environmental impact of the Internet. They commemorate the life and work of Ian Peter, Internet pioneer and environmental activist.
ISIF Asia's IPv6 Deployment Grants are also open for organizations planning to deploy IPv6 in the Asia Pacific. IPv6 Deployment Grants range between USD 30,000 and USD 250,000. These are open all year round and are part of the Infrastructure program.
In addition, three small grants (USD 30,000 each) will be made available across any program area to economies that have not previously received ISIF Asia grants. A full list of economies that ISIF Asia has supported is available here.
Applications are open now until 30 April 2023 at 11:59 AM (UTC +10). For application and selection criteria please familiarize yourself with the APNIC Foundation Portal, where you will be able to submit your application.
Please note that first-time applicants will need to create an account. Please ensure you have entered accurate information (including the email address) when completing the registration form. Once you have completed the registration form, you will receive an email notification from the APNIC Foundation with login information, giving you access to the portal and the application forms.
ISIF Asia is a grants fund run by the APNIC Foundation.
---
The views expressed by the authors of this blog are their own and do not necessarily reflect the views of APNIC. Please note a Code of Conduct applies to this blog.