Awal Haolader and Dave Phelan at the APNIC Academy IXP Setup Workshop in Maldives.
When you say, 'I have to go to the Maldives for work', people automatically assume it will be all island resorts, green and blue waters, and sunsets on the beach. This story is not about that — welcome to a view from the technical trainers' perspective.
Getting to the Maldives post-COVID is not easy. It means multiple connecting flights with long airport layovers in between, to arrive in a very different time zone (UTC +5 from UTC +10), very jet-lagged, and late at night.

But this is no beach holiday.
Awal Haolader and I were there for the APNIC Academy IXP Setup Workshop — a series of lectures and hands-on lab work that teach the skills required to configure and operate an Internet Exchange Point (IXP). The morning after our late arrival, we went straight to the training venue to prepare for a two-day workshop for participants.
But a bit of background first. How did we get here?
Maldives Internet Exchange
The Maldives Internet Exchange (MVIX) idea was formed by passionate operators in the local community during the years preceding COVID-19.
The Maldives has 100% Internet coverage in populated islands with a large (and growing) user base, but ISPs were not fully interconnected, so locally hosted services were not locally delivered to users. The creation of an IXP would reduce costs for all providers, greatly improve user experience, and encourage developers to host services related to the Maldives locally.
Read: New Maldives IXP marks start of joint initiative to support Asia Pacific IXP development
Throughout the pandemic, interested parties kept organizing and we finally had something concrete to plan towards. A Memorandum of Understanding (MoU) was signed at APRICOT 2022: MVIX is the first of many IXPs resulting from a joint initiative between APIX, APNIC, the APNIC Foundation, and the Internet Society (ISOC). None of this would have been possible without the assistance of ISOC and the push from Meta to the local community.
To that end, equipment was ordered. We waited through supply chain delays, and eventually, everything required was in Malé ready for installation.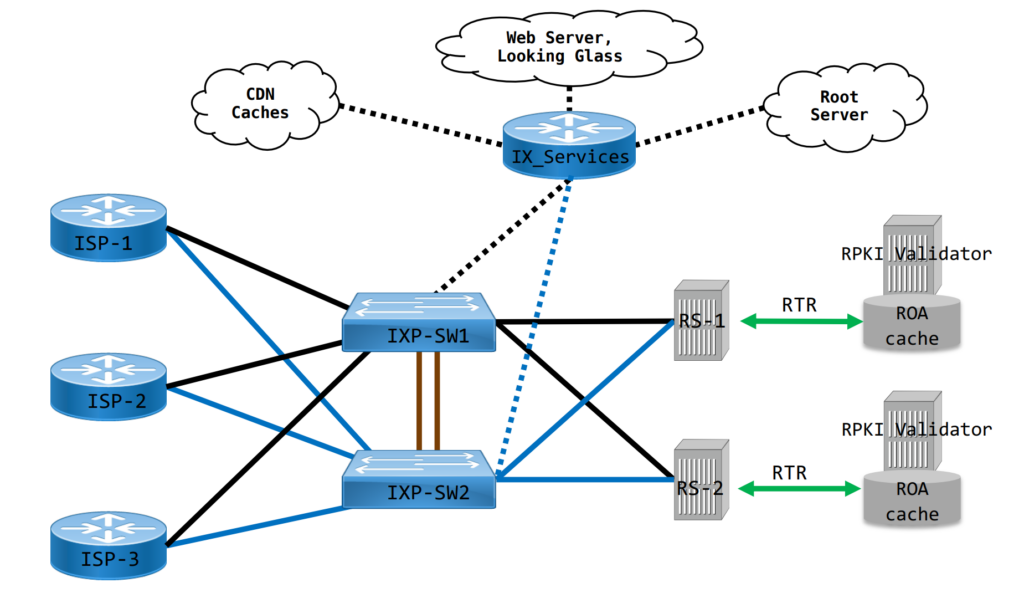 Now, we can't just hand equipment over and say "Here you go! Best of luck!". Most networks in the Maldives had never worked with or connected to any IX fabrics. And due to the limited provider landscape, very few even multihome to ensure the continuous availability of business-critical applications.
Introducing the IXP Setup Workshop
The APNIC Academy IXP Setup Workshop held in the Maldives from 26 to 30 September 2022 introduced some important Border Gateway Protocol (BGP) concepts and discussed the different routing platforms that participants were commonly using. Examples of peering configurations were handed out and discussed. After two days, everyone in attendance had a good understanding of what the end goal was and what they each needed to do to achieve it.
Installation
The next two days were spent installing software and assisting with the configuration of the switches.
The Maldives was already at 100% Route Origin Authorization (ROA) coverage, so we were able to implement Route Origin Validation (ROV) on Day 1. We had discussed with operators in the early stages of planning that we would also deploy IXP Manager as it makes managing an IXP straightforward, and its BIRD2 routing configurations are relatively simple to administer. IXP Manager also has support for ROV and Internet Routing Registry (IRR) prefix filtering, helping MVIX meet the eligibility criteria for MANRS IXP membership — becoming one of only a few IXPs to start operations with MANRS.

The other distinct advantage this IXP build had over similarly sized community IXPs was the addition of a Meta Network Appliance (MNA) — formerly FNA — a content caching platform that will reduce MVIX members' transit costs by having the content available locally.
Read: Tsunamis among challenges in Maldives

MVIX now operate Layer 2 switching platforms along with route servers to interconnect its member networks and welcomes all carriers, ISPs, content providers, data centres and enterprises to join the community. MVIX's AS9446 has an open peering policy.
With this new IXP, we hope that it continues to foster a sense of community amongst the networks, and it births a Maldives Network Operator Group (MVNOG) in the near future.
The APNIC Foundation and ISOC provided funding to support the development of MVIX.
---
The views expressed by the authors of this blog are their own and do not necessarily reflect the views of APNIC. Please note a Code of Conduct applies to this blog.