Last week, I travelled to one of our region's more remote economies, the Maldives, with APNIC's security specialist, Adli Wahid.
It was the first official visit that APNIC has made to the Maldives, and we were overwhelmed by the friendly welcome we received from our local Members, government officials and the next generation of network operators.
Meeting the government
Our first meeting was with Ilyas Ahmed, Chief Executive Officer of the Communication Authority of Maldives (CAM) – regulator for Maldives telecommunication and postal services. Ilyas explained the connectivity between the Maldives' 200 inhabited islands, and the challenges they face – in particular, tsunami damage.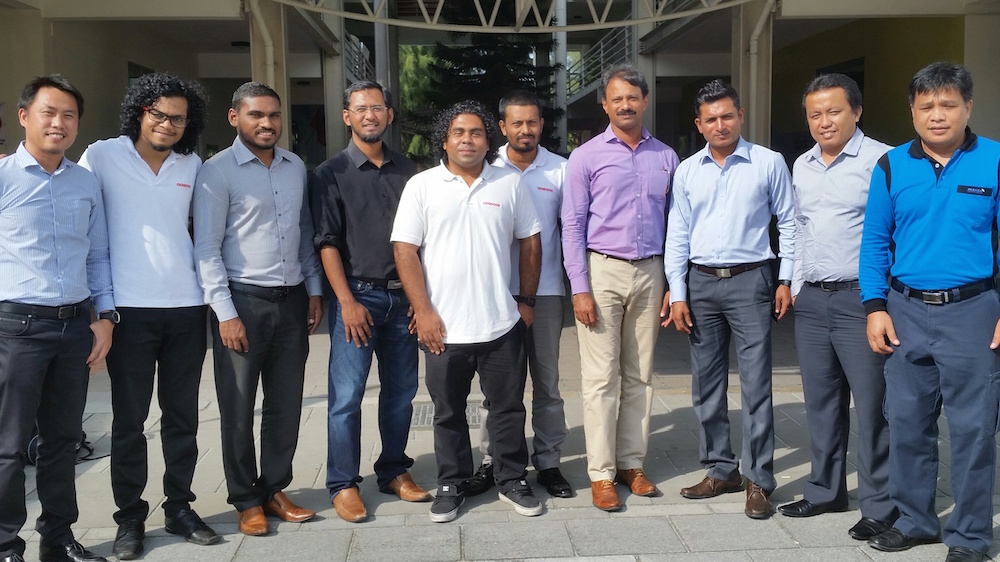 Before the 2004 Boxing Day tsunami, the Maldives' inhabited islands only had one network link between them. This meant the tsunami disrupted connectivity between islands for weeks, and in some cases, months. Ilyas explained how afterwards, the Maldivian government invited the country's two major network operators (Dhiraagu and Ooredoo) to develop a plan to overcome this scenario in the future. All parties agreed on a model where operators would fund redundancy connectivity between islands and the government would provide tax incentives for capital equipment. Now, almost all 200 islands are connected with fibre and mobile antennas.
We also discussed how proposed legislation is currently being considered by the Maldivian parliament to allow CAM to foster a computer emergency response team (CERT); set up an IXP; and manage the .MV domain (currently managed by the previous sole operator, Dhiraagu).
Meeting the Members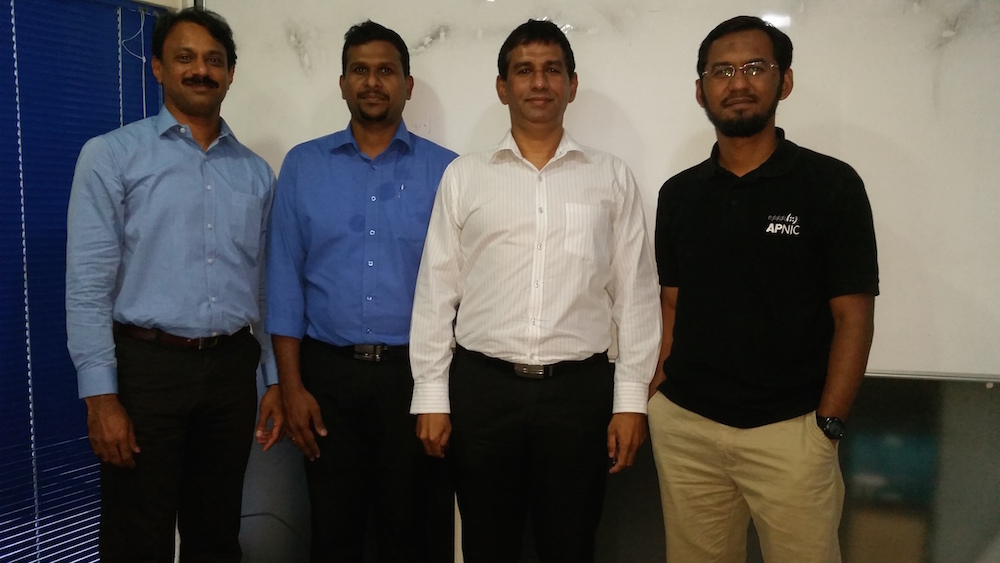 APNIC has four Members situated in the Maldives: three ISPs (Dhiraagu, Ooredoo and Raajjé Online) and one IT service provider (NCIT), who is the main government agency for the development, promotion, and propagation of information technology.
We met with representatives of each and talked about their challenges and successes, which included:
The need for more IPv4 resources. We discussed how they can acquire IPv4 addresses through transfers
Upgrading infrastructure to a dual-stack network to accommodate IPv6. One operator has already deployed IPv6 in their core network and is testing it with corporate clients
Network security including IPv6 security and RPKI. We helped some Members create their ROAs too
Updating contact details in the whoIs database
Installing RIPE Atlas probes and demonstrating what they can measure. We also visited Dhiraagu's data centre which is hosting an APNIC supported RIPE Atlas Anchor
The benefits of having an IXP to reduce latency issues – the Maldives has two submarine cables
Setting-up a local network operator group (NOG)
Hosting APNIC training workshops for their staff.
Adli and I were both impressed by each Member's facilities and how professional and energetic their teams are to learn and further improve their networks.
Meeting the next generation of network operators
During our final evening, Adli and I were invited by Villa College to give a two-hour guest lecture to 25 attendees, including students and lecturers from the IT faculty at the College, as well as a number of enthusiastic high school students.
We covered many topics including where IP numbers come from, security, and Internet governance and infrastructure, giving them a broad perspective of the Internet.
Overall, the trip was a fantastic opportunity to meet with our Members as well as current and future leaders of the Internet in the Maldives. We got to listen and understand the issues they face and how they are overcoming them to ensure the stable and reliable operation of their local Internet infrastructure.
---
The views expressed by the authors of this blog are their own and do not necessarily reflect the views of APNIC. Please note a Code of Conduct applies to this blog.