Lion Dance at APNIC 54's Opening Ceremony.
Thank you to everyone who participated in person and remotely at APNIC 54, held in conjunction with APrIGF 2022 and APSIG 2022, from 13 to 16 September 2022 in Singapore.
The conference brought together Internet and networking experts, industry leaders, APNIC Fellows, and other interested parties from around the world to learn, share ideas and experience, and develop policies related to Internet operations. It also gave us the first opportunity to network with peers face-to-face in two years.
Altogether, there were 558 registered attendees in person and 635 online, representing 69 economies. Representatives for 295 APNIC Member organizations participated in the conference. Attendees were highly active on social media using the official hashtag #APNIC54 on Twitter, LinkedIn, and Facebook. Additionally, there were 28 videos uploaded to the APNIC 54 YouTube stream. For more detailed information on APNIC 54, view the report.
Special thanks to the 98 speakers who flew and videoed in from around the world, including keynote speakers Tobias Fiebig and Alexander Ling.
Thanks again to all the sponsors for helping make this event a success — we greatly appreciate your support.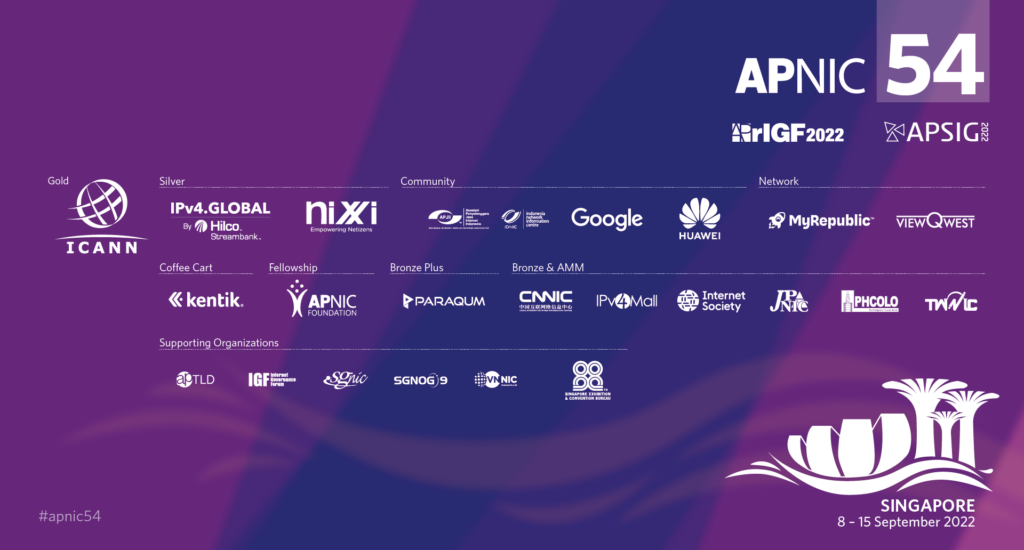 Congratulations to the program committee for a highly engaging program.
Remember to take the conference survey to help the organizers make improvements for future conferences.
To catch up on what happened at APNIC 54, visit the conference website for YouTube recordings of sessions, presentations from the speakers, transcripts, and more.
From 2023, APRICOT and APNIC will return to the four-year cycle that covers South Asia, South East Asia, East Asia, and Oceania. We look forward to welcoming you to Manila, Philippines for APRICOT 2023/APNIC 55.
---
The views expressed by the authors of this blog are their own and do not necessarily reflect the views of APNIC. Please note a Code of Conduct applies to this blog.