Oanh Nguyen (second from right) and Zhen Yu (fourth from right), at APNIC 48.
APNIC Special Interest Groups (SIGs) provide an open public forum to discuss topics of interest to APNIC and the Internet community in the Asia Pacific region. APNIC currently hosts four SIGs that hold meetings twice a year at APNIC conferences. They're a great opportunity to participate in discussions related to managing Internet numbers, routing security, Internet policy and governance, and get important updates from the National Internet Registries (NIRs) in the region.
What happens at the NIR SIG?
At the NIR SIG Forums, representative members of the NIRs come together to share information relating to their operations, policies, and procedures, to promote close cooperation among the NIRs and APNIC.
The most recent NIR SIG Forum saw presentations from CNNIC, IDNIC, VNNIC, JPNIC, TWNIC, and IRINN that covered Internet development, memberships, Internet resource allocations, capability status, future goals, and more from each economy.
These presentations give us an important insight into resource delegation made by NIRs throughout the APNIC region, as shown in Figure 1.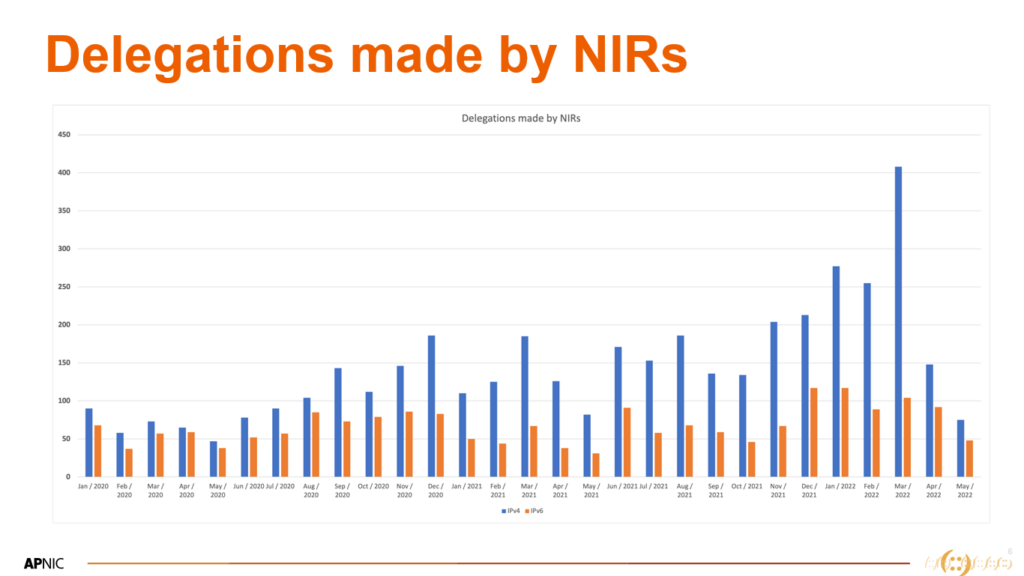 Why you should get involved at APNIC 54
The NIR SIG provides an insight into the operations of NIRs throughout the region. At APNIC 54, the agenda will include delegation updates, a case study of IPv6 and RPKI deployment from an NIR member, and a panel discussion. Stay up to date as details are added to the agenda.
During this conference, an election will be held for the position of SIG Co-Chair. If you would like to nominate yourself or somebody else, to serve as a Co-Chair of the NIR SIG, please do so before the deadline. More details here.
The NIR SIG at APNIC 54 will be held on Wednesday 14 September 2022 at the Grand Hyatt Singapore with online participation for remote attendees.
Want to learn more and get involved? Join the NIR SIG mailing list.
---
The views expressed by the authors of this blog are their own and do not necessarily reflect the views of APNIC. Please note a Code of Conduct applies to this blog.