SLTMobitel Mobile is accelerating its commitment to IPv6 as it seeks to connect all its mobile customers by 2024.
Having already connected more than half of its users since October 2020 (Figure 1), SLTMobitel Mobile (AS 45356) expects the final 45% of its users will connect via IPv6 over the next two years as they upgrade their devices.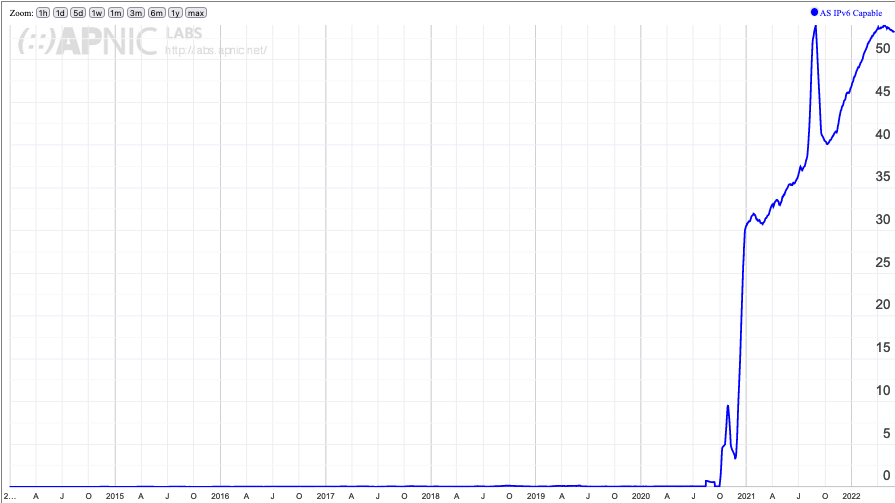 While SLTMobitel Mobile's deployment and goals seem fast-paced compared to other operators in the region and world, it, along with its parent company, SLTMobitel (formerly known as Sri Lanka Telecom), has spent more than a decade planning for this transition.
IPv6 was a company-wide strategy
As Sri Lanka's incumbent telco, SLTMobitel has always sought to be the first to deploy the newest telecommunication technologies in its pursuit of keeping its customers well connected, and meeting the government's ongoing efforts to create a technology-driven economy and a technology-based society.
IPv6 was no exception, with SLTMobitel deploying it in its core ISP network in 2008, shortly after which it began peering via IPv6 with Sri Lanka's academic and research network, LEARN.
It wasn't until the World IPv6 Launch in 2012 however, that it was made available to its users.
Having used 100% CGNAT to connect its growing number of mobile users since 2007, SLTMobitel Mobile's network planning and operations teams recognized transitioning to IPv6 would be a much more cost-efficient means of maintaining its network in the long run.
Key figures in the initial planning stages included Rasantha Hettithanthrige, SLTMobitel Mobile's CTO, Viresh Dassanayake, Senior General Manager of Network Operations and A.N Indika, General Manager of Network Planning and Optimization. The implementation phase was handled by the Packet Core Operations and Packet Core Planning teams.
As Senior Manager of SLTMobitel Mobile's Packet Core Network, Duleep Thilakarathne has had oversight of the project for the past seven years.
"SLTMobitel Mobile decided to take a transitional approach to IPv6 with a long-term view to become IPv6-only once IPv6 had become the preferred protocol among its users and content services," says Duleep.
"As such, we chose 6to4 and dual-stack transition mechanisms, which accommodate users' older devices that are not IPv6 capable and update their connection automatically to IPv6 when customers update their devices."
With a plan in place, now came testing — the most time-consuming part of any deployment.
Testing: Work with your vendors
Over the next seven years, SLTMobitel Mobile conducted countless tests across its connectivity, mobile broadband control plane/user plane compatibility and billing.
"SLTMobitel Mobile has multi-homed connectivity with multiple Tier-1 upstream ISPs who, like SLTMobitel, had deployed IPv6 very early on. So, we didn't have many issues with our upstream connectivity," explains Duleep.
"As for our mobile broadband control plane and user plane compatibility, this was a major challenge for us, particularly end-user device settings. Mobile terminals need to have their APN profile changed to enjoy IPv6 services if initial profiles are configured with IPv4-only, which is common among older devices. To do this, we needed to push new device settings to support IPv4/IPv6 and the end-user needs to approve the settings to take effect, all the while not interrupting our users' experience.
Read: Expired certificates halve IPv6 capability in Bhutan, Sri Lanka
"Our vendors provided plenty of support during this process, helping to modify device APN settings from the manufacturing level and upgrading some legacy mobile broadband related equipment to handle IPv6 related mobile control plane traffic. We also worked closely with mobile device operating system development companies to update default APN settings with dual-stack mode."
Apart from vendors, SLTMobitel Mobile also sought assistance from APNIC to run online and face-to-face training sessions on how to deploy IPv6, including best practices for IPv6 address planning.
After nearly seven years of planning and testing, SLTMobitel Mobile enabled its IPv6 dual-stack mode for all its mobile broadband users in October 2020.
End goal: IPv6-only
With more than half of its mobile customers now connecting via IPv6, Duleep and his team have now turned their attention to how they will connect SLTMobitel Mobile's remaining mobile customers.
"Because there are still many end-user devices not compatible, we've had to deploy 6to4 NAT to enable them to connect via our service," explains Duleep. "But 6to4 NAT is not in SLTMobitel's Mobile long-term plan.
"We started deploying IPv6 because we wanted to do away with the complexity and costs associated with maintaining NATs, as well as the performance issues they can impart compared to each user being assigned with an Internet routable IP block of a /64.
"Ultimately, we want to implement an IPv6-only mobile network, but we recognize that's still a few years off."
---
The views expressed by the authors of this blog are their own and do not necessarily reflect the views of APNIC. Please note a Code of Conduct applies to this blog.