'Does APNIC still have IPv4 addresses?'
'How many IPs can I buy from APNIC?'
'Do I need to become an APNIC Member?'
These are questions frequently asked of the APNIC Helpdesk by prospective Members that this blog will answer. The APNIC new membership application form has recently been updated so this blog will also take you through the process of becoming an APNIC Member and acquiring your Internet number resources (resources).
As of October 2021, APNIC has approximately 14,500 /24 IPv4 prefixes available for distribution. Under current policy, APNIC Members are eligible to receive a maximum of a /23 delegation from the available IPv4 pool.
APNIC delegates resources to organizations that are legally present, or have networks located in the APNIC service region. These resources are leased to APNIC Members, the term of which is linked to membership. APNIC membership terms are effective for a year and Members must renew their membership every 12 months to continue using their resources.
Membership fees
APNIC fees are based on your organization's IP resource holdings.

As a new Member with a /24 of IPv4, a /48 of IPv6 and an Autonomous System Number (AS number, or ASN), the initial fee will be AUD 1,680, which includes the Sign-Up Fee of AUD 500. The ongoing membership renewal fee will be AUD 1,180 per year. Organizations located in Least Developed Countries (LDCs) receive a 50% discount on their APNIC Member fees.
If your organization is already an APNIC Member but has a growing customer base with the need for IP addresses, consider building customer loyalty by submitting a Referral Application on behalf of your customers and helping them with the allocation of resources.
Application process
The first step in the application process is to register for an APNIC Login if you don't have one already. All you need to register is a functioning email address. Once registered, visit the Get IP page, check your organization's eligibility, and start the application at the bottom of the page. You'll be asked to select an application type.

If your organization needs resources like most new Members, select the first option, which is the combined application for APNIC membership and resources. The second option, the membership-only application, is used by organizations needing membership to receive resources via transfers, or to manage their historical resources.
The APNIC membership application form comprises eight sections, selectable on the right-hand side of the page.
Sections 1 and 2: Corporate Contacts and Secondary Contacts
Every APNIC account should add three types of contacts in this section:
Corporate Contacts are people authorized by Member organizations in all matters related to APNIC. They are the designated contacts who receive important notifications from APNIC including updates to fee schedules, APNIC Executive Council voting matters, and so on. The Corporate Contacts also have the authority to add and remove other contacts and manage MyAPNIC access for the account.
Technical contacts are responsible for managing day-to-day operational matters including maintaining the APNIC Whois Database registration information, Resource Public Key Infrastructure Route Origin Authorizations (RPKI ROAs), domain objects for reverse Domain Name System (DNS) delegation, and so on.
Billing contacts are responsible for receiving and paying your APNIC fees.
An individual can hold the role of more than one contact type (for example, Corporate and Technical) and there is no restriction on the number of people that can be added to an APNIC account. For security reasons, APNIC Helpdesk only interacts with authorized contacts of an account. It's a good idea to have multiple contacts so there is a backup if one of your contacts moves on from their role or is away on leave.
Section 3: Organization details
This section contains organizational details required to become an APNIC Member. This information is used to create your APNIC Membership Agreement as well as your organization object in the APNIC Whois Database. All IP addresses and ASNs delegated to your account will be linked to your organization object.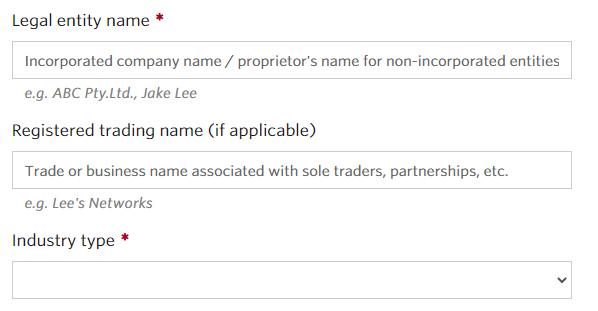 If your organization is an incorporated company, enter your full legal entity name in the 'Legal entity name' field. If your organization operates as a sole trader, partnership, or similar, enter the proprietor/partner's name in the 'Legal entity name' field and your trading name in the 'Registered trading name' field.
When a trading name is provided, APNIC only publishes your trade name in your organization object. The legal entity names of all APNIC Members are published on this web page.
Section 4: Billing details
This section requires the billing details for your APNIC account. If APNIC invoices are required to be billed to a different organization, simply select 'Add a different person' and input the details of that organization.
Section 5: New resources
IPv4 addresses
APNIC delegates resources based on your organization's 12-month requirements and there are a number of policy criteria under which these resources can be requested.
Generally, most new Members meet the eligibility criteria required to receive resources under the IPv4 allocation policy for Local Internet Registries (LIRs) or the IPv4 assignment policy for multihoming networks.
If your organization operates as a service provider (ISPs, and similar) and has IP address needs for its own infrastructure (such as routers and servers), as well as for your organization's customer networks (such as downstream ISPs and corporate customers), you should apply for an IPv4 allocation. Upon receiving an IP allocation, there will be the option to register more specific assignments in the APNIC Whois Database, to show the prefixes your organization has further assigned to your customers, and the details of those customers.
If your organization is a bank, enterprise, hosting provider, or similar, and only requires IP addresses for use within the infrastructure it operates, your organization may be eligible to receive IPv4 under the multihoming policy criteria.
If your organization operates Critical Infrastructure such as root DNS servers, Global Top-Level Domain (gTLD) nameservers, or similar networks critical for the functioning of the Internet, your organization may be eligible to apply under the Critical Infrastructure policy criteria.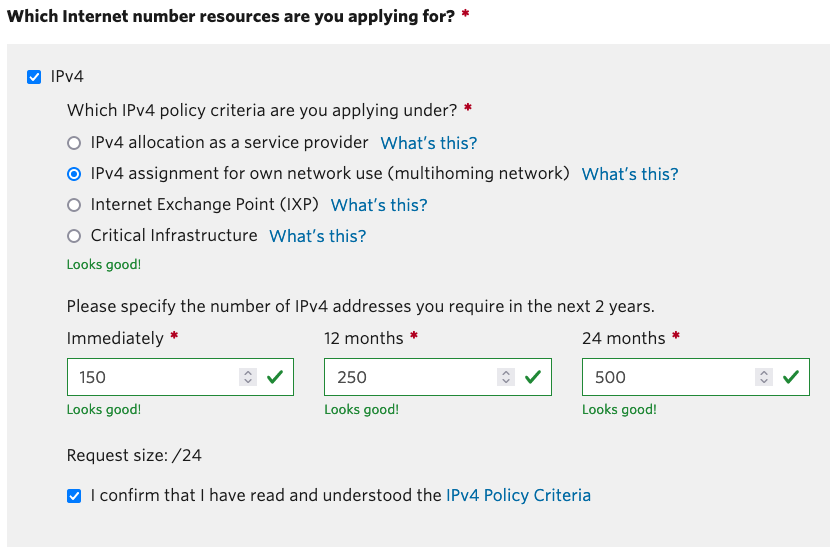 IPv6 addresses
With the depletion of the pool of unallocated IPv4, start preparing for your organization's future network growth with an IPv6 block. An IPv4 delegation automatically qualifies your organization for an appropriately sized IPv6 block. Simply select the IPv6 checkbox for a /48 assignment or a /32 allocation.
ASNs
If your organization is applying for an ASN, you must enter the contact details of the ASN you intend to peer with in this section. Occasionally, new Members assume IP allocations come with an ASN already linked to those IPs, which is not the case. If your organization requires an ASN, select the ASN checkbox and confirm that your organization meets the eligibility criteria.
An organization is eligible for an ASN if it is currently multihomed (maintaining more than one connection to the Internet) or has the need to interconnect with another ASN.
ASNs are not linked to IP addresses by default. Once you receive an ASN, it can be used to announce any IP prefix, provided the IP custodians have authorized your ASN to do so. Generally, this is done through the creation of IRR route objects and/or RPKI ROAs.
Section 6: Existing resources
This section requires details of the existing resources that your organization is using. If your organization is currently using IP addresses from a service provider, list these IP address ranges here. Generally, these IP address ranges are expected to be registered in the APNIC Whois Database with your organization's details. If they are not registered, APNIC may contact the service provider to verify they have assigned these IP addresses to your organization. This information helps validate your projected network growth and your 12-month needs.
Section 7: Peers
If your organization has received a public ASN from an upstream provider and is using it to interconnect with the provider, contact details of your upstream provider's ASN must be listed in the 'Peers' section. You should be able to get these details by searching for their ASN in the APNIC Whois Database or by contacting them directly.
If your organization is applying for an ASN, you must enter the contact details of the ASN you intend to peer with in this section.
Section 8: Qualifying documents
To ensure fairness in resource delegations, APNIC performs several due diligence checks to validate if your organization's resource requirements are legitimate.
Corporate and secondary contact photo ID document
This document is required to help prevent identity theft. Most applicants provide a copy of their passport, driver's license, national ID card, or similar documents.
Certificate of business registration
If your organization is an incorporated company, a Certificate of Incorporation or similar document that shows the organization is registered and active must be provided. If you are applying as a sole trader, you need to provide a copy of your trade licence as well as a photo ID of the trade owner/proprietor.
Employment verification document
This document is required to verify your association with the organization applying for APNIC membership.
The application form should be submitted by a person who has authority to act on behalf of your organization and enter into an agreement with APNIC, for example, the company director.
Should the application form be submitted by someone who is not in a position of authority, or by an agent applying on behalf of another organization, a signed letter from the director of the company authorizing the applicant to apply for an APNIC membership must be provided.
Suitable documentation to authorize a person to act on behalf of the company may be a company extract, letter of employment, or similar documents.
Recent bank statement or utility bills issued to your organization
Organizations applying to become APNIC Members are expected to have functional operations, and suitable documentation, such as recent bank statements or utility bills issued under your organization's name, must be supplied. If for any reason you can't provide this documentation, it may be possible to validate your organization's functional operation with other documentation.
Proof of Internet number resource needs
APNIC policy requires requests for resources to be supported by documentation such as subnetting plans, network topology, purchase orders, and other relevant documents. Typically, organizations must provide copies of invoices or purchase receipts for the network equipment acquired, upstream service agreements, connectivity contracts, and so on, to support deployment. It is recommended to provide as many documents as possible to demonstrate the need for these resources.
On average, the entire process from applying to receiving resources can take 5 to 10 working days. To avoid any delays in the process, please ensure all the requested information is provided and payment has been received by APNIC.
If you need any assistance at any stage during or after the application process, get in touch with APNIC's friendly Helpdesk team.
---
The views expressed by the authors of this blog are their own and do not necessarily reflect the views of APNIC. Please note a Code of Conduct applies to this blog.