More than 4,500 people joined the JANOG 48 hybrid event, held online and onsite in Ogaki, Gifu, from 14 to 16 July. Image: JANOG.
Japan, like most economies around the world, has seen a significant increase — more than 50% — in online traffic in the past 12 months.
While networks have coped well with this sudden increase, Japan's local network operator community recently met at JANOG 48 to discuss the need for more Internet Exchange Points (IXPs), outside of traditional hubs in Tokyo and Osaka, to assist with future increases in traffic and improve efficiency.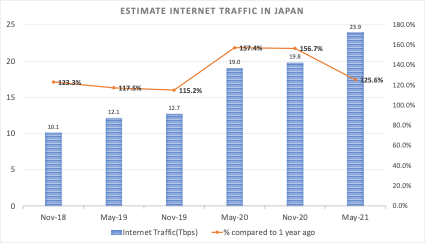 IXPs allow Internet Service Providers (ISPs) to extend their networks by exchanging routing information and traffic with other ISPs via a local exchange rather than needing to exchange local Internet traffic overseas. They have grown to play an important role in transiting local traffic, with studies showing they have a clear impact in reducing average AS-level path-lengths.
While many economies have one or a handful of IXPs located in capital cities where most ISPs were traditionally based, there is a growing trend to establish smaller, local IXPs in cities and regions where ICT has become prominent. An example of this is JBIX in Malaysia which was established in 2018 to accommodate the city of Johor Bahru's growing tech sector.
Read: New IX on the block launches in Malaysia
Such a regional IX could help a city like Fukuoka, which has become a startup hub in Japan and Asia.
Regional IXPs need to be sustainable to succeed
This has not been lost on Japan's Ministry of Internal Affairs and Communications (MIC). During one of the meeting's sessions — The arrival of the next regional IX boom — Takeda Masamichi reported findings from a study conducted by BBIX Inc and Cable TV Co Ltd into the impact of regional IXP/intensive ISPs in the Miyagi, Fukuoka and Tochigi prefectures.
The report recognized that new factors such as the deployment of edge caching in CDNs, the proposed use of folded communications, and the emergence of latency and jitter-sensitive applications would all benefit from hyper-local transit, which a regionally based IXP could provide. However, there are a number of challenges that local networks and governments need to overcome for them to be sustainable.
When asked how to operate the regional IXPs sustainably from the perspective of economic rationality, the operators replied, "In this survey, traffic exchange was made more efficient by regional IXPs. In order to develop regional IXPs more sustainably, it is important to involve not only regional ISPs but also local governments and local companies to flow various types of traffic".
This conversation dovetailed nicely into the next session — Current Status and New Trends of IXP – Toward a Sustainable IXP — with representatives from the Japan Network Enabler Corporation, Global Net Core Co. Ltd, CableTV Co. Ltd, and QTnet Inc, shared their experience developing a sustainable regional IXP.
Read: How do we improve Internet connectivity outside major cities: A Japanese approach
The operators stated that for regional IXPs to be sustainable they need to grow their local communities. This involves cooperating with and understanding the needs of eyeball operators and content makers. In the regions where regional IXPs are located, there are established communities that support the operation of IXPs. Throughout these communities, there is active interaction with operators in the region and the capital city.
More than 2,300 people joined the JANOG 48 hybrid event, held online and onsite in Ogaki, Gifu, from 14 to 16 July. See the JANOG 48 website (English and Japanese) for more details.
Hiromu Shiozawa is a member of the Japan Network Information Center (JPNIC) Internet Development/Engineering Department.
---
The views expressed by the authors of this blog are their own and do not necessarily reflect the views of APNIC. Please note a Code of Conduct applies to this blog.