The Cable Ship Reliance was called on to investigate the recent Tonga cable faults.
On the evening of Sunday, 20 January, the Kingdom of Tonga's primary connection to the Internet was cut. The loss of the 827km submarine cable, which connects Tonga to the global Internet at Fiji, left the 170-island economy isolated from the Internet and unable to connect international voice calls.
Internet users in Tonga, who have come to rely on the bandwidth and performance that the 1.6 Tbps Tonga Cable Limited (TCL) provides, immediately felt the pinch, as the significantly lower capacity satellite backup struggled to handle the demand. To cause further inconvenience, the failover process had to be performed manually, due to the prohibitive cost of keeping a high-capacity satellite link active.
Message to all our families & friends overseas trying to get a hold of us via the Internet. A coconut tree has fallen on our internet 😂. Word from Tonga Cable if the problem is in land it's a quick fix, if it's in sea It's gonna take a very long time. Malo @tonga_comm. 🇹🇴 pic.twitter.com/DhTuSWS1IQ

— radionuku'alofa88.6FM (@alofa88) January 23, 2019

While some light was made of the situation, Internet users in Tonga quickly felt the impact.
To address the congestion, TCL began filtering more popular bandwidth-intensive sites such as YouTube and Facebook; continuing to do so while they scrambled to acquire additional satellite spectrum. In the days that followed, Tongan businesses struggled to operate as usual under the adverse conditions. In addition to the impact on communication, the congestion issues caused difficulties with transactions like money transfers and airline bookings.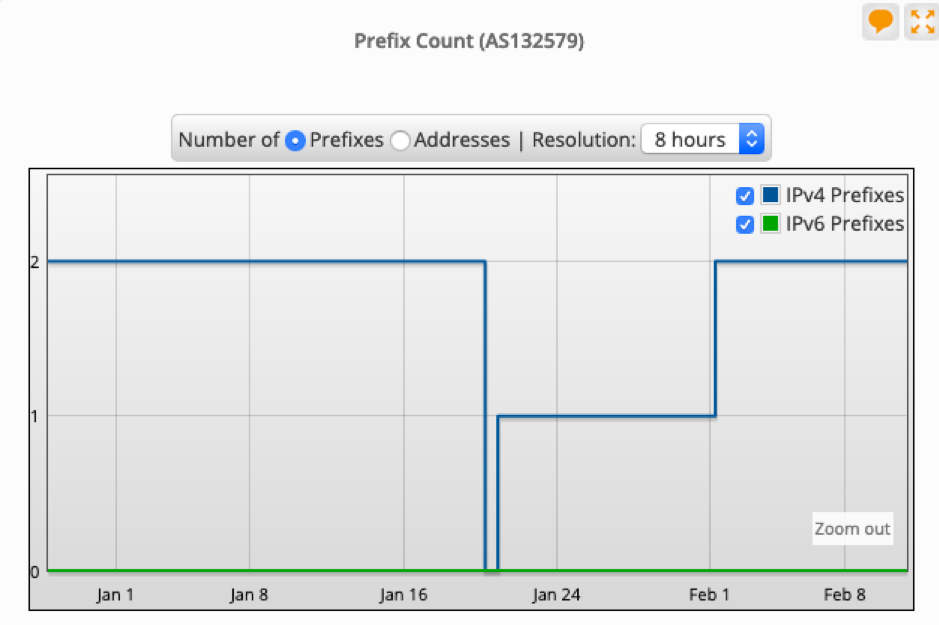 Figure 1 — Prefix count graph from RIPEstat for AS132579 (Tonga Cable Limited).
To make matters worse, on 30 January, a second cable fault was identified, this time on the recently activated Tonga Cable Domestic Extension (TDCE). The fault was identified by investigators onboard the Reliance transoceanic cable ship, while tending to the initial fault.
At this point, mobile operator Digicel announced it had restored full service to its subscribers after securing its own additional satellite connectivity.

Connectivity to Digicel mobile subscribers was restored thanks to a satellite backup, while investigations on the two submarine cable faults continued.
It wasn't until 14 February that the damage to both cables was repaired and full access was restored. The root cause of the faults is yet to be established.
Counting the cost
While Tonga will likely be assessing the impact of the outage and reviewing their Disaster Recovery plans, other economies that rely on single high-capacity links to the global Internet will also be paying close attention.
Many Pacific economies may be considering their own backup connectivity options, ensuring they are able to strike a balance between having sufficient capacity to carry critical communications and the cost of keeping a backup link on standby.
The bandwidth consumption of platforms like Facebook and YouTube may shift further attention to the role of local caching. In an interview with Radio NZ, Tonga Cable Ltd Director Paula Piveni Piukala reported that 80% of Tonga's international Internet traffic is social media. However, as Ulrich Speidel noted in his summary of satellite-related discussions at APNIC 46, caches require a large degree of scale to be effective, and not all content is suitable for overnight fill.
---
The views expressed by the authors of this blog are their own and do not necessarily reflect the views of APNIC. Please note a Code of Conduct applies to this blog.