Founded in 2009, SINET is one of Cambodia's largest ISPs, owning and operating one of the most connected domestic and international backbone networks in Cambodia, one of Asia's fastest growing economies.
With nation-wide fibre, DWDM, SDH and a Metro Ethernet backbone, SINET has more than 200 active network POPs across the country, not only in all the main cities and towns, but also in remote districts and villages.
SINET first considered IPv6 in December 2014 and moved quickly to start deploying the protocol the next quarter. Now, three per cent of their customers are using connected dual-stack IPv6. They expect to connect close to 20% by the end of this year and 40-50% by 2018.
Kong Diep, Head of Networks at SINET, is responsible for network infrastructure planning and service deployment. Kong says he "loves building and managing networks" and has more than 15 years of experience managing some of Cambodia's biggest networks, including Citylink, Telcotech and Ezecom.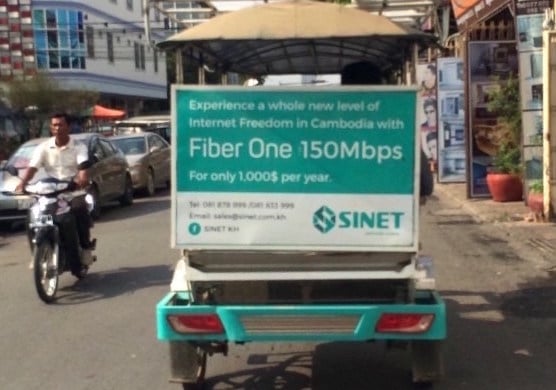 "The Internet has contributed much to the Cambodian economic development. As a developing country, we must be up to date and digitalize," says Kong.
"We knew IPv6 deployment wasn't going to be easy but we had to go IPv6 in preparation for the Internet of the future and to support our customers. Advanced technology will enable us to be more reachable to the world, and enable future growth for the Internet community and business in Cambodia."
Planning, skills development and testing were the first steps in the deployment process. Kong participated in IPv6 training with APNIC over a number years, and benchmarked from other network operators' experiences.
"From the very beginning we prioritized stability, traffic performance and users' experience. Network scalability, availability and long-term growth was our biggest concern", he says.
"That was one reason we chose dual stack, as it means smooth integration to the IPv4 network.
"We followed the recommendation from APNIC for IPv6 network allocation and we did some route adjustment per our network environment to fit the current and future needs of our IPv6 network. During the first month of IPv6 activation within the SINET network, we tested for our core and testing lab before we provisioned to customers. We started to provide IPv6 to customers after the trial-period success.
"We have had challenges. Firstly, IPv6 is quite new to the team, meaning we required comprehensive training. We ran in-house training for the team on the basic concepts and routing of IPv6. They have learnt quickly and were ready for deployment.
"Also, because traditional network devices do not support IPv6, we needed to adjust our network infrastructure by deploying IPv6 to the supported areas first.
"But the major challenge we face is end-user understanding of IPv6, how it works, device upgrades, IPv6 network protection and more.
"To be honest, most users still do not prefer IPv6 yet. However, we have provided IPv6 allocation to some customers and they are happy with IPv6 traffic."
Kong is pragmatic but takes the long view.
"I expect more challenges once we fully deploy IPv6 service to customers, especially around security and network reachability," he says.
"But the fact is, IPv6 is the future for the Internet and our organization must be ready for IPv6. Our customers will be happy with our service and technology, which will provide a sustainable long-term IPv6 service for them."
---
The views expressed by the authors of this blog are their own and do not necessarily reflect the views of APNIC. Please note a Code of Conduct applies to this blog.