The Internet has come a long way in Afghanistan since the days when users had to pay USD 1,300 for a 1MB connection. However, experts believe the industry still needs to work on its strategy for it to reach parity with its neighbours.
At the inaugural Afghanistan School on Internet Governance (AfSIG), experts from government, the private sector, academia, and social community discussed these and other issues facing Afghanistan's Internet during a thought-provoking panel session on access, infrastructure and government policy for Internet development in Afghanistan.
Read AfSIG report: Students the real winners at inaugural Afghanistan School on Internet Governance
Panelist Aimal Marjan, the former Deputy Minister of IT in the Ministry of Communication and IT (MCIT), recalled the first days of the interim government, after the fall of Taliban, when the country relied on a 1MB Internet connection from Pakistan (which cost users USD 1,300).
Mr Marjan said things started to change for the better in 2006, when the Afghan Telecom Company was formed within the MCIT to "address the communication issues" of the country and construct Afghanistan's first public fibre optic ring.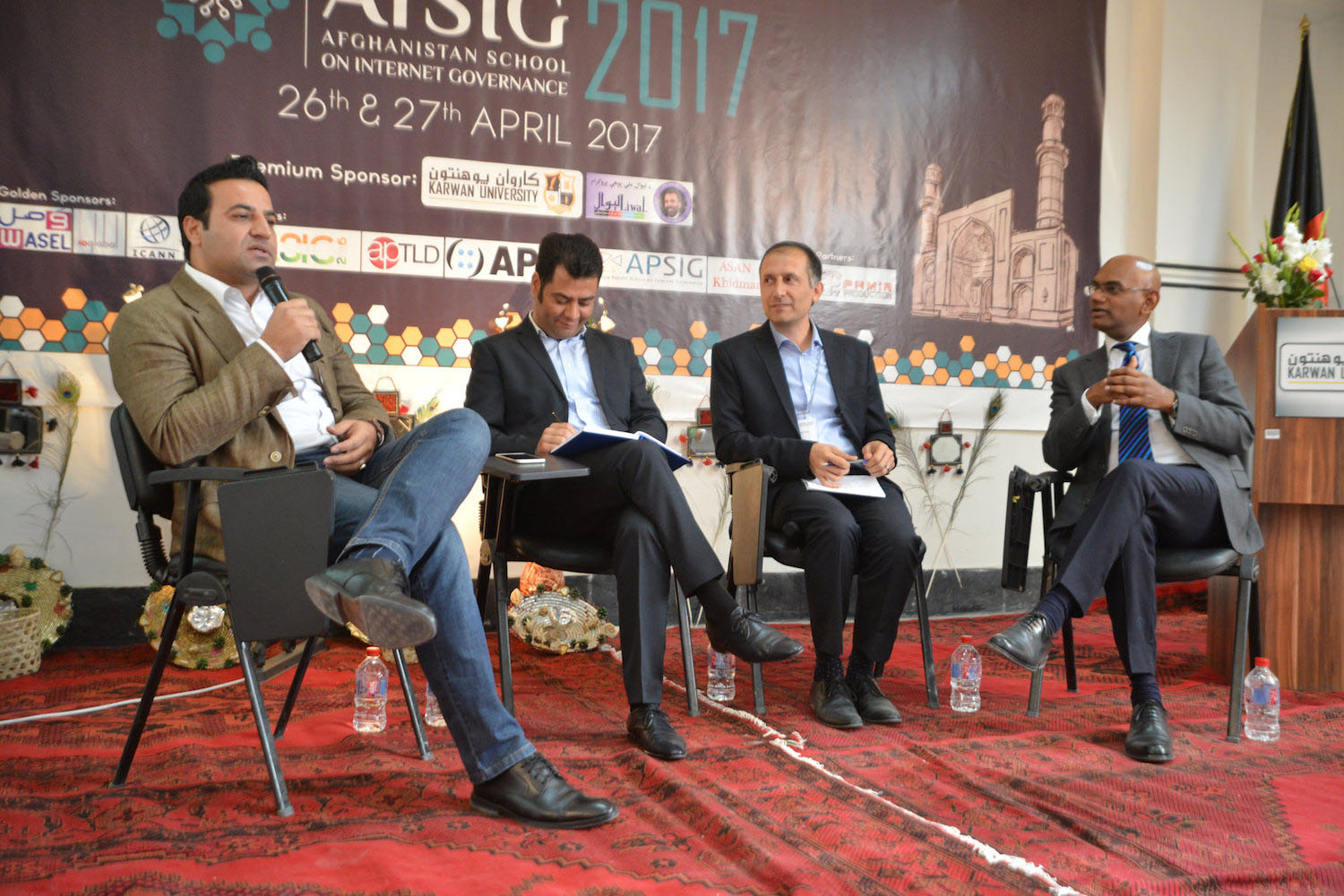 Another key outcome during this time was the approval of an open policy that allowed ISPs in Pakistan, including Wateen Telecom and Mobilink, to extend their infrastructure and construct their own fibre optic rings in Afghanistan, which reduced the cost of a 1MB connection to USD 250 per month. Today, Afghanistan has an STM-1 link (155MBps) from Pakistan that costs users USD 155.
Mr Marjan said such open policy was key for developing the IT and telecommunication infrastructure and services, not just in Afghanistan but throughout the region. This was a point that Mr Javid Hamdard, Vice Chancellor of Academics at Karwan University, agreed with, adding that the industry needed to see itself as regional players not just national.
According to Mr Hamdard, we need to work towards matching Pakistan, India, and other neighbouring countries in terms of service quality, technology and future plans to improve and secure the region's network.
Panellists expanded on this concept further, when asked for their thoughts on the recent announcement by MCIT to start approving 4G licenses later this year, with some seeing the decision as impulsive and lacking the strategic thought or research that was given when announcing 3G licenses in 2014 — MCIT had conducted an 18-month market review before announcing the 3G license in the country.
For Natayaraju Sapana, CTO of Wasel Telecom, the industry needs to focus more on service quality rather than deploying new technology, which will have new, inherent issues.
Overall, the discussion was very fruitful and certainly left attendees with a great appreciation of the work that has been done and needs to be done.
A Khalil Azizi is the IT Unit Manager for The American University of Afghanistan and Executive Board Member of NITPAA.
---
The views expressed by the authors of this blog are their own and do not necessarily reflect the views of APNIC. Please note a Code of Conduct applies to this blog.