The Asia Pacific Internet Exchange Association (APIX) is a forum where representatives from Internet Exchange Points (IXPs) operating in the Asia Pacific get together to learn and share experiences on technical, operational, and business issues of IXPs.
We were established in 2010, with strong support from APNIC, and currently have 23 members from 16 economies.
At APIX meetings, held twice a year during APNIC conferences, attendees discuss new ideas, previous successes, and current challenges.
A major challenge that attendees often share at our meetings is the difficulty of attracting new members to participate in peering on open and neutral IXPs.
For many attendees, the difficulty is identifying the best contacts in potential member companies with whom they can discuss the benefits of connecting to an IXP. These benefits include increased reliability and performance, as well as lower transit costs.
This is something APIX tries to help with by encouraging attendees to get to know their counterparts in other economies who can introduce them to appropriate contacts and networks, as well as share tactics they have successfully used to attract new members.
If you're a newly established IXP, we encourage you to join these discussions as most likely there is one of us who has faced your challenge before.
Learning from experience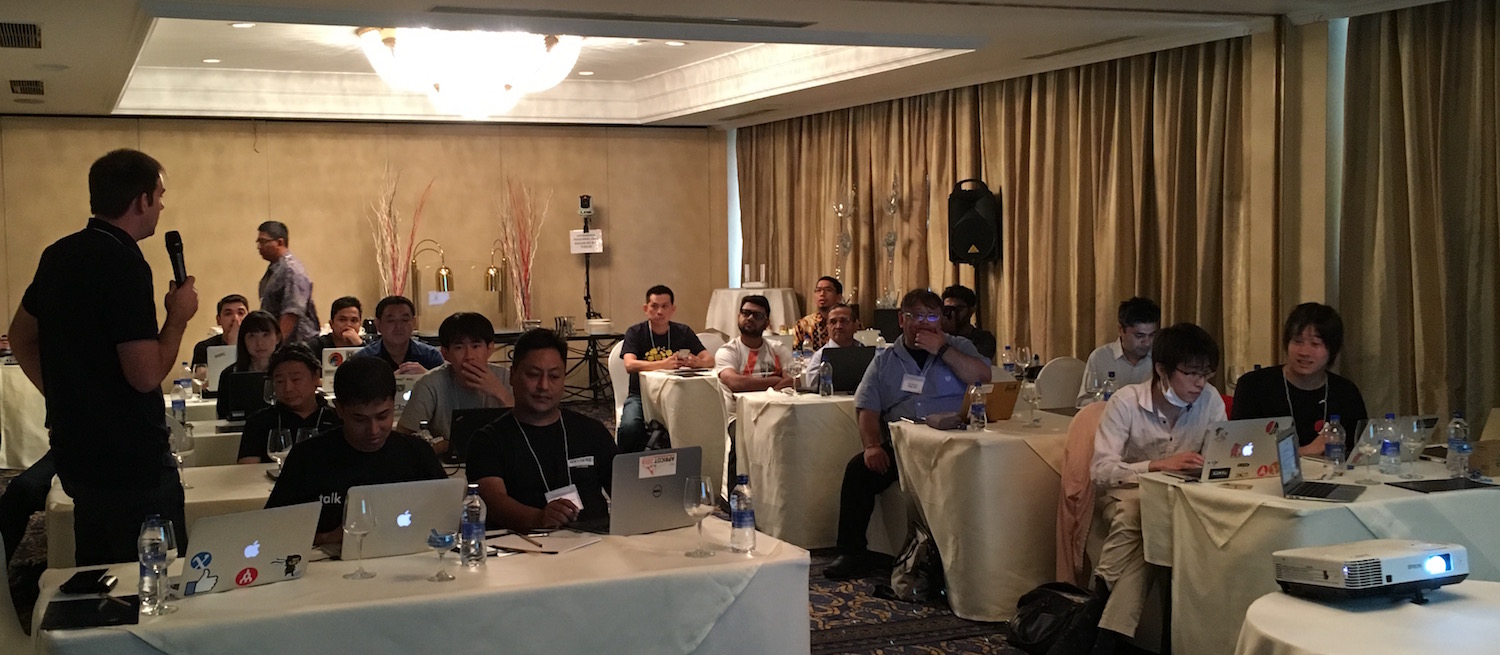 At our most recent meeting, held during APNIC 42 in Colombo, Sri Lanka, guest speaker Shu Sugimoto from JPNAP gave a particularly interesting presentation on a new route server software called GoBGP.
An IXP's route servers provide multi-lateral peering among participating networks. Currently, many IXPs are using BGP software like BIRD, Quagga, or OpenBGPd, but some of these are becoming obsolete with no frequent updates.
GoBGP is a new, open-source implementation of BGP Route Reflection, developed by NTT specifically with automation in mind and written in the Go programming language.
Shu said JPNAP, the biggest IXP in Japan, replaced Quagga with GoBGP in 2016 and has since observed significant improvement in the performance of their route servers. The new software has also reduced human resources for operation by automating its configuration using GoBGP's API features.
JPNAP's experiences will help other IXPs in the Asia Pacific hopefully improve their own route server performance, and in turn encourage more peers among their members/customers.
Open peering event to be hosted in Asia Pacific in 2017?
A final note we wanted to make was on a key outcome from the meeting, which was the establishment of a working group to explore the possibility of hosting an open peering event in the Asia Pacific region – "Peering Asia 2017".
Currently, there are few fully open and inclusive peering events in the region that allow network operators and IXPs to meet and discuss peering opportunities.
So far, there have been promising discussions and it is hoped the event will be held in Japan around October/November 2017. The next major update on the open peering event will be presented at APRICOT 2017.
Co-authored by Gavin Tweedie
Katsuyasu Toyama is the COO for JPNAP and Gavin Tweedie is the Interconnection Director, APAC for Megaport. Both are Steering Committee Members of APIX.
---
The views expressed by the authors of this blog are their own and do not necessarily reflect the views of APNIC. Please note a Code of Conduct applies to this blog.