At the recent APEC TEL 54 meeting held in Kyoto, Japan, I presented some promising signs on IPv6 end-user readiness from across APEC economies.
Over the last 12 months, global IPv6 end-user readiness increased by more than 50% to reach 7.82%, with five APEC member economies ranked among the top 15 globally. While there is plenty of work still to be done, stats from APNIC Labs shows some encouraging trends.
Strong leadership by big players behind Japan, Malaysia and Peru's initial growth
In economies like Japan, Malaysia, and Peru, where strong leadership by select ISPs saw early growth in end-user readiness, we are now observing other local players as well as content and cloud service providers beginning to adopt IPv6.
Peru's end-user readiness is 18.66% thanks in large part to the leadership shown by AS6147 (Telefonica del Peru). Given that growth in end-user readiness for Peru has slowed in the last 12 months, it would appear that no other networks have followed Telefonica's lead.
However, looking at the list of ASN's showing readiness in Peru, IPv6 is showing signs of life on ten 'higher-traffic' Autonomous Systems. Although the numbers are exploratory (all at or below 0.21%), this is a jump from just five Autonomous Systems a year ago and is a potential platform for medium-term growth in economy-wide readiness.
Malaysia, at 14.71% IPv6 capable, has shown a similar trend. Whereas Malaysia is home to only two large ASNs showing end-user readiness (AS17564 and AS4788), the number has jumped dramatically to 10 higher-traffic Autonomous Systems showing greater than 1% readiness.
Japan has long been an IPv6 stalwart in the Asia Pacific; its current end-user readiness is above 15%. That's why it's strange to see that the 12-month trend for end-user readiness in Japan decreased by 15.3%. However, when expanding the timeline to 18 months, APNIC statistics show a robust 133.4% increase in readiness. Although AS18126 (Chubu Telecommunications) and AS2516 (KDDI) still provide the majority of Japan's IPv6 foundation, they have been joined by mid-sized and regional operators.
Hopefully, these trends observed in Japan are a forecast for growth in Peru and Malaysia too in the near future.
Viet Nam and Canada making rapid progress
In economies like Canada and Viet Nam, we are seeing movement by key market players driving a rapid increase in economy-wide IPv6 readiness.
In Canada, a roll-out by AS852 (TELUS Communications) has pushed economy-wide IPv6 readiness above 15%, representing a 284.5% boost in the last 12 months.
TELUS Communications pursued a careful, planned deployment of IPv6 starting with internal networks at their central office, then moving onto IPv6 deployment to customers in July 2015. As of October 2016, 74% of eligible customers are IPv6 capable and the rest they plan to connect by the end of the year.
IPv6 capability for Canada as of November 2016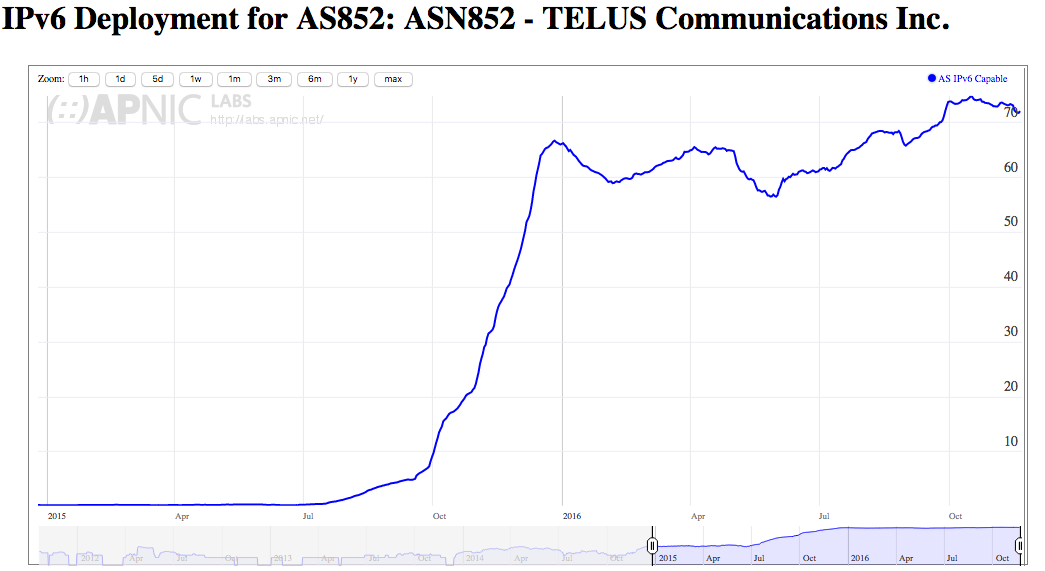 AS852's (TELUS Communications) IPv6 capability. Notice the difference between its growth and that of Canada's?
The most recent jump in Canada's IPv6 readiness has been driven by a significant boost in the IPv6 capabilities of AS812 (Rogers Cable Communications), which is now showing above 50% readiness.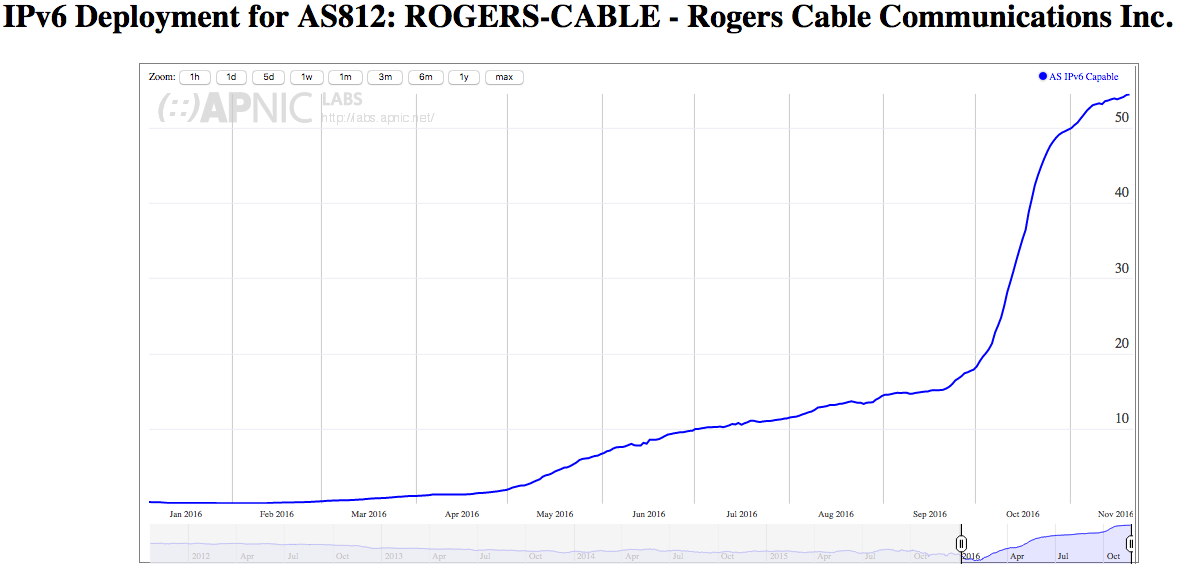 Although Viet Nam sits outside the top 15 IPv6-ready economies, there are notable signs of IPv6 growth driven by large market players.
AS18403 (FPT) is a particular standout and is largely behind a 487% increase in Viet Nam's capability in the last 12 months. Initial examination of BGP data suggests that FPT is using dual stack technology to deploy IPv6, and like Telus, FPT has used a pragmatic, phased approach for a successful roll-out.
A long-time member of Viet Nam's National IPv6 Task Force, the network operator included 200,000 customers in an IPv6 trial in 2012 and began its transition in January 2016, with statistics showing strong growth beginning in April 2016.
A quick look at their website demonstrates a prominent and strong commitment to IPv6, including a dedicated IPv6 page. By the end of 2016, FPT aims to have 500,000 IPv6 capable end-users and a complete roll-out of IPv6 connectivity by the end of 2017.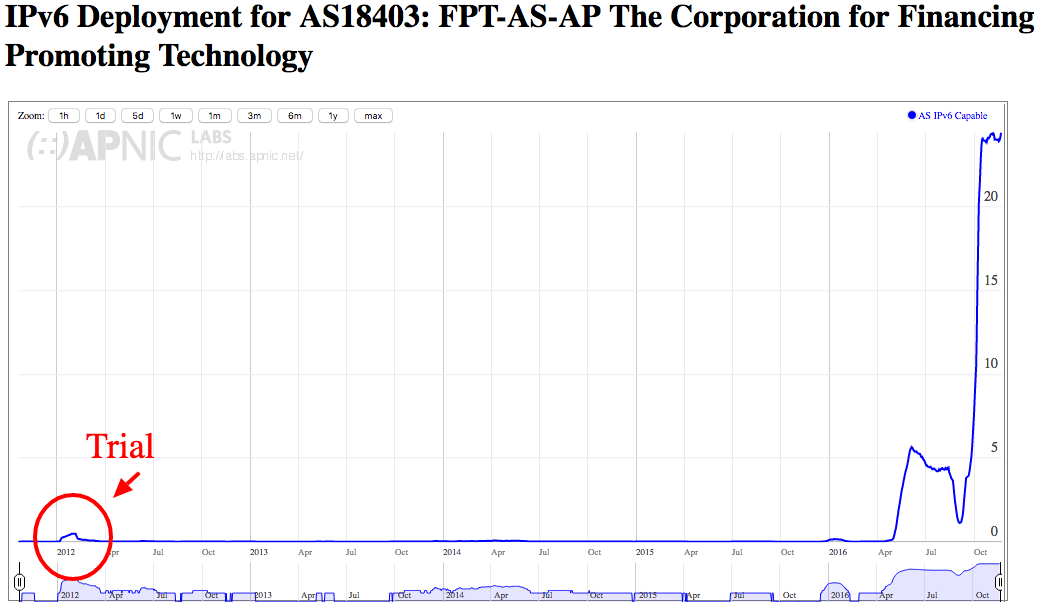 With large-market players joining the smaller networks of long-time IPv6 champions in these economies, it is hoped that the move will have a catalytic impact as seen in Peru and Malaysia.
APEC TEL committed to IPv6 deployment
As the above economies show, there is no one-size-fits-all approach to promoting IPv6 deployment in any economy. However, there are best practices that can be adopted to build a conducive environment to IPv6 adoption.
APEC TEL has long been committed to this approach, endorsing IPv6 Guidelines in 2010, recommitting to connectivity and IPv6 in their 2016-2020 Strategic Action Plan, as well as regular and ongoing contributions from economies to bolster information sharing, best practice, and IPv6 deployment efforts. More importantly, the group has remained committed to fostering partnerships across stakeholder groups to build better approaches to IPv6 deployment and other TEL efforts.
This commitment is noteworthy as addressing issues (including but not limited to IPv6 deployment) will become increasingly important, considering the growing number of Internet of Things devices connecting to the Internet and as Smart City and Smart Nation initiatives gain momentum across our region. The good news, as George Michaelson has put it, is IPv6 is going mainstream in the Asia Pacific!
---
The views expressed by the authors of this blog are their own and do not necessarily reflect the views of APNIC. Please note a Code of Conduct applies to this blog.