What have the following five ASNs got in common in the Labs IPv6 stats?
AS55536 (Hong Kong)
AS55836 (India)
AS4795 (Indonesia)
AS133481 (Thailand)
AS18403 (Vietnam)
The answer isn't just "they're doing IPv6" (or that they are all great examples of IPv6 deployment in the Asia Pacific – well done!), it's that they're around the 5th or 9th, 10th or even 16th by size in our sample count in their economy, but are single-handedly responsible for the up-take we see in the economy in question.
Update: AS55836 (Reliance/Jio) has moved up the rankings significantly in India, having recently launched nationwide free voice calls if you subscribed to their data plan. They have subsequently shot up the visible eyeball share of random samples in India and now occupy second place behind BSNL. It may not entirely be a coincidence that a company committed to an IPv6 future network is doing this well.
These are all players in the economy who have some size, but perhaps, not quite as much as the incumbent or the market leader. They're not small and they're not just in research or a niche market, they simply haven't yet got to the state-level scale that some other players may have.
But what they have got is financial backers who believe in them, are willing to recapitalize their deployment, and bring newer technology to bear in the market. They've got investors. And, they all look to be treating IPv6 as part of their future service model.
This is interesting because it's a strong signal: IPv6 is mainstream.
It feels like these ISPs have looked out into the world and seen opportunity. What kinds of signals might they have seen?
Well, they will have seen Sky.
Sky is the UK's second biggest broadband provider, with millions of customers nationwide on a xDSL and fibre system, and they have decided to deploy IPv6 everywhere. They started in July 2015, and they have pretty well finished the deployment. They're at 80%.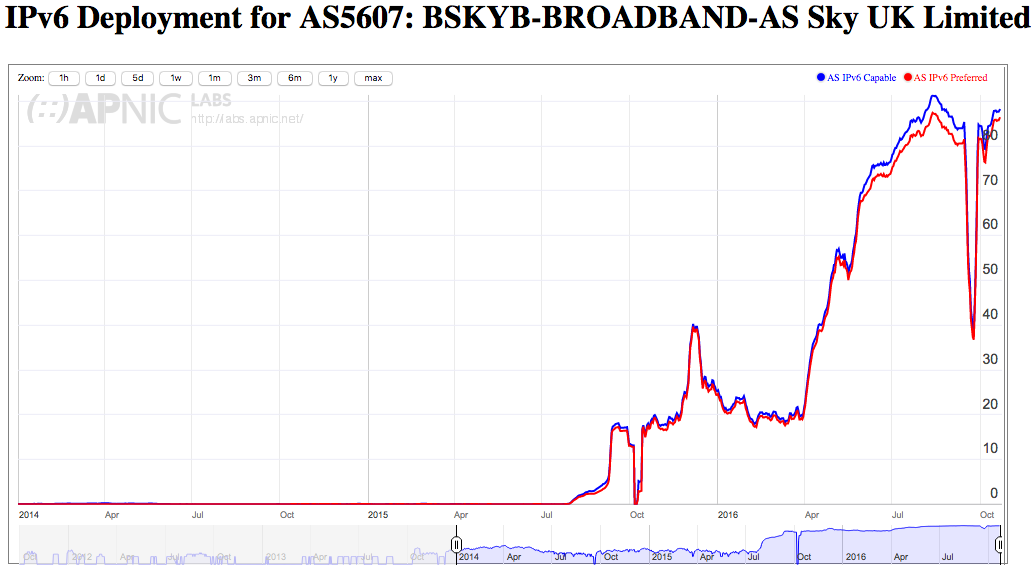 Sky, is also part-owned by Rupert Murdoch's Fox/C21, which relates to the Australian media and communications company News Ltd, who also co-own Foxtel in Australia. Let's look at Foxtel's ASN. Around July 2015, Foxtel also deployed IPv6. And it also achieved 80% penetration.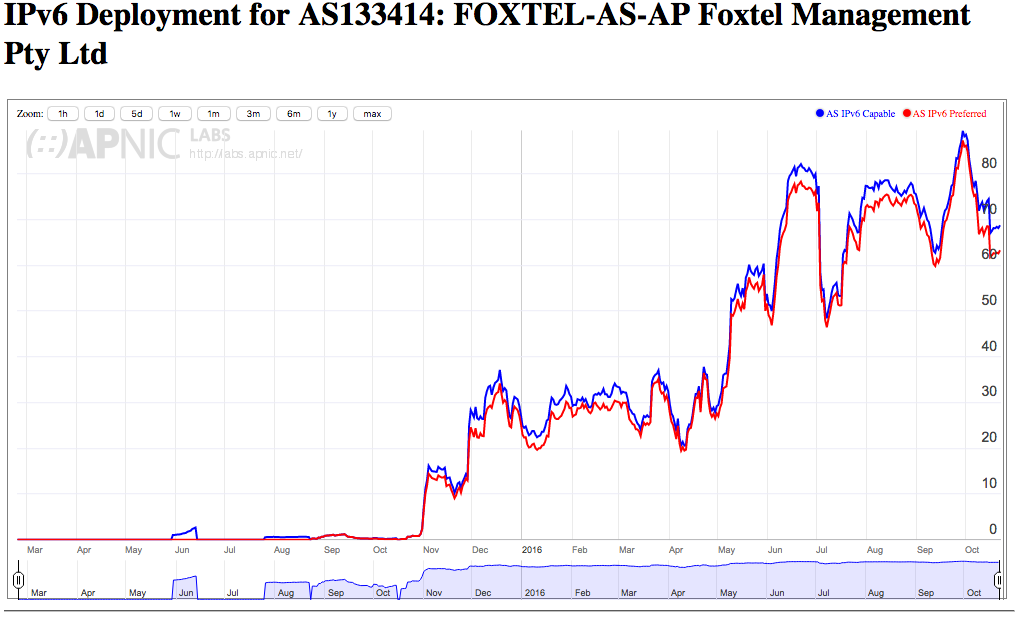 So, this is a signal that Murdoch's companies, as represented by Sky and Foxtel, which are two of its large investments worldwide in broadband, see IPv6 as part of their vision of the future.
Foxtel by the way, is a joint venture with Telstra. Their routing fate in BGP is totally 'covered' by Telstra, so the emergence of an IPv6-enabled Telstra network is no surprise when you consider the centrality of broadband to the future profit of the company as a whole.
Or, maybe they looked at the North American market. Let's have a look at five ISPs from the US:
Or, maybe they looked at Germany:
Liberty Global (Liberty Global is fascinating, because they are also deploying IPv6 in Ireland)
Or, maybe they looked at Belgium as a great example of an entire economy moving with the times.
These are just some of the examples of places where ISPs have looked at the landscape, and their capital investment options and customer size, and have decided it's time to invest in IPv6.
If you were involved in making financial investment decisions in the ICT sector, and you saw this kind of signal, what would you do?
Personally speaking, I know what I'd do: I'd invest in companies who understand the risk of relying on a CGN future. I'd be backing the companies with a plan for IPv6, or who have already made the investment.
---
The views expressed by the authors of this blog are their own and do not necessarily reflect the views of APNIC. Please note a Code of Conduct applies to this blog.