Fellowship applications for APNIC 42 (in conjunction with bdNOG 6) are now open.
APNIC's Fellowship program helps Internet technical community members from developing Asia Pacific economies to attend, participate and contribute to APNIC Conferences free of charge.
A limited number of fellowships for Members and youth are available. APNIC places special emphasis on diversity, and encourages women to apply.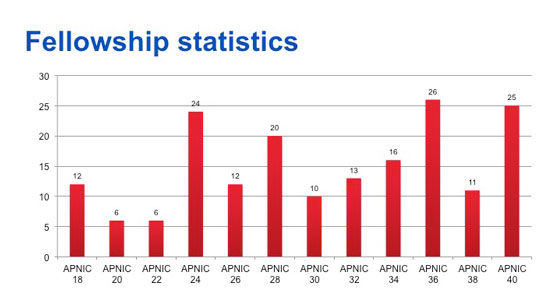 Since APNIC 18,  179 fellows have attended APNIC conferences.
What's included?
Successful fellows will receive:
An economy return air ticket to the conference or workshop week
Twin share hotel accommodation with breakfast for the duration of the conference or workshop
A fixed cash allowance of AUD 100 to offset reasonable expenses
Complimentary registration to the conference or workshop week
Complimentary attendance to all conference or workshop social events
Key dates
Friday, 8 July – application close at 23:59 (UTC +10)
Monday, 25 July – first round offers announced
Saturday, 31 July – confirmation of first round offers closes at 23:59 (UTC +10)
Please note that decisions of the selection committee are final. However, if you are not selected, we encourage you to apply for future fellowships.  Have a look at the terms and conditions and FAQ for more information.
Many thanks to Google and APIA for their support of the APNIC 42 fellowships.
---
The views expressed by the authors of this blog are their own and do not necessarily reflect the views of APNIC. Please note a Code of Conduct applies to this blog.