Last week at RIPE 71, Martin Levy from CloudFlare presented on his team's hackathon work in the RIPE Atlas measurement system.
His team made a novel development in the "historical" data archives held by RIPE Atlas, noting  a huge collection of traceroutes from other people's experiments, which they "mined" for the point of change in the trace where one AS hands traffic off to another AS.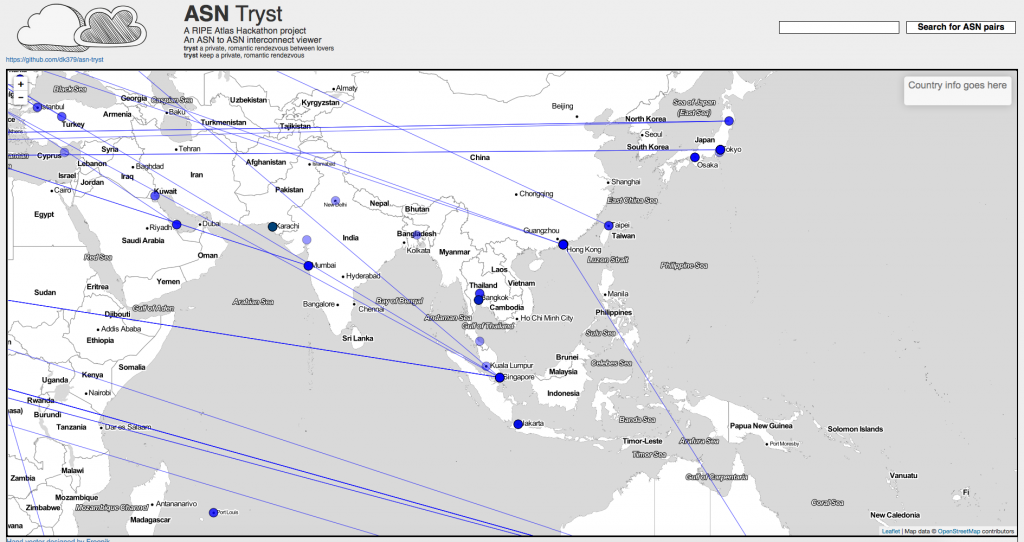 A simple set of tools processed the archive to find the points of exchange using OpenIPMap – a RIPE NCC Labs outcome spearheaded by Emile Aben – and mapped them to show how the data clearly indicates the weight of IX in Europe and the USA, and the relative paucity in Africa, South America and Asia Oceania.
Through this project, Martin and the team have managed to make an interesting and rapid tool (called ASNtryst) capable of insights into a large dataset, and confirmed basic knowledge in a useful way. This isn't an abstract research outcome, it can help understand fundamentals of the global routing behaviour. Well done Martin and to the rest of the team – Alexander Isavnin, Dmitry Kohmanyuk, Martin Levy, James Reilly and Christian Teuschel.
---
The views expressed by the authors of this blog are their own and do not necessarily reflect the views of APNIC. Please note a Code of Conduct applies to this blog.