Today marks the beginning of National Cybersecurity Awareness Month in the USA. This year's theme is "Our Shared Responsibility".
Cybercrime is a complex issue with many different players involved across many different economies. This complexity requires a cooperative approach towards cybersecurity.
Foy Shiver, Deputy Secretary-General of the Anti-Phishing Working Group (APWG), recently spoke at APNIC40 about this need for cooperation among organizations, agencies and governments. Watch Foy's presentation at APNIC 40.
Below he introduces a global cybersecurity awareness campaign adaptable to each economies strategy.
---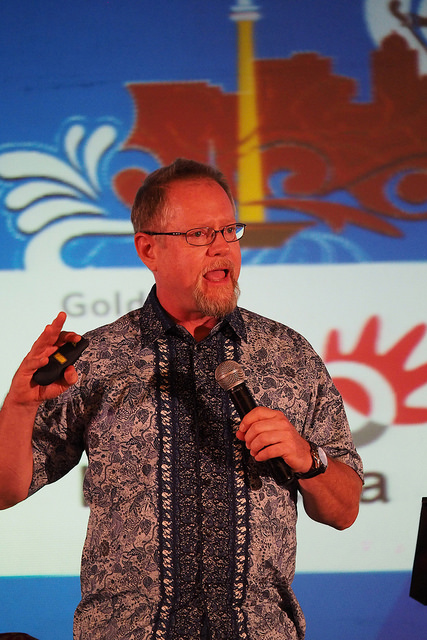 "Say No To Drugs"
"Be Cool, Stay in School"
"Buckle Up For Safety"
These are slogans of well-known campaigns used to convey a specific message to a large audience.
A few years back, a group of APWG members were at a meeting in San Francisco, USA, and began a discussion around how to deliver a similar message. The APWG group members were  from global entities looking for a way to deliver useful information to end users on how to be safe and secure when interacting on the Internet.
A team was formed to create a user awareness campaign that everyone could use in their individual campaigns. Users would receive a message with multiple stories and media approaches that could be targeted to specific audiences. Thus was born the STOP. THINK. CONNECT (STC) Messaging Convention.
What is the STOP. THINK. CONNECT Messaging Convention
The STC Messaging Convention is a messaging resource archive and an incubator for developing and testing online safety and security messaging. Resources developed for the program are put back to benefit all partners. This relieves government and industry from the chore of developing unique online safety messaging, using a proven, rigorous process in place of competing, conflicting, redundant messages.
The overall campaign encourages everyone to
be more vigilant about practicing safe online habits
work to ensure that Internet safety and security is perceived as a shared responsibility at home, in the workplace, and throughout our communities; and
strive to transform the way the public and private sectors and government collaborate to make cybersecurity a reality.
Sign up to become a partner
Any university, business, non-profit or  organization looking to create online safety materials can sign up to become a licensed partner of the STC Messaging Convention through the website. Here you can get access to logos, templates, toolkits and other resources for you to incorporate into your own campaign materials. Get resources.
Regional or national government agencies or multilateral treaty organizations can also join the campaign as an International Partner. This allows each nation to globalize their awareness campaign and help fight the global menace of cybersecurity threats.
We work with our international partners to establish a domain name and potentially pre-translated content to populate their site. We ask that partners help vet our translations for their regional and cultural needs to provide encompassing materials to their local audience.
Making an impact
After five years the STC Messaging Convention has been adopted by thousands of organizations and dozens of countries as the central message to raise user awareness about cybersecurity. The quantity and quality of the available resources continues to grow, as well, the diversity of content to support more regions and cultures.
We will continue to work and promote the STC program to larger audiences and hopefully continue to make the Internet a safer place for all of us.
So, before you click on the email or open that attachment remember to STOP. THINK. CONNECT.
Foy Shiver is Deputy Secretary-General of the APWG. In this role he is charged with cultivating the membership base around research, education and policy issues to fight cybercrime and electronically mediated fraud.

---
The views expressed by the authors of this blog are their own and do not necessarily reflect the views of APNIC. Please note a Code of Conduct applies to this blog.