East Asia is in the middle of an Internet traffic jam as engineers fix a cut in one of the region's significant submarine cables.
The Flag North Asian Loop/ Reach North Asian Loop submarine cable, which links Japan, Korea, Taiwan and Hong Kong, was cut around 10 August, according to Hong Kong Internet eXchange (HKIX).
Details of the cut are unknown except that it has been located and engineers have been deployed to fix it "hopefully" by the end of this week.
Update: The break was caused by Typhoon Soudelor, the most intense tropical cyclone to develop in the Northern Hemisphere in 2015, with severe impacts in the Northern Mariana Islands, Taiwan and eastern China.
Telstra International operates the RNAL cable, and have provided the APNIC community with an update. Telstra says despite the difficult weather conditions, repairs to the cable and network are progressing well although some maintenance is ongoing.
"Like many companies operating in the region, our subsea network near Taiwan was affected by Typhoon Soudelor. We were able to implement various measures, such as changing routing configurations, using alternate cable systems and quickly mobilising repair ships, to get impacted customers back up and running in a short time frame, the majority in 48 hours."
HKIX manager, and APNIC EC member, Che-Hoo Cheng, says the cut has decreased traffic routing through HKIX by around 10%.
"We've noticed a significant drop in traffic over the last week, which we believe is a result of the cut," Che-Hoo says.
"Because of the cut, this traffic is being routed through longer, more congested pathways."
HKIX is Hong Kong's largest and most popular Internet Exchange, established and operated by The Chinese University of Hong Kong for 20 years. More than 230 Internet service and content providers are connected to HKIX.
The primary goal of HKIX is to interconnect ISPs in Hong Kong so that they can exchange intra-Hong Kong traffic locally without having to route traffic overseas.
"Because of our focus, we've always thought that 90% of our traffic was intra-Hong Kong. This latest drop by 10%, caused from one submarine cable being cut, makes us think that much more than 10% of our traffic is coming or going overseas," Che-Hoo says.
"One of our participants that has been affected seriously is from Russia, meaning the cut is affecting more than the countries in the region."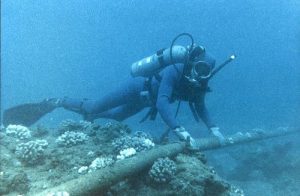 Submarine cable cuts are not uncommon for the region. Earlier this year, the Asia-America Gateway submarine cable system was cut in January and April, both times in the segment between Vietnam and Hong Kong.
Che-Hoo says these cuts were not as apparent as the recent break, and he hopes the cable will be fixed sooner rather than later to allow HKIX to break a record.
"Before the cut, we were close to breaking our traffic record because the new season of English Premier League had just started – a popular form of HKIX traffic. We expect to break the record when the cut is fixed," he says.
More and more submarine cables are being rolled out each year. They are preferred over satellite connections because they allow for higher speed connection and lower latency.
The total carrying capacity of submarine cable between the USA and East Asia is in the terabits per second, while satellites typically offer only 1000 megabits per second.
---
The views expressed by the authors of this blog are their own and do not necessarily reflect the views of APNIC. Please note a Code of Conduct applies to this blog.