Last week, APNIC attended and presented at the 26th South Asia Network Operators Group (SANOG) conference and workshops held in Mumbai, India.
More than 180 people from across India attended the event, including seven fellows from Nepal, Bangladesh, Sri Lanka and many international speakers. SANOG 26 began with a two day conference, followed by two days of tutorials and five days of workshops.
Sunny Chendi, APNIC's Senior Advisor for Community Engagement and Vivek Nigam, Member Services Manager, attended and presented at the two day conference.
During the conference, SANOG and ISPAI formally signed a memorandum of understanding to strengthen their relationship to host SANOG in India each year.
After the conference, Nurul Islam Roman, APNIC's Senior Training Specialist, and APNIC consultant, Fukrul Alam, Chief Technology Officer at bdHUB, facilitated two separate tutorials and workshops. Special thanks go to Srinath Beldona (Aricent) and Ram Krishna (Subisu) for fascillitating the MPLS workshop.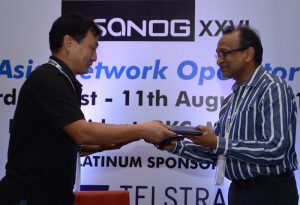 SANOG is a non-profit forum for network operators in South Asia. SANOG 26 was hosted by Internet Service Providers Association of India (ISPAI), from 3 to 11 January 2015 in collaboration with the National Internet Exchange of India (NIXI) and supported by the Department of Electronics and Information Technology, Ministry of Communications and Information Technology, Government of India.
APNIC staff activities included:
Sunny spoke at the open plenary session where he gave an update on ASN Internet infrastructure throughout the South Asia region, with a focus on India, and the need to prepare for growth.
Vivek presented on Resource Certification; explaining to attendees what ROA is, and the benefits of creating ROAs.
Nurul ran a two-part tutorial on IPv6 deployment and led a five day workshop on IPv4/IPv6 routing with assistance from Simon Sohel (Fiber@Home) and Dibya Khatiwada (Packet Clearing House).
Furkrul facilitated a tutorial on validation and technical aspects of RPKI, similar to the one he ran at bdNOG2 and bdNOG3. He also supported the five day Security/DNSSEC workshop along with Champika Wijayatunga (ICANN) amd Matsuzaki Yoshinobu (Internet Initiative Japan).
---
The views expressed by the authors of this blog are their own and do not necessarily reflect the views of APNIC. Please note a Code of Conduct applies to this blog.