You may have read our DG's post on our recent engagement in Pakistan. A lot of my security friends had also asked about my experience participating in Cyber Secure Pakistan 2015 (CSP2015) and meeting the security community there.
I had some friends  who had spoken at the previous CSP and they had a lot of nice stories about the conference, city and the people.
So, I was really excited when I received the invitation to speak at CSP 2015 from Talha Habib and ZunNurain Khalid (@zunnurain). On top of that I had many cyber security professional friends from Islamabad who I have met at different conferences in the past. So being able to meet them over chai and some great food was an opportunity not to be missed!
APNIC was one of the sponsors of  CSP2015. It was a five-day event with four days of workshops and plenary on the opening and last day.  The event was organized by the Pakistan Information Security Association (PISA) and was held at NUST's School Electrical Engineering and Computer Science (SEECS) campus. One of the benefits of having an event on campus is you get a lot of young people helping out. Thus creating a super energetic ambience!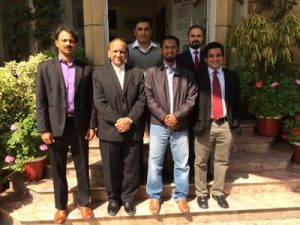 My activities during the conference week included:
Speaking at the opening (or Inauguration) and conference plenary on APNIC's Ready to ROA campaign.
Security incident role-play workshop. This is similar to the one I did at RightsCon2015 with a few friends, except that we had more participants. Credit goes to the volunteers (last-minute!) who helped me a lot during the session.
Workshop (with ICANN) for the representatives from the Law Enforcement Agencies. We were also lucky to be invited to visit the National Response Centre for Cyber Crime (NR3C) and learn about their activities to protect Pakistani citizens online.
Assisting Champika (ICANN) and my colleague Sunny in the three day DNS & DNSSEC workshop. There were about 40+ participants and we had a lot of fun in the lab.
Speaking engagements at four different Universities – Mohammad Ali Jinnah University, Riphah Institute of Science & Technology (RISE), Comsats Institute of Information Technology and SEECS (NUST). Most of the attendees in those sessions were pursuing undergraduate or post graduate degrees in computer or IT security, so the discussions were very interesting. I was taken around to see the labs, student projects and introduced to other faculty members.
Speaking to APNIC Members at the Member Gathering about RPKI and APNIC's security activities.  Two of our Members created their ROAs (Telenor Pakistan & Comsats). Many thanks to our good friend Hashim Nouman from Mobilink (@hashimnouman) who volunteered to come and lend a hand!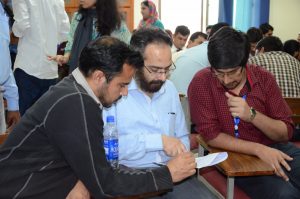 There were a lot of other things going on at CSP 2015. Lots of interesting workshops and sessions that I was not able to attend (Forensics, Malware Analysis, Women in Cyber Security and the CTF) because I was occupied with my own sessions.
I did learn a lot from the other speakers and participants (during the break and after conference hang-out sessions) who came from all over Pakistan (and beyond!) especially on the opportunities, challenges and initiatives to improve cyber security in the country.  It was good to see representatives from the different sectors (government, industry, university – including students!) having the conversation.
I have made a lot of good friends during my stay there and received a lot of invitations to come back. The hospitality was amazing and I look forward to attending the next CSP!
* Check out the The CSP Facebook page for more photos 
---
The views expressed by the authors of this blog are their own and do not necessarily reflect the views of APNIC. Please note a Code of Conduct applies to this blog.