APNIC is now accepting fellowship applications for APNIC 40. The APNIC Fellowship Program, with the kind support of Google and APIA, offers a limited number of fellowships to the residents of developing economies from throughout the Asia Pacific region. Community members, women and youth from these economies are eligible and encouraged to apply for fellowships.
APNIC is actively involved in the development of Internet infrastructure throughout the Asia Pacific (both skills and physical development) and does this through subsidized training and education as well as providing fellowships to ensure the Asia Pacific community is well represented at APNIC conferences. APNIC covers 100% of fellowship costs, and exposes awardees to intense training and learning goals during the workshop week, with the opportunity to meet and network with their peers and Internet infrastructure experts at the conference week.
APNIC has awarded fellowships to 156 individuals from across the region and with the kind support of our sponsors, we hope to offer many more now and in the future.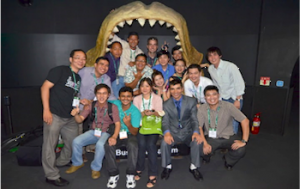 Here's what previous awardees have thought about APNIC Fellowships:
"Nothing more to comment regarding the programme as it was very
well-organized, however, would like to thank you all for the support
during the workshop and more importantly, for the fellowship which
enables me to learn more and valuable knowledge and skills" – Farhad
James, Solomon Islands.
"I am very satisfied to this program, during one week of workshop I can
increase much knowledge with security concept, I would like to use this
to benefit to my organization in order to improve of security policy,
implementation of what I have learn and I also will spread this
knowledge to my colleague as well as my friends." – Yim Ranith, Cambodia.
"I'd like to thank APNIC and the fellowship opportunities you're giving
to women and techs in the developing economies." – Sarah
Escandor-Thomas, Phillipines.
---
The views expressed by the authors of this blog are their own and do not necessarily reflect the views of APNIC. Please note a Code of Conduct applies to this blog.