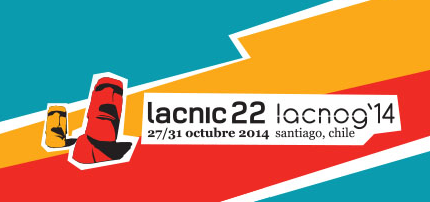 APNIC staff attended LACNIC 22- LACNOG 2014 held in Santiago, Chile, 27 – 31 October 2014. Taking place in parallel with the event was the Global Forum of Incident Response and Security Teams, FIRST.
Attended by close to 400 network operators, government representatives, academics and civil society from 32 countries, the agenda of LACNIC 22 – LACNOG 2014 included challenges to  security, strengthening the participation of all stakeholders in Internet governance,  IPv6 and the IANA stewardship functions transition.
APNIC staff activities included:
Attending the FIRST Technical Colloquium
Meeting with LACNIC customer and registration services staff to exchange information about processes and procedures of member services daily tasks
Presenting APNIC Update at LACNIC 22, in Spanish and English
---
The views expressed by the authors of this blog are their own and do not necessarily reflect the views of APNIC. Please note a Code of Conduct applies to this blog.